New York State
Hochul campaign centers abortion issue
The state's first female governor has promised to be a protector of abortion rights as Roe v. Wade is on track to be overturned.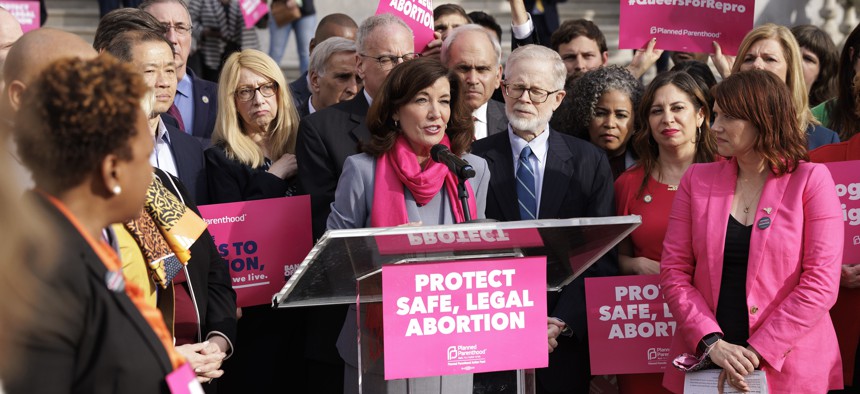 The upcoming November elections weren't looking too good for Democrats across the country, and even in deep blue New York. The party was bracing for tough elections, the loss of seats and even losing control of the House. Then the draft U.S. Supreme Court decision overturning Roe v. Wade leaked and changed the calculus.
Though the decision will not directly impact the lives and autonomy of New Yorkers, the political fallout will touch New York as well, despite the fact the state has already codified abortion rights into law. "This is something that Democrats are going to run on," Gov. Kathy Hochul said on NY1 Friday morning. "We need to run on this." She has wasted no time heeding her own advice, having already released two new campaign ads focused on abortion rights in the past week. Though she remains the heavy favorite in the primary, recent controversial moves in the state budget, redistricting dilemmas and a lieutenant governor scandal have done no favors for her campaign, leaving her open to right wing attacks during the general election. But the threat to abortion rights gives Hochul the opportunity to redefine her campaign around a national issue expected to fire up the Democratic base.
As the first female governor of New York, and the only woman running for governor in either party, Hochul is uniquely situated to turn the threat to abortion rights into a campaign rallying cry. "I grew up around strong women who taught me that strength comes from helping others," she said in one of the television spots she released this week. "Now I'm protecting abortion access because I'll always stand up for New York women." Although she doesn't mention her own place in state history, images of her surrounded by other women paints a compelling picture that her Democratic challengers can't quite replicate. 
In recent weeks, Hochul has also been subject to a number of criticisms, from a billion dollar deal to build the Buffalo Bills a new stadium to her lieutenant governor's indictment on corruption charges. Disagreements over the state budget and now strong-arming the Legislature into approving a law change so she could get a new running mate has also caused a split between Hochul and her own party as she prepares for her first gubernatorial election.
The threat to abortion rights gives Hochul the ability to refocus her campaign on a national issue that the Democratic base cares deeply about while allowing her to turn attention back to her own status as New York's first female governor. Since the state already has strong abortion protections that passed before she took office, Hochul benefits from a national crisis without needing to step in as governor to solve it at the state level. And it strengthens her position going into the general election as well, should she win the Democratic primary, by riding the wave of a federal issue that may overtake state-level blunders.
Across the nation, people lamented the threat to abortion rights as many red states were poised to enact near total bans on the procedure the moment the Supreme Court decides whether to make its draft opinion official. In New York, a state that officials are promising to make a safe haven for those people in other states, it gave Hochul's campaign an adrenaline shot that it desperately needed.