Politics
The New York City Council failed to pass a bill. What happened?
Progressives opposed to boosting police pensions voted down a bill for the first time in years.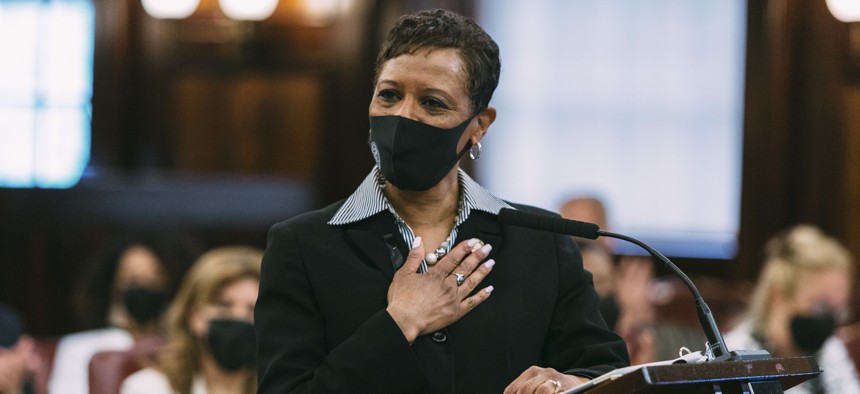 A bill came up for a vote before the full New York City Council on Thursday and didn't pass. How the hell did that happen? Bills always pass the council – Politico New York reported that it was probably in the '90s the last time a bill didn't pass, thanks to a strong speaker position and an overwhelmingly Democratic majority.
"I was just talking about this with my wife!" said New York City Council Member Charles Barron, reached Thursday night, who has 20 years and counting of council experience between him and his wife Inez Barron. But neither could remember a bill not passing. "They don't bring nothing (that doesn't pass)," he said.
"Unreal," said City Council Minority Leader Joe Borelli.
"This is wild," said another insider.
But SLR 0008-2022, a "home rule message" supporting a state bill that would incentivize long-serving New York City Police Department officers to stay on the job by sweetening their pensions, didn't get the two-thirds majority it would have needed to pass. Instead, 30 members voted in favor and 4 against, with 16 abstentions and one absence. That left the resolution four votes short of the 34 needed – though it would have only needed a simple, 26-vote majority had Mayor Eric Adams supported it. His office declined to comment, but sources said his administration opposed the bill for its budget implications. The bill failed, however, not due to loyal Adams allies but rather due to progressives hesitant to pay police more.
City Council Member Kristin Richardson Jordan was one of the few members to speak on the bill, and said she wanted new police officers, rather than encouraging longer serving ones to stick around. "The white supremacy that exists in the police department, where it is most entrenched, does tend to be there," she said. "And the newest members of the department tend to be the more proressive and more diverse."
Insiders said the bill seemed to fail by inertia, rather than a grand plan. Council Member Tiffany Cabán, who like Richardson Jordan is a democratic socialist and who wants to work toward police abolition, raised concerns about the bill in a Democratic conference meeting ahead of the vote, but few, if any, joined her there. Once voting started however, one left-leaning member after another declined to support it, with most choosing to abstain. 
"What is the message that the City Council's sending, that we don't want to acknowledge somebody who's put in 25, 30 years of dedicated work to the city?" griped state Sen. Joe Addabbo Jr., the sponsor of the pension bill. "It shouldn't matter if you're 'defund the police.'" The Queens Democrat claimed the failure didn't kill the bill – "right now we're looking at options," he said – but acknowledged that he hadn't heard from the Adams administration on the bill as of late Thursday afternoon.
The New York City Police Benevolent Association, whose members would be affected by the bill, also released a statement expressing their disappointment, blaming an "anti-police climate."
The bill's failure was not expected by Speaker Adrienne Adams' office and her leadership team. The virtual meeting was paused for nearly 14 minutes before the vote tally was ready – apparently so the speaker's team could discuss a strategy, and whether to whip votes, behind the scenes. Some observers saw the episode as an embarrassment for a speaker who could not keep her members in line. And a worrisome sign of dissent just a month ahead of the most important vote of the year. "If we're struggling with this, wait till the budget," one member's chief of staff said.
This bill of course, wasn't typical. It was brought up by a state legislative request from lawmakers in Albany, rather than emanating from the council or the speaker's office. It would have passed easily had it only needed a simple majority, like most bills. City Council Member Shaun Abreu, who was the sponsor of the bill as chair of the State and Federal Legislation Committee, released a statement Thursday celebrating the passage of other, even more controversial legislation including a "home rule message" to allow speed cameras to operate 24/7. "Home rules are never easy to pass – they require strong coordination between the Council and Albany – and they reflect real achievement of stakeholders, advocates, staff, and all those involved in the process," Abreu wrote in an emailed statement.
But the speaker's office suggested that what happened Thursday wasn't a total fluke, but a result of her softer hand, and more collaborative style. "We have a body of members with diverse opinions, which is an asset that we're not going to seek to stamp out," said Mandela Jones, the speaker's deputy chief of staff for communications. "Leadership seeks to align members by providing direction, addressing concerns and finding common ground, where possible, and that's our focus."
It might have been the first vote to fail in the City Council in decades – but with a fresh council and a new speaker, it may not be the last.