New York State
New York lawmakers mourn Buffalo mass shooting deaths, demand action on white supremacy
State Senate Majority Leader Andrea Stewart-Cousins said that any GOP official who perpetuates the racist ideology that apparently fueled the shooter is not fit to serve.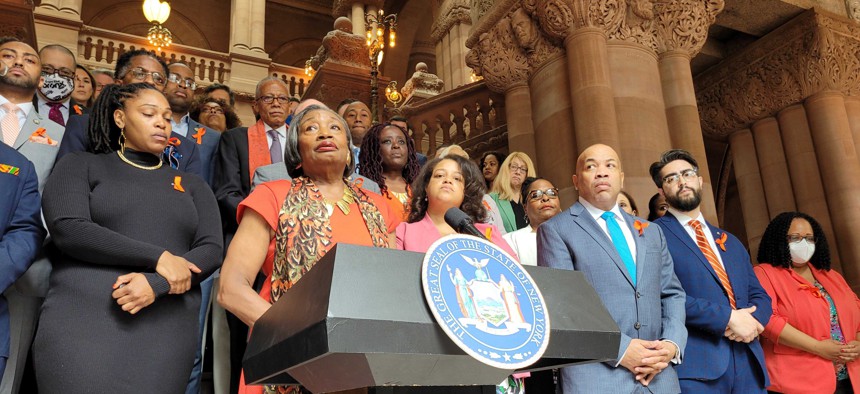 State Senate Majority Leader Andrea Stewart-Cousins had strong words for Republican officials in the state who perpetuate racist and white supremecist ideas in the aftermath of the apparently anti-Black mass shooting in Buffalo that left 10 dead. "People are dying because you're fueling the fans of hatred," Stewart-Cousins told reporters after an emotional press conference with other lawmakers. "It has to stop, and they have to be responsible – otherwise, frankly, they're not worthy of leading people."
The alleged shooter, who has already pleaded not guilty to first degree murder charges, had apparently posted a sprawling manifesto online prior to the attack that leaned heavily into the "great replacement" conspiracy theory spreading among the far right. It posits that people of color are replacing white people in the United States and eliminating their influence. The conspiracy theory also fueled the El Paso, Texas, shooter in 2019, who killed 20 people, most of whom were Latino. 
But while the conspiracy theory may have gotten its start on white supremacist message boards, it has since spread into the mainstream, with GOP politicians being criticized for hinting at the idea without outright saying it. Rep. Elise Stefanik has come under scrutiny in the wake of the shooting for past campaign ads that play into the idea that people of color – specifically those who are undocumented immigrants – are replacing white people. "Radical Democrats are planning their most aggressive move yet: a PERMANENT ELECTION INSURRECTION," a Facebook ad that many have cited reads. "Their plan to grant amnesty to 11 MILLION illegal immigrants will overthrow our current electorate and create a permanent liberal majority in Washington." The Times Union in Albany published a scathing editorial last year about Stefanik's rhetoric.
Asked specifically about Stefanik, as well as many of her other Republican colleagues who may have pushed the racist narrative, Stewart-Cousins suggested that anyone who has in any way legitimized the baseless idea isn't fit to serve. "If you just want to have the power to hate and to make sure that people are afraid, then you're really not serving," Stewart-Cousins said. "And you should stop." In a statement to The Washington Post, a spokesperson for Stefanik said she "has never advocated for any racist position or made a racist statement."
Stewart-Cousins' comments to reporters came after members of the Black, Puerto Rican, Hispanic and Asian Caucus, as well as legislative allies, held an equal parts somber and angry rally in the Capitol denouncing the racist attack in Buffalo and calling for an end to white supremacy. "There are political parties that are raising up and allowing this hate and this white supremacy to take root in our nation and here in New York," state Sen. Tim Kennedy, who represents Buffalo, said to applause. "We cannot allow this to stand, we cannot allow this to continue."
State Sen. Zellnor Myrie said the ideas that reportedly drove the shooter to take 10 lives is part of the mainstream. "I've heard that the shooter was radical, that he subscribed to fringe ideas, and I wish that that were true," Myrie said. "I wish that it was radical to believe in white supremacy… But white supremacy is American." He added that any candidate looking for votes from Black communities must come with plans to tackle the multifaceted ways that racist ideologies spread in the country – otherwise they shouldn't come. "We need every single person on every level of government to marshal every single resource to solve all those problems, not just gun violence… and not just mental health… We need the whole pie," Myrie said.
Lawmakers who gathered for the rally were all Democrats, without a single Republican present. Rob Astorino, a Republican running for governor who did not know about the rally taking place, told City & State that the alleged Buffalo shooter suffered from a mental illness and did not receive the care he needed before the tragedy. "He clearly was mentally ill," Astorino told City & State. "And he needed treatment, and it fell through the cracks. And that's a big issue in this country with gun violence." 
When asked about the conspiracy theory that allegedly led the shooter to action, Astorino claimed ignorance. "I don't know what that is… I don't even know what you're talking about," Astorino said. He cut off an attempt to explain the alleged impact the "great replacement" conspiracy theory had on the shooter's thinking by calling the shooter "a crazy person." When he heard an explanation of the racist idea, Astorino said, "That's stupid. That's not something that I agree with and probably 99.9% of Republicans think." Asked what should be done about the proliferation of white supremacist ideology in the country, he instead said that the vast majority of Americans don't believe in it, denying the idea that it is widespread.
In the meantime, Gov. Kathy Hochul has called out social media platforms for allowing the alleged shooter to livestream the attack, and demanded greater accountability with regards to quashing white supremacist rhetoric that spreads on those platforms. She also planned to announce a package of gun reform laws on Tuesday. Stewart-Cousins said the governor did not specifically speak with her about that package, but pledged to "do what needs to be done."
Powered By
NEXT STORY: Draft house maps released by special master