New York State
"We battled to get that food store:" What the Tops supermarket meant to Buffalo's Black community
The racist mass shooting has left a deep scar at a symbol of resilience on the city's East Side.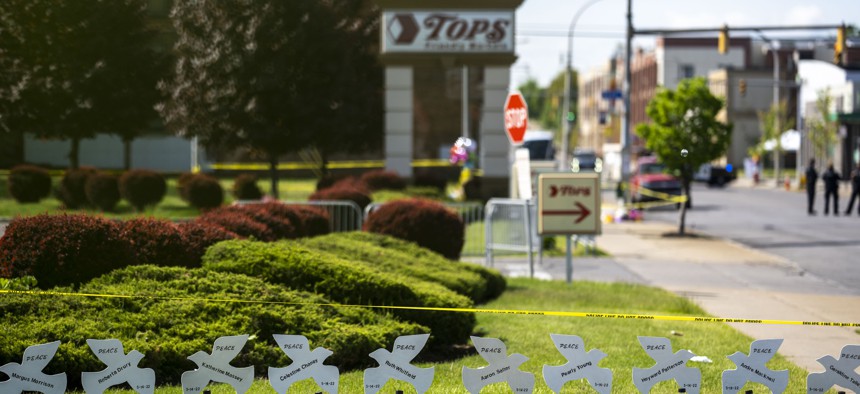 Shortly after President Joe Biden laid flowers at a memorial for the dead in the days after the racist attack that took the lives of 10 Black people at a supermarket in Buffalo, Robert Scott, who has frequented the store for years, spoke with other mourners.
He said that alleged shooter Payton Gendron took much more than a supermarket from the neighborhood.
"This is unbelievable man," Scott said. "Like my brother just said, this is literally like a safe place for us to be at."
Now, he said it feels like there are no more safe places in the city for Black people.
"I don't know," Scott said. "This has just created a different awareness."
When the accused shooter chose the Jefferson Avenue Tops supermarket as the site for his massacre, he did more than terrorize a neighborhood, a city and an entire nation. He desecrated a sacred space in the heart of Black Buffalo.
He targeted the supermarket because it was one of the blackest ZIP codes within driving distance of his home in the Southern Tier, according to news reports describing online posts from accounts allegedly controlled by the accused killer.
The Buffalo metro area ranked as the sixth-most-segregated city in the nation, according to a 2018 report from local think tank the Partnership for the Public Good.
It is unclear whether he also knew he was striking at a symbol of resilience, a symbol of community and a place where important connections were made on the city's predominantly Black East Side.
The supermarket was important to residents for all the normal reasons. It was a place to get food, certainly. But it was also a place to run into friends and neighbors, a place to sell raffle tickets for youth sports, a place to find a job.
It was also a symbol of the efforts that so many people in Black Buffalo made to overcome the additional hurdles faced by people in this highly segregated city. Tops became the only full-service supermarket east of Main Street serving many of the most impoverished neighborhoods in one of the poorest cities in the country when it opened in 2003.
Henry Louis Taylor, a professor of urban planning at the University at Buffalo who has studied racial and economic segregation in the city for decades, said many historical decisions – the building of a highway through the city's most prominent middle-class Black neighborhood and decades of housing discrimination – helped to create the conditions that made the supermarket a target.
"Jefferson Avenue, between Best and Ferry (streets), is the single most important street in Black Buffalo," Taylor said. "It's the heart and soul of Black Buffalo. And Tops represents one of our most important symbols, because it is a victory of struggle. It's not just a food store. We fought, we struggled, we battled to get that food store."
Still, for many people who work on the issues caused by segregation in these neighborhoods, it has been difficult to see the East Side shown only through the lens of segregation as local and national media descended on an area that had not always been thoroughly covered by the press – and often covered through the lens of crime reporting.
Assembly Majority Leader Crystal Peoples-Stokes likened the grocery store to a barber shop or a hair salon, as a place for community gathering and the sharing of knowledge, during an interview last week.
And she acknowledged that racist policies have helped to drive segregation in Buffalo. But she emphasized that many people in Masten Park, Cold Springs and other surrounding neighborhoods are there because they want to be there and have spent years building community at places like the supermarket.
"Some people would like to say that people live here because they can't live anywhere else," Peoples-Stokes said. "They live here because they want to. I don't have to live here, but I do. My neighbors could choose to live somewhere else, be in Cheektowaga if they wanted to be. I could be in North Buffalo. It's in my district. I don't have to be here. But I want to be here."
Samina Raja, a professor of urban and regional planning at the University at Buffalo, runs the school's Food Systems Planning and Healthy Communities Lab, an interdisciplinary research group that works with residents in neighborhoods with limited food access.
She said an aspect of what was happening on the East Side or in other neighborhoods with similar challenges that some people might miss was the amount of work that the people were doing to fill the gaps missed by policymakers and business leaders.
"Frankly, even the presence of Tops there is a result of people's activism," Raja said. "I think that the city is segregated so the rest of the city doesn't really understand the culture of Black Buffalo and the East Side. It's a super tight-knit community."
And while the Tops helped fill a gap in the area's quality food options, it was not nearly enough to fix the food access issues. Over the years, dozens of small businesses and nonprofit organizations – African Heritage Food Co-op, Buffalo Food Equity Network, Black-owned urban farms to name a few – have worked to get good, quality food into East Side neighborhoods, she said.
"People are not going to wait around for somebody else to come in and fix their problem," Raja said. "Parallel to the historic disinvestment, what also happened on the East Side is an incredible amount of energy and work on the East Side."
Now that many of the TV news crews have left and most of the victims have been buried, the challenge, leaders and researchers said, will be keeping a spotlight on the issues that have received so much attention in the wake of the attack.
"This crisis has been in the making for a long time and I'm concerned about the very short duration of attention that people have on Black Buffalo, and on this particular neighborhood," Raja said.
Tops officials have vowed to reopen a store in the neighborhood and the same groups that have worked to fill the food access gaps for years are now in overdrive distributing the flood of food brought to organizations and paid for by cash donations to make sure the many people who shopped there can continue to get groceries.
But it's clear that long after the supermarket reopens and regardless of whether the persistent issues that have resulted in the city's segregation receive more attention from policymakers and the public, this attack has left fresh wounds that will not heal for some time.
"When you attack that food store on the most prominent street in Black Buffalo, you attack the entire Black community, not just those that live in the immediate neighborhood," Taylor said. "And you establish a symbol of terror that is meant to intimidate people, not only in Buffalo, but across the country."
Powered By
NEXT STORY: The race for New York's 10th Congressional District begins