New York State
What Delgado's exit from Congress means for Democrats
Rep. Antonio Delgado's appointment to lieutenant governor leaves open a vulnerable swing seat Democrats may struggle to keep as district lines remain uncertain.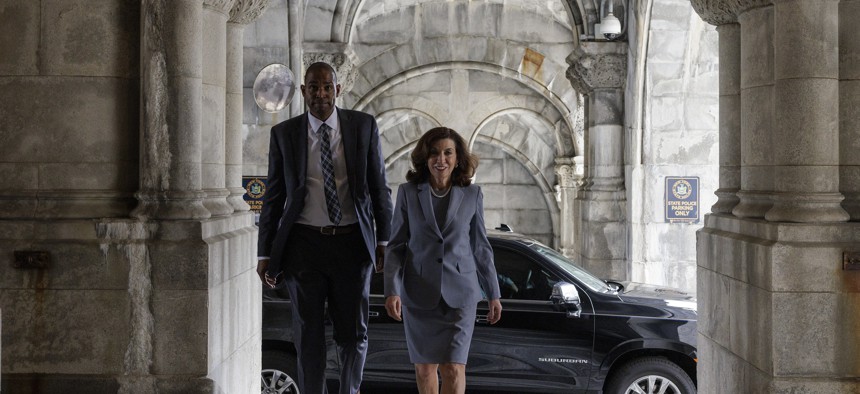 Gov. Kathy Hochul once again sent shockwaves through the New York political ecosystem with her choice of Rep. Antonio Delgado to replace former Lt. Gov. Brian Benjamin after he resigned following his indictment on federal corruption charges. The announcement ended weeks of speculation about who would serve out Benjamin's term and more recently, who would replace him on the ballot. Delgado shares Hochul's moderate political ideology and provides her with a Latino running mate to compete against the two Latinas in the race for lieutenant governor. 
But Hochul's choice also leaves vacant a vulnerable seat in the mid-Hudson Valley. Delgado was expected to face a tough challenge from Dutchess County Executive Marc Molinaro in a year in which Democrats are trying to maintain a tenuous hold on the House. Now, Democrats' control of the 19th Congressional District has become even more uncertain without an incumbent and as district lines remain in limbo.
Delgado won a contentious race in 2018 against former Republican Rep. John Faso. In 2020, Delgado was the only Democrat out of the three to flip seats in 2018 to win reelection, with former Democratic Reps. Max Rose and Anthony Brindisi both losing their seats after just one term. Delgado has walked a fine ideological line within his largely rural district, mostly steering clear of hot-button issues. But a strong challenge from Molinaro, who previously ran statewide for governor, put his future in question. Democrats originally shored up Delgado's district to make it more safely blue during the redistricting process, but those lines are being redrawn after a judge deemed them gerrymandered. 
The decision to remove a Democratic member of Congress from a swing district at this point in time has at least some Democrats in the state concerned. "You left an open seat in Congress," Assembly Member Maritza Davila of Brooklyn told City & State. "This is what we're trying to avoid." She said she feels confident that the seat will return to Republican hands now. "She has to live with her own choices," Davila added. Longtime Democratic consultant Camille Rivera offered a similar opinion. "We need to stop with the win at all costs and think of consequences later," Rivera said in a text to City & State, referencing the political benefit that Delgado poses for Hochul if not the party as a whole. "We need better Democrats, not just any."
Democratic strategist Basil Smikle, who worked on getting Delgado elected in 2018 as the executive director of the state Democratic Party, said that he has confidence that Delgado would be a good lieutenant governor. But he said that Hochul's decision still stands to hurt the party overall in terms of keeping and winning seats in Congress. "Leaving that seat open leaves Democrats vulnerable this fall," Smikle told City & State. He said that Molinaro, who has prided himself on his ability to work across the aisle much like Delgado, represents a particularly tough opponent to beat, especially without an incumbent running. "Taking (Delgado) off the table… could put that district back into Republican hands," Smikle said. Molinaro told City & State earlier that he felt "very good" about his race in the wake of Delgado's exit.
State Senate Majority Leader Andrea Stewart-Cousins distanced herself from Hochul when asked what she thought about the decision to leave a swing congressional seat open during a precarious election for Democrats at the federal level. "We have a governor who has made a decision based on her understanding of the race that she needs to run," Stewart-Cousins told reporters on Tuesday. "We had nothing to do with her choice or why she made it." She did not go so far as to say whether she felt that choice was right or wrong.
But both Hochul and Delgado downplayed the risk to the seat and Democrats' control of the House when asked about the concern in their first public appearance together in Albany. "We are going to work very hard to ensure the majority in the House of Representatives," Hochul told reporters. She did not directly address the question about the specific vulnerability that Delgado's absence in the 2022 race for the 19th Congressional District may cause. Delgado similarly did not offer thoughts on the competitive special election that will take place to fill the vacancy and the potential that his seat could turn red again. "I still represent my constituents in New York 19, I still am acting on their behalf as a statewide elected official," Delgado said.
Later, when asked what he could better accomplish for New York as lieutenant governor – a position with almost no institutional power – as opposed to as a member of Congress, Delgado could not offer concrete examples aside from expressing excitement at the opportunity to directly connect with local leaders on how to use resources secured at the federal level. "To be able to do that, on the ground, to me is tremendously exciting," Delgado said. "And I think I can have a profound impact on demonstrating to people that government can work for the people and enable communities." 
Some other Democratic lawmakers offered more direct confidence that Delgado's exit from Congress will not profoundly harm the party. "We have strong Democratic candidates, I'm sure, looking at that seat," state Sen. Brad Hoylman of Manhattan told City & State. "I would expect a worthy successor in the Democratic nomination." State Democratic Party Chair Jay Jacobs told City & State that the party already has potential candidates in mind for the seat, but declined to offer any names. But interested politicians have already begun to emerge, including Ulster County Executive Pat Ryan, who placed second to Delgado in the crowded Democratic primary for the seat in 2018. "I'm now seriously considering how best to continue serving my community and constituents," Ryan said in a tweet as part of a thread about Delgado's appointment as lieutenant governor. "So stay tuned."