Heard Around Town
Adams endorses county backed challenger for district leader in Brooklyn
The mayor is backing Renee Collymore, an ally of party leader Rodneyse Bichotte Hermelyn, over incumbent Shaquana Boykin.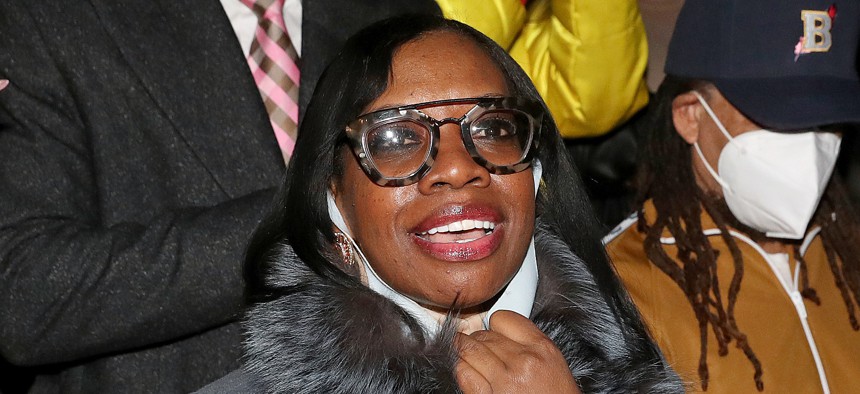 New York City Mayor Eric Adams is throwing his support beyond a county-backed challenger for a district leader seat in Brooklyn, again joining Kings County Democratic Leader Rodneyse Bichotte Hermelyn's efforts to maintain control of the party over progressive reformers. 
Adams has endorsed Renee Collymore, who's hoping to unseat Shaquana Boykin as female district leader in the 57th Assembly District in North Brooklyn. Boykin is a part of the Brooklyn Can't Wait slate of 20 DLs, united by their distaste for Bichotte Hermelyn's leadership and a desire to decentralize power in the party. 
Collymore sent an email to supporters Wednesday including an endorsement from the mayor, saying, in part, "she has a strong independent voice and is unafraid to make the hard calls."
Boykin, who was first elected in 2020, downplayed the importance of Adams' support. "To me the mayor's endorsement is trash. What has he done for any of us?" she told City & State, before calling Collymore "a power hungry, crazy maniac."
Collymore, who previously served as district leader from 2012 to 2014, brushed it off as "the words of an immature inexperienced elected official. This is why you have to know who you're voting for," she said.
There's been bad blood between Collymore and Boykin after the Brooklyn Democrats gave Collymore the responsibility of assigning poll workers in the district – something normally done by the district leader. 
Collymore said she personally asked for the mayor's endorsement, which "gives me an opportunity to put our district at the forefront" of the city. 
A source close to the mayor confirmed the endorsement, but the mayor's team declined to comment further. The Brooklyn Democratic Party declined to comment as well. 
Adams has endorsed a handful of Assembly candidates so far this year including, most recently, Assembly Member Michael Benedetto. And while more low-level endorsements may be coming from the mayor ahead of the June 28 primary, this appears to be the first district leader race where the mayor has formally endorsed. 
But it may not be the first DL race City Hall is getting involved in. Politico reported back in March that close allies of the mayor had pushed City Hall staffer Pinny Ringel to take on incumbent District Leader David Schwartz in Brooklyn's 48th Assembly District. Schwartz had been on the outs with both Adams and Bichotte Hermelyn after working on Andrew Yang's mayoral campaign. But Democratic sources said that the mayor's inner circle has soured on Ringel. Ringel didn't immediately respond to a request for comment, but The City reported that Ringel had taken a leave of absence from City Hall, and he may not return. Adams never publicly endorsed in the race.