Politics
Carlina Rivera enters the race for New York's 10th Congressional District
The New York City Council member said she will be running as the only candidate who was born and raised in the district.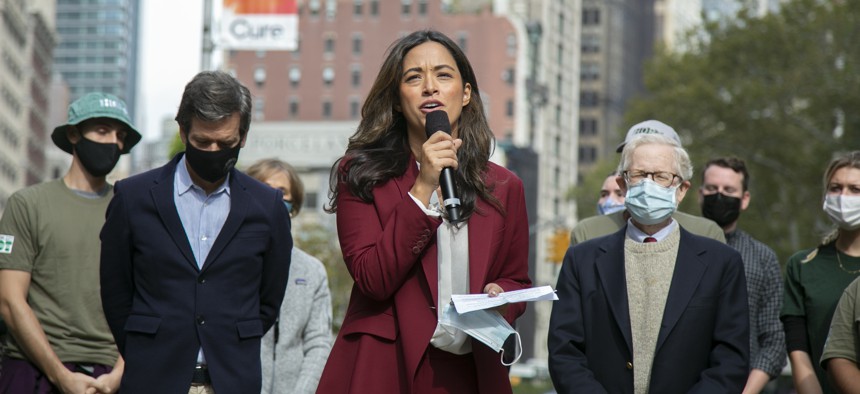 New York City Council Member Carlina Rivera made her suspected bid for the 10th Congressional District official Wednesday, billing herself as the only candidate "who was born and raised and cut my teeth in the district," she told City & State.
Rivera has represented Manhattan sections of the newly drawn district since her election to the council in 2017. She joins a crowded field of candidates vying for the open seat, including former New York City Mayor Bill de Blasio, Rep. Mondaire Jones, Assembly Member Yuh-Line Niou, Assembly Member Jo Anne Simon and former New York City Comptroller Elizabeth Holtzman.
Rivera said she decided to run for Congress following the unveiling of the new district maps and subsequent calls from colleagues and community leaders urging her to jump in the race. "I was born in Bellevue Hospital. I grew up in Section 8 housing on the Lower East Side. I went to school here. I played basketball here. Every milestone in my life is here," she said. Rivera added that she plans to highlight her record serving as chair of the City Council Hospitals Committee throughout the pandemic until earlier this year, her push to allocate city money to an abortion access fund and her work on affordable housing and street safety.
Rivera participated in the first candidate forum last week. In it, she spoke about the need to "increase generational wealth opportunities," along with creating more affordable housing in wealthier Manhattan neighborhoods.
According to recent polling conducted by PIX11/Emerson College/The Hill, 77% of Democratic voters in the district – which encompasses all of lower Manhattan south of 14th Street, along with portions of brownstone Brooklyn and Sunset Park – are undecided on who they would vote for in the Aug. 23 primary. Jones is currently the slight favorite, according to the poll, with backing from 7% of voters. De Blasio was second with 6% and Niou was next with 5%.
One finding from the poll could indicate that Rivera's roots will help her in the race – 87% of Democrats there said it was somewhat or very important for a candidate to live in the district. Niou lives in the Financial District and was born in Taiwan. De Blasio, who grew up in Massachusetts, has a home in Park Slope. Jones, however, lives in Westchester County, in the 17th District that he currently represents in Congress.
When she was elected to the City Council in 2017, Rivera was a member of the Democratic Socialists of America and has maintained her progressive bona fides. Also, as the only Latina in the race, Rivera enters the field at a time when Latino representation on the city, state and federal levels is lacking. The major New York City Housing Association developments along the East River are plurality Latino, and Sunset Park also has a significant Latino population. Overall, 19% of the new district is Latino.
Rivera's campaign highlighted her 2021 City Council win, noting she won "every single precinct in the East Village, Alphabet City, and the Lower East Side," along with 67% of the vote in Greenwich Village, the West Village, Soho and Tribeca.
"Rivera's path to victory is clear and direct, comprising a coalition she has already assembled, voters she knows how to win, and communities that she understands deeply," her campaign wrote in the analysis shared with City & State.
Seven female council members, including Diana Ayala and Marjorie Velazquez, have endorsed her campaign.
"This is more than just a job to me. This is about taking care of the communities that raised me," Rivera said. "To have the honor and the privilege of representing communities where I was born and raised in Congress is something I'm really looking forward to doing, and building a coalition of local supporters that will be out there with me."