Heard Around Town
Carolyn Maloney WAS endorsed by Carlina Rivera. Then things changed.
The primary between Reps. Carolyn Maloney and Jerry Nadler has put endorsers in an awkward spot – and left campaigns scrambling.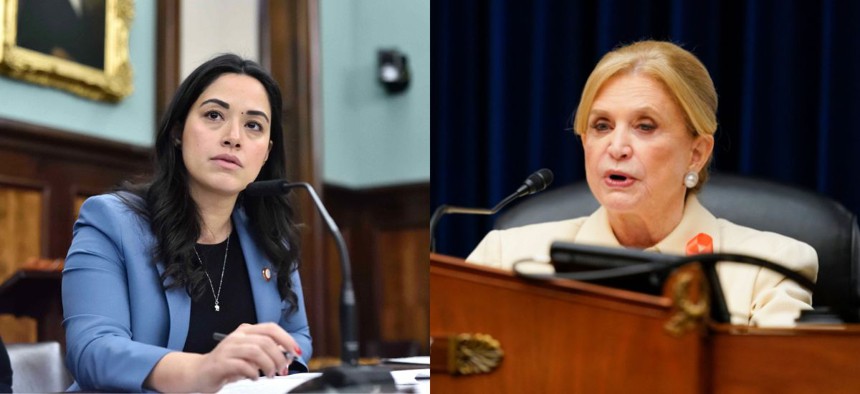 Rep. Carolyn Maloney highlighted an endorsement from City Council Member Carlina Rivera in a fundraising email Tuesday – but Rivera said she's no longer a supporter after redistricting pitted Maloney against Rep. Jerry Nadler in the August primary. "This wasn't an 'endorsement' they should have rolled out, as it was nonexistent in the new district," Rivera spokesperson Alyssa Cass told City & State. Rivera did endorse Maloney back in January, but things are different now – Rivera is running for Congress herself, in the 10th district, much of which is currently repped by Nadler. 
"We made a mistake on Rivera, and she is now neutral, as we are in the 10th," a Maloney spokesperson said.
Nadler is still touting some old endorsements too, listing at least four Brooklyn Democratic clubs on his campaign website that are now miles outside of his district. But a Nadler campaign spokesperson said that was different than blasting Rivera's old endorsement over email.
"By contacting voters and boasting of endorsements made before the new NY-12 was drawn—many of which are no longer valid—Carolyn Maloney has acted disingenuously and disguised falsehood as truth," the campaign said in an emailed statement. "Manhattan Democrats shouldn't have to be worried about being deceived by someone seeking to earn their trust. New Yorkers deserve better."
Another candidate in the race, Suraj Patel, unsurprisingly took aim at both of them. "If there's one thing we've learned over the past few months of backroom deals and gerrymandering, it's that these incumbents feel entitled to their positions," he said in an emailed statement. "Rolling out endorsements you didn't get is just another example of these two behaving as if Manhattan is their aristocracy rather than a democracy. Voters will reject it at the ballot box."
This battle of the titans has put big time Manhattan donors like John Catsimatidis in an awkward spot, as CNBC reported, and that's true for endorsers too. Many of them have been backing both Maloney and Nadler for 30 years. Planned Parenthood Action Fund told City & State they're doing a dual endorsement. Ditto the Chelsea Reform Democratic Club, which has endorsed them both, for the same seat. And while only Maloney lists Assembly Member Deborah Glick on her campaign website, a spokesperson for the pol says she endorsed both Nadler and Maloney before they started running against each other "and has not yet withdrawn her support from either one."
It's a bit harder to find folks that have picked a side in the race. Prominent political consultant Mark Guma was working for both candidates before the new lines came out. He chose Team Nadler. The Working Families Party is also going with Nadler. He secured the party line under the previous district lines, while the WFP endorsed Rana Abdelhamid over Maloney. Abdelhamid ended her campaign when the new lines came out, and the progressive party affirmed its support for Nadler soon after.