News & Politics
Housing plan unveiled and continued dysfunction at Rikers
Rounding up the week's political news.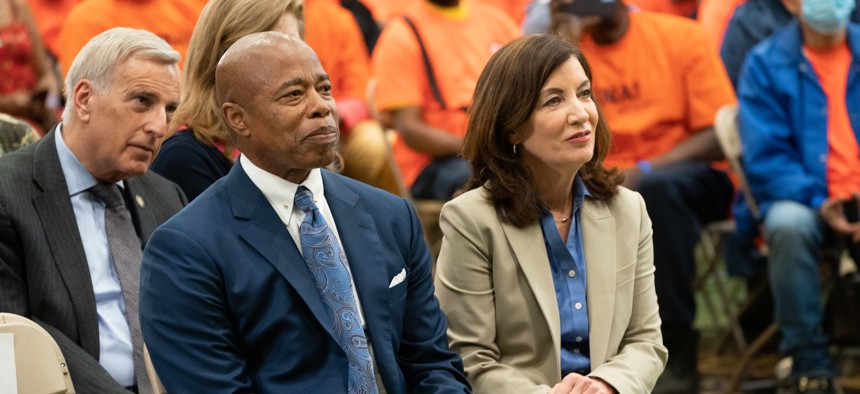 Monday will be the first time Juneteenth is recognized as a paid city holiday in New York City. Mayor Eric Adams hosted a celebration of the end of slavery in the United States on Thursday, calling for unity: "Think about it for a moment. We have a person of color that's mayor. We have an attorney general that's of color. We have a public advocate that's of color. We have the leader of the Assembly that's of color. We have the leader of the Senate that's of color. We have one of the most powerful men in Washington, D.C. that's heading the Democratic Conference that's of color. We have all of this chocolate.If we do nothing with it but fight against each other, then what did we do?"
Keep reading for the rest of the week's news.
Poll: New Yorkers support gun measures
The latest Siena College poll asked New Yorkers about gun regulations and crime, among other important topics. The vast majority of respondents, 76%, agreed that New Yorkers should be 21, pass a background check and take a safety course before being eligible to buy a semiautomatic rifle. Almost 80% wanted the U.S. Supreme Court to uphold New York's requirement that people carrying a concealed weapon have a license. New Yorkers also nearly unanimously agreed that crime was a problem in the state. The poll, conducted in early June with 802 respondents, had good news for Hochul, whose approval rating was up, and GOP candidate for governor Andrew Giuliani, who had the highest name recognition among his opponents.
Eric Adams (finally) endorses Kathy Hochul
The New York City mayor announced his support for the governor from Buffalo on June 15. The endorsement wasn't a surprise, but it did come late in the election cycle and well after the conclusion of the state budget process. Speaking from an event hosted by the building service workers union 32BJ SEIU in Manhattan, Adams called his partnership with Hochul "unprecedented." Unlike their predecessors, former Gov. Andrew Cuomo and former Mayor Bill de Blasio, the mayor and the governor have generally emphasized their cooperation. But their relationship hit a rough patch when some of Adams' priorities for the state budget, including a three-year extension of mayoral control of New York City schools, were denied. Adams was effusive in his praise for Hochul, but he did not weigh in on the lieutenant governor race. Hochul's current second-in-command, Lt. Gov. Antonio Delgado, faces Adams' former Brooklyn Deputy Borough President Diana Reyna and activist Ana María Archila.
Adams unveils his housing plan
The New York City mayor announced his plan to address the city's affordable housing crisis from a rooftop in Downtown Brooklyn last week. Adams has pledged to roll back zoning regulations to allow the development of more housing in an effort to become the "city of yes." He also promised to mobilize funding through the newly created NYCHA Preservation Trust to renovate and repair thousands of apartments. A new "NYCHA Stat" database, based on the NYPD's CompStat, would track issues with public housing units in real time, while the city would pursue more accurate data on the homeless population. The ambitious plan was criticized by advocates for lacking concrete benchmarks and funding. Adams pledged to spend $22 billion on housing over 10 years.
Rikers avoids federal takeover, but dysfunction continues
At a public hearing last week, the New York City Board of Correction outlined inhumane conditions at the Eric M. Taylor Center intake facility on the island, where new detainees have reportedly been kept for days in filthy, crowded rooms before they are processed. The New York Post reported that people were not getting access to medication or even bathrooms, and that some were missing their scheduled court appearances because they were being held in rancid pens.