Politics
LG candidates Ana María Archila and Diana Reyna debate New York's most pressing issues
Lt. Gov. Antonio Delgado declined to attend the forum where gun violence, housing, COVID-19 and other important topics were discussed.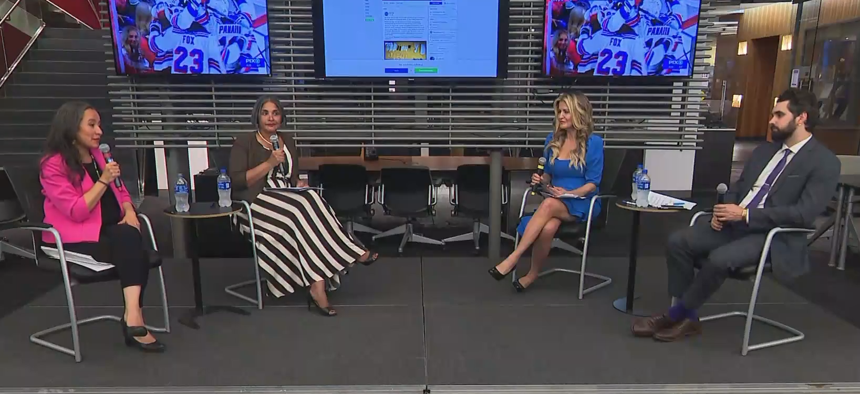 Democratic lieutenant governor candidates Ana María Archila and Diana Reyna faced off in a debate on Wednesday night, answering questions about gun violence, housing, New York City's post-pandemic recovery, the nature of the lieutenant governor's role and more.
Reyna, the former Brooklyn deputy borough president who is running alongside Rep. Tom Suozzi, said her experience growing up in Williamsburg motivated her to jump into the race. She said she was particularly inspired by the community programs and leadership instilled in her by the church, along with the housing struggles she and her family faced. "These are the very (foundations of) why I got involved in politics – to be able to provide a better environment for families," she said, while noting her time serving not only under Eric Adams when he was Brooklyn borough president, but also as a City Council member for 12 years. She added that her record negotiating the budget and serving as co-chair of the Council's Women's Caucus and chair of the Small Business Committee taught her to "ask questions."
Archila, a Queens activist and New York City Public Advocate Jumaane Williams' running mate, said her organizing experience inspired her to become involved in public service. In the beginning stages of her career, she worked with "a community of day laborers who are mostly undocumented young immigrants who were getting their wages stolen (while working) 12-hour days," she said. "I understand that people's dreams are powerful, and the things that are hard in our lives are also the results of policies that compound inequality over time. … Those are the experiences that have shaped me."
Both candidates are Latina and spoke about their heritage. Reyna is Dominican American, while Archila immigrated to the U.S. at the age of 17 from Colombia. "It was in New York that I found a place that I could call home again. It was in New York that I found the safety to be queer and proud. It was in New York where my children were born, and it was also in New York where I found the power of people who fight for one another," Archila said.
City & State New York and PIX11, in partnership with the Coro New York Leadership Center, co-moderated the debate at the Craig Newmark Graduate School of Journalism at CUNY. City & State New York's City Hall Bureau Chief Jeff Coltin and PIX11 reporter Monica Morales were the debate moderators.
Lt. Gov. Antonio Delgado was notably absent from the event, one of several recent or upcoming forums where he has failed to show up at or confirm he will attend. Archila on Tuesday made a display of his repeated absences by delivering a schedule, reporters in tow, to his office in Albany of debates that he has been invited to ahead of the June 28 Democratic primary.
While Delgado has been missing from various public events, his campaign funds far exceed those of his competitors, largely thanks to fundraising that was transferred over from his congressional campaign account. Delgado reported having $2 million on hand last week, compared to Archila's $203,000 and Reyna's $126,000.
Reyna twice referenced his absence on Wednesday. "The Hochul administration has failed in New York. It is no secret that Antonio Delgado, her lieutenant governor, her second lieutenant governor, is not even here," Reyna said, while also noting former Lt. Gov. Brian Benjamin resigned after he was indicted in a bribery scandal.
Here's how the candidates responded to various debate questions.
Gun violence and public safety
Reyna denounced the "white supremacy" and "divisiveness" that inspired the mass shooting at a Buffalo supermarket on May 14 and said that she and Suozzi have a "15-point crime plan" that included battling the gun lobby for tighter firearm controls. She also said the plan would modify bail reforms and implement "prevention and intervention" programs.
Archila said her team's public safety plan demands a $1 billion investment in gun violence prevention and victims' services. She also spoke out against the "white supremacist violence, facilitated by the free flow of guns in our state" that led to the Buffalo shooting. "So we need to make sure that we slow down the flow of guns … that we make sure that we're not selling weapons of war," Archila said, while also noting that the alleged shooter targeted a historically Black neighborhood. "But also we have to understand that that violence comes after decades and decades of segregation and redlining and disinvestment in the communities of Buffalo that were targeted by white supremacist violence."
Both candidates called for tighter restrictions on social media companies in the wake of the shooting, after accused gunman Payton Gendron allegedly used multiple platforms to livestream his actions and publish a racist manifesto.
"We have to fund the police and work with law enforcement so they have the specialized units to monitor these social platforms," Reyna said.
Archila blamed not only social media companies, but also elected officials, for proliferating "white supremacist ideology."
"Let's start with Trump and others who have legitimized white supremacist discourse and sometimes have legitimized white supremacist violence, so we need to understand that as well," Archila said.
Housing
Archila emphasized the rising cost of rent and the increasing frequency of evictions, while also denouncing wealth inequality. "We also need to make sure that we expand the availability of housing instead of giving billions and billions of dollars to real estate developers to build a little bit of affordable housing and subsidize a lot of luxury housing," she said, noting she and Williams have a plan to build and preserve 1 million units of affordable housing. The plan also includes foreclosure prevention and eviction protection initiatives, she said.
When asked how she would improve public housing, Archila said she would "push the governor to sign a check (for) billions and billions and billions of dollars," while requesting more federal funding to pay for capital repairs.
Reyna focused on getting families out of public housing and increasing home ownership. "There's 25,000 families that earn $100,000 in income or more living in public housing," Reyna said. "There's an opportunity here to provide the tools and invest in them becoming homeowners," she said, adding that she would seek to create a Mitchell-Lama-style housing program to expand the middle-class rental market.
COVID-19
Reyna said she was strongly opposed to "shutting down the economy again," while Archila said "we have to be ready to make sacrifices if necessary." However, both spoke about the need to continue raising awareness.
"We need to make sure that we are following medical guidelines. That we are making sure that vaccines and boosters are available to everyone. That we are shoring up our health care system, that we are also making sure that the most vulnerable amongst us are not more exposed," Archila said, while also highlighting the Cuomo administration's failure to protect nursing homes from the virus – and what she characterized as inaction from Hochul while she was serving as his lieutenant governor.
"I would have never stayed quiet when the governor made a decision that turned out to be deadly for residents of nursing homes," Archila said.
The LG's role
Both candidates promised that they would shift away from the historically "ceremonial" nature of the lieutenant governor's role and be more proactive in making policy decisions alongside the governor.
If she were to assume the role of governor, Reyna highlighted her decades of experience in public service. "The opportunity to be able to serve as deputy Brooklyn borough president is a perfect example of how people considered that role to be ceremonial. It wasn't for me," she said. "Kathy Hochul has not provided us (with) that leadership. What we have seen is (a) failed administration under her leadership, a failed lieutenant governor who doesn't even show up."
Archila described the typical New York lieutenant governor as someone "who rounds out the ticket, and then they disappear into the background." She reiterated a commitment to "stand up to the governor" if elected and said the role should be for "someone who functions more like a public advocate than a ceremonial role."