New York State
Is now the 'right time' for congestion pricing?
Gov. Kathy Hochul caused some headaches for transit advocates during her first gubernatorial debate.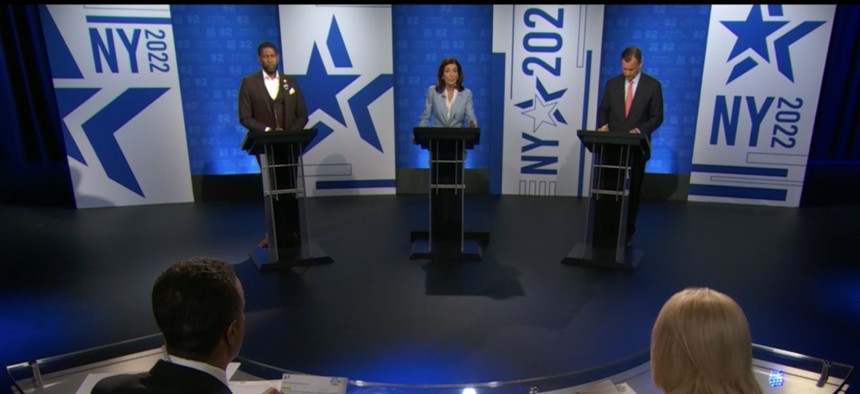 Gov. Kathy Hochul made news during Tuesday night's Democratic primary gubernatorial debate when she said congestion pricing for the core of Manhattan likely wouldn't happen this year. She also caused some heartburn among transit supporters and advocates when she said, "This is not going to happen in the next year under any circumstances, but now is not the right time."
While the governor said she was generally supportive of congestion pricing during the debate, the last few words in her quote raised concerns about how quickly she would work to implement the tolling system.
"With all due respect. She's just not meeting the urgency of the moment. When she says, 'this is not the time,' this is precisely the time," said David Bragdon, executive director of TransitCenter. "Traffic by some measures may exceed prepandemic levels. And so now is precisely the time for congestion pricing."
Congestion pricing was passed by the state Legislature in 2019, and it would cordon off Manhattan below 60th Street and charge drivers entering the zone an additional toll between $9 and $23. The tolls would raise $1 billion in revenue per year for the Metropolitan Transportation Authority to support $15 billion in borrowing for capital upgrades in the beleaguered subway system.
"Congestion pricing is the linchpin of the MTA's capital program. It's the largest single source of new revenue," said Daniel Pearlstein, the policy and communications director at Riders Alliance. "The Legislature adopted it after an unprecedentedly broad campaign that brought together landlords and tenants, business and labor, and everybody in between."
Transportation advocates said they understood that Hochul is in the middle of a campaign but were disappointed she didn't take a stronger stance on a key issue in a state with millions of transit riders.
"The governor is trying to communicate that she feels people's pain. She feels drivers' pain. We're not going to inflict their congestion toll upon you when inflation is rising, but where's your positive vision for public transit? This is New York. She's the governor of New York with an iconic subway system, with millions and millions of people who depend on public transit every day," Pearlstein added.
He also dismissed concerns raised by Rep. Tom Suozzi during the debate, when the member of Congress said riders haven't returned to public transit because they feel unsafe.
"It's a canard that everyone's home terrified," Pearlstein said. "There are 5 million people in transit already (and) 3.5 million on the subway every single day."
The governor's office didn't provide any additional clarification on her "now is not the right time" comment when asked by City & State. Hazel Crampton-Hays, a spokesperson for the governor, provided this statement: "Governor Hochul remains committed to implementing congestion pricing efficiently and effectively for the benefit of all New Yorkers who deserve clean air and world-class transit, and while extensive questions from the federal government are causing delays, the Governor directed her team to work closely with the federal government to provide responses as quickly as possible and keep the process moving forward."
Environmental advocates were also instrumental in the passage of the 2019 congestion pricing bill. One of those groups, the New York League of Conservation Voters, endorsed Hochul for her first full term last week. The organization's president, Julie Tighe, didn't think the governor was walking back her support for transit.
"The MTA in the many conversations we've had with them is committed to getting this done," she said. "I think that it's a missed opportunity for the governor to highlight the valuable components of congestion pricing given the platform at the debate. But I think they've clarified she's supportive of congestion pricing and committed to moving it forward."
Other policy experts stressed that despite Hochul's comments, elected officials should be focused on getting the program finished.
"What I am concerned about is the potential for further delays. And that's where our focus is. This was passed in 2019. And so we need all of the state, feds, to work together to advance this work through the environmental assessment, get that out of the way, and then work on the actual implementation," said Kate Slevin, executive vice president of the Regional Plan Association.
During the debate, Suozzi also warned about the effect congestion pricing could have on the city's financial recovery. "I support congestion pricing, but not now in the middle of this financial crisis we're facing," he said.
Nicole Gelinas, senior fellow at the Manhattan Institute, said: "If you're already paying hundreds of dollars for Broadway tickets and $50 for parking and you're paying for a meal, you're not going to be deterred by the congestion fee. You might grumble about it or whatever, but if you really are bent on seeing a Broadway play, this is not what's going to keep you away."