New York State
Progressives down – but not out – after a tough primary night
The WFP and DSA lost many of their races, but are looking for silver linings.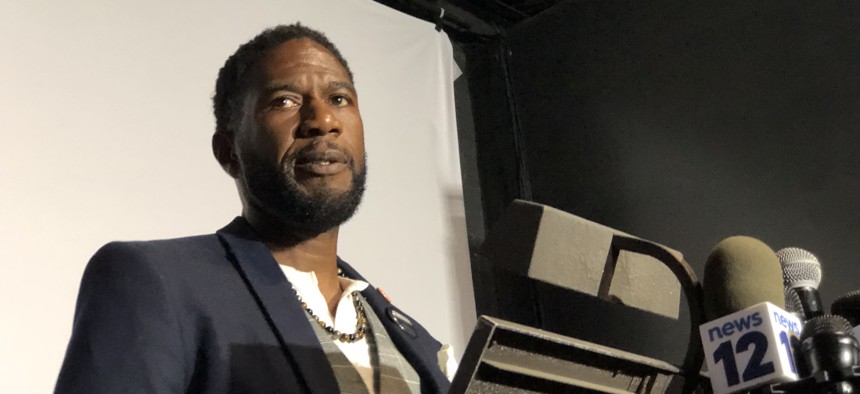 Progressives in New York went into the June 28 Democratic primaries with high hopes. The Working Families Party had an ambitious slate of Assembly candidates looking to oust establishment incumbents and win open seats. Its organizers worked together with local branches of the Democratic Socialists of America and Rep. Alexandria Ocasio-Cortez threw her support behind the candidates as well. Statewide, progressive lieutenant governor candidate Ana María Archila also had a strong presence on the campaign trail, and boasted numerous high-profile endorsers. 
By the end of the night, progressive organizers and candidates had come up short in the majority of their races. Archila received less than a quarter of the vote as Lt. Gov. Antonio Delgado emerged with a landslide victory. In the Assembly races, only one DSA-backed candidate won out of the five non-incumbents they endorsed, while only two of the WFP's nine priority races went their way. Across the state, it was a tough night for progressives. 
Despite the lackluster performances this year, a number of different factors, including enormous outside spending and national issues pushing the policy agenda, would suggest that those losses don't necessarily represent a death knell for the left wing of the Democratic Party in New York. Although moderates and incumbents largely came out on top this time around, differences in policy may not have driven the outcome at the polls. In fact, results in two races in particular offer reason for progressives to move ahead with confidence. 
Although Archila, and even less surprisingly, New York City Public Advocate Jumaane Williams, lost their statewide races, they each placed second in their contests. Supporters found comfort in the fact that they finished ahead of Rep. Tom Suozzi and Diana Reyna, who had run to Hochul's right and campaigned heavily on increasing crime rates and denouncing bail reform. Although that pair significantly outspent their leftwing opponents, Archila and Williams ended the night with more votes. "I don't think the results are ideological," progressive Democratic consultant Camille Rivera of New Deal Strategies told City & State referencing the statewide races. "It wasn't the wins that we wanted, but if you see the numbers here, Tom Suozzi had millions of dollars and could not outpace people like Jumaane who had none."
Both the WFP and DSA still suffered significant setbacks on Tuesday despite noteworthy wins by Sarahana Shrestha in the Hudson Valley over incumbent Assembly Member Kevin Cahill and Juan Ardila in the open race to replace retiring Assembly Member Catherine Nolan. Unlike in 2018 and 2020, when progressives racked up major victories in both the state Senate and Assembly, candidates didn't have a boogeyman to run against like the Independent Democratic Conference, nor a presidential primary at the top of the ballot where the winner would be taking  on former President Donald Trump. 
On top of those two factors missing this year, outside interests – in particular those with real estate ties – spent big on independent expenditures to oppose the leftwing candidates who would support legislation like "good cause" eviction that would offer stronger tenant protections. "I think real estate decided and made an effort to push back as much as they wanted to… to defend their institutions," Rivera said. Two related super PACs – Common Sense New Yorkers and Voters of New York – spent significant sums against several WFP and DSA-backed candidates, potentially running afoul of campaign finance laws. Others, like Knicks owner James Dolan's Coalition to Restore New York, also supported some candidates facing leftist opponents. Of course, outside spending wasn't the only factor. Candidates on the WFP's slate got outside support from an affiliated super PAC that spent more than $375,000 combined on mailers and TV ads. 
The political turbulence at a national level may have also dampened the desire among Democrats to rock the boat as the U.S. Supreme Court issues opinions that challenge long-held constitutional rights like abortion. "There is a current value on moderation," Democratic political consultant and former state Democratic Party Executive Director Basil Smikle told City & State. "When there is discomfort and anxiety in the electorate, it's hard to make change." Smikle added that for the first time in over a decade, New York City has a mayor and governor who are working together, while many leftwing candidates might represent a "divergence" from the overall strategy they are leading right now. This doesn't necessarily come down on ideological lines, but both the governor and mayor are moderate, which has been reflected in voter attitudes this year. It may also help to explain how the only progressive successes in unseating incumbents – including taking out Assembly Member Tom Abinanti in Westchester County – occurred outside the city limits. 
Despite the tough primary election losses on Tuesday, the WFP struck an optimistic tone, making note also of victories by freshman Assembly incumbents like Phara Souffrant Forrest. "Despite massive crypto and real estate money tilting the playing field, our candidates worked tirelessly to amplify the needs of working New Yorkers, lifting up critical issues and policy solutions to address the crises facing New York – everything from public safety to housing to climate change," WFP State Director Sochie Nnaemeka said in an election night statement. But Rivera said that the June results offer a lesson for progressives as they prepare for congressional and state Senate primaries on Aug. 23. "We have to do better on our messaging," Rivera said, acknowledging that average New Yorkers are scared and remain worried about public safety. "We need to be less wonky, be more clear, we need to understand that we need to meet voters where they are."