New York State
The Working Families Party is looking to oust seven Assembly Democratic incumbents
The party's nine-candidate slate is emphasizing tenants' rights, health care and climate.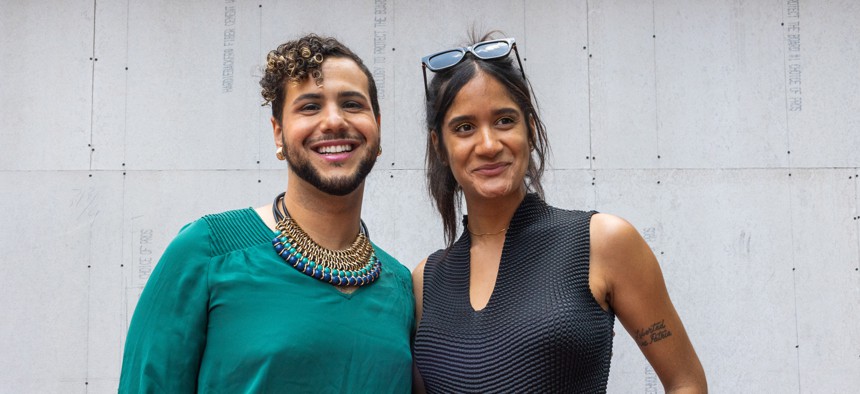 Four years ago, a group of Democratic insurgents challenged former members of a group of breakaway Democrats who had shared power with Republicans, successfully unseating all but two of them. Two years ago, Democratic Socialists of America-backed candidates took on entrenched Democratic incumbents in the Assembly, again leading to several upset victories across New York City. Now, the Working Families Party has endorsed a slate of candidates in upcoming Assembly primaries looking to repeat those successes for a third election cycle in a row. Now working in lockstep with the DSA, the WFP plans to bring its vast campaign resources to support its candidates in what will likely be tougher primary fights than in years past.
In March, the WFP announced their "We Can't Wait" slate of nine Assembly candidates, seven of whom will challenge Democratic incumbents in the June 28 primary. When Republicans controlled the state Senate prior to 2019, the Assembly had stood as a progressive bastion, passing legislation like the New York Health Act knowing the GOP would never vote for it. But since Democrats took control of the upper chamber, the state Senate has increasingly led the Legislature on left-wing issues, as bills now often stall in the Assembly. The latest examples came just this year as the Assembly failed to approve the Clean Slate Act and the Build Public Renewables Act after those bills were passed by the Senate. "It's not about vendetta, it's about values and policies and what people fight for when they're in the Legislature," Nina Luo, deputy state political director for the WFP, told City & State. "So we want to run a slate of folks who are extremely value-aligned, disciplined politically." The agenda includes issues like "good cause" eviction, health care access and universal child care.
The seven incumbents being targeted by the WFP are Jeffrey Dinowitz and Michael Benedetto in the Bronx, Erik Dilan and Nikki Lucas in Brooklyn, Inez Dickens in Manhattan, Angelo Santabarbara in Schenectady and Kevin Cahill in the Hudson Valley. Some, like Dinowitz, Cahill and Benedetto, have held their seats for decades. Others, like Dilan and again Dinowitz, are members of powerful political families in their neighborhoods, while Dickens remains a power broker in Harlem.
With the exception perhaps of Santabarbara, who represents a traditionally more moderate district upstate and has voted against a handful of priority bills like banning the sale of ghost guns, a cursory review of the incumbents' voting records won't reveal any incumbents as significantly out of step with the policy goals of the WFP. But bills only come to a vote when the speaker is sure they have enough support, at which point voting for them is easier.
Lawmakers often stake out their positions before legislation makes it to the floor, and even co-sponsorship does not offer clear insight into what bills they will fight for or prioritize. One needs to look no further than the New York Health Act, which has more than enough co-sponsors in both chambers to pass but has never come for a vote since Democrats took total control of the Legislature.
This year, one example would be the Build Public Renewables Act, of which Dinowitz is a co-sponsor. Although supporters said they had 83 "yes" votes, Dinowitz later said it didn't have the support and 83 was still too narrow a margin. "We don't like to shove things down people's throats," he told Politico New York after the legislative session. "We want to get good things done as quickly as possible, but it doesn't always work that way." Lawmakers generally try to whip at least 76 votes for a bill in the 150-member Assembly, and many pieces of legislation have passed with fewer than 83 votes supporters claimed to have had, leaving advocates frustrated and confused over what had happened.
It doesn't matter if we have Democrats in charge if they're not the kind of Democrats who are really going to fight for 'good cause' eviction, for Build Public Renewables. – Assembly candidate Jessica Altagracia Woolford
The idea of coalition-building beyond election campaigning is at the heart of what the WFP hopes to achieve with its slate of candidates. "You need to have dedicated progressives who are in the Assembly working together in a bloc to really get through some of this noise," Jessica Altagracia Woolford, who is challenging Dinowitz in the Bronx, told City & State. She later referenced the closed-door negotiations that average New Yorkers won't see over bills. "It doesn't matter if we have Democrats in charge if they're not the kind of Democrats who are really going to fight for good cause eviction, for Build Public Renewables," she said. A spokesperson for the Dinowitz campaign affirmed his commitment to progressive policies in a statement to City & State. "Assembly Member Jeffrey Dinowitz has been standing up to powerful interests to deliver for working families his entire career," spokesperson Matt Rey said. "Our campaign is focused on the future of the North Bronx and we're proud of Jeffrey's record fighting for our communities."
Woolford and her slatemates would likely join a growing bloc of progressives and socialists in the Assembly that includes members like Zohran Mamdani, Marcela Mitaynes and Phara Souffrant Forrest, all of whom took office last year. Those 2020 elections were contentious not only because they unseated longtime incumbents, but because they in some instances pitted WFP candidates against DSA candidates. Although the WFP endorsed Mitaynes, it stayed out of Mamdani's race and actually endorsed then-Assembly Member Walter Mosley over Souffrant Forrest.
This year, however, is different. Although the DSA has only officially endorsed three insurgents that are part of the WFP slate, it has not backed anyone running against a WFP candidate, nor has the WFP supported anyone running against someone with DSA support. "This represents, like, a movement of new progressive candidates that will together champion policies for working-class families rather than private interests that have outsized influence in Albany," Samy Nemir Olivares, who is taking on Dilan and has DSA support, told City & State. Unlike in recent elections, the two progressive organizations have now joined to create a unified front, a partnership solidified with the backing of Rep. Alexandria Ocasio-Cortez for both slates of candidates.
Organizers said that was a conscious decision. "The issues and the crises that we're up against are just way too massive, and we need to work together if we want to beat back the industries and the right wing that is really organizing in the state," Sumathy Kumar, co-chair of the New York City chapter of the DSA, told City & State. The DSA proved its grassroots chops in 2020 with successes in Assembly races, and even as far back as 2018, when now-state Sen. Julia Salazar unseated Martin Malavé Dilan – Erik Dilan's father – with the organization's support. And the WFP brings with it decades of organizing experience and campaign resources to candidates like Olivares and Woolford. The consolidation of the two progressive forces will likely be necessary now that incumbents have two years' worth of evidence of progressive organizing strength. "It's definitely true that we can't just sneak in anymore," Kumar said.
The 2022 election cycle may prove the toughest yet for progressives. Unlike in 2018, these incumbents haven't coordinated with Republicans – as the Independent Democratic Conference had. And unlike in 2020, insurgents won't benefit from incumbents underestimating them. Lawmakers have accumulated significant support from the most politically powerful unions in the state, and New York City Mayor Eric Adams has begun to show his own support as well. He has endorsed Benedetto, Dickens and Dilan, and while he hasn't explicitly mentioned Ocasio-Cortez, he has made no secret of his disdain for her and her politics. "AOC is with my opponent," Benedetto told the New York Post about his endorsement from Adams. "They support the same things like defunding the police." Dickens offered a similar opinion, denouncing both Ocasio-Cortez and the growing strength of socialist movements in New York. Her opponent, Delsenia Glover, is not endorsed by the DSA.
Benedetto's opponent, former Ocasio-Cortez staffer and DSA member Jonathan Soto, did not shy away from the association nor the influence of a unified slate with the WFP. "There are a lot of centrist elements inside of the Legislature and in state government, and we need organizational alignment and mass movements," Soto told City & State, specifically referencing recent gun control measures he felt could have gone farther as well as the ability to pass major climate change legislation. "I can't do this alone as a single member." Of course, Soto is running on more than prominent endorsements and general left-wing ideology, pointing both to shifting demographics in his Assembly district and the fact that Benedetto has never faced a serious challenge as well as his focus on reforming New York City public school governance, a matter Benedetto is deeply involved in thanks to his position as chair of the Education Committee.
This is not about one candidate, it's about a movement, it's a communitywide project. – Assembly candidate Samy Nemir Olivares
For all the shared goals between members of the WFP slate, they ultimately each run in very different races, facing individual challenges unique to their districts. Justin Chaires, who is challenging Santabarbara, is one of only two upstate candidates, along with Sarahana Shrestha, who is taking on Cahill. "There is so much that needs to be done on this (local) level my downstate mates may not see," Chaires told City & State. And he also faces easily the most conservative of the incumbents in a district that also has an active Republican primary. "You can't take anything for granted," Chaires added, looking ahead to the general election despite having a Democratic voter enrollment advantage in the district. But it's perhaps the reason that Chaires' inclusion in the slate is even more important. "Being able to run on this slate with these other candidates is truly a blessing," he said of the vision for New York they all share. "We're obviously in much different districts … but we make sure that we're constantly working together."
The 2018 primaries saw the success of the anti-IDC movement whose organizing impacts can be felt in 2022 with the WFP's "We Can't Wait" slate, but that year also ushered in the state's first Democratic Socialist lawmaker in Salazar. She ran against Martin Malavé Dilan at a time before the DSA's influence had grown. Four years later, the current slate of WFP and DSA candidates have taken lessons from that early victory as the progressive movement has expanded. "This is not about one candidate, it's about a movement, it's a communitywide project," said Olivares, who is looking to finish what Salazar started in Bushwick, Brooklyn, by unseating Erik Dilan. "It goes beyond winning one election, but it is about transforming, radically, the conditions of the community and pushing for transformative legislation."
Correction: An earlier version of this story incorrectly stated the number of candidates on the WFP slate who were also endorsed by the DSA.
Powered By
NEXT STORY: Housing plan unveiled and continued dysfunction at Rikers