Politics
Is Suozzi's ethics scandal an ethics scandal?
The candidate for governor also criticized incumbent Gov. Kathy Hochul for handing out rebate checks ahead of the primary, among other potential ethical issues.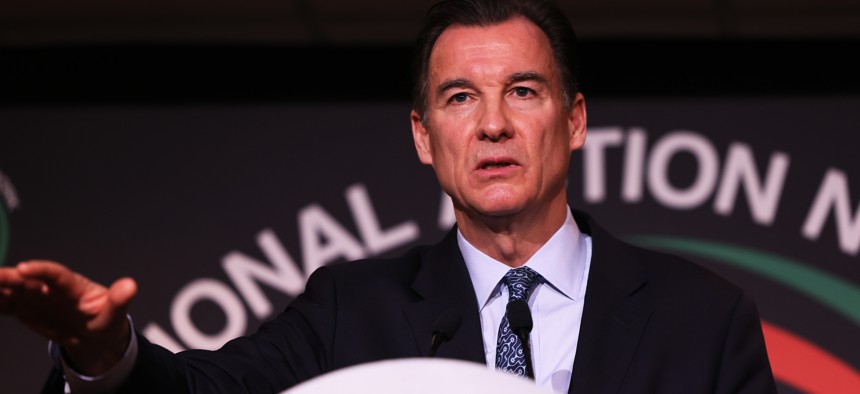 Rep. Tom Suozzi held a virtual press conference Friday criticizing his opponent in the Democratic primary for governor, Gov. Kathy Hochul for what he saw as a series of ethical lapses – most recently appearing to speed up the timeline for giving certain homeowners rebate checks so the money came ahead of the primary election.
In calling out the governor, Suozzi defended himself as clean as a whistle. "I've never had a whiff of ethical scandal related to anything I've done, despite the rough and tumble I've been in, in many elections."
That earned a question from an incredulous reporter: isn't Suozzi currently under investigation from the House Ethics Committee regarding allegations that he violated a federal law meant to curb insider trading? 
"Let me make it very clear – that's not an ethical scandal," Suozzi said of the investigation from the House of Representatives' internal ethics body. 
The Long Island Democrat then explained his side of the investigation in more detail.
 I've disclosed my stock trades every year in an annual disclosure – fully disclosed every single year when I ran for Congress and every year I've been in Congress. I discussed it with the Ethics Committee. My accountant discussed it with the Ethics Committee. Every year before we submitted those. And after five years, they said you've got to disclose, also, periodic disclosures in addition to annual disclosures. We said, we don't think we have to do that, because all of my trading is done by a broker who has complete discretion. I have no say over any of these stock trades whatsoever. It's a paperwork thing. We've since complied, and submit those on a regular basis. This is not like (former Lt. Gov.) Brian Benjamin getting arrested. This is not like the Buffalo Bills getting a billion dollars with no public hearing. This is a paperwork thing which – all of this information was fully disclosed. It just wasn't done on a timely basis. I don't think you can make a fair comparison. There's no allegations of insider trading, or inappropriate behavior like that.
The online publication Insider has reported on Suozzi's stock trading before, noting in March of this year that he had filed necessary disclosures months, or as much as five years late. Insider reported again in May that Suozzi was late in disclosing trades. A spokesperson told them that the Congress member would pay the fine. 
Suozzi has focused on ethics reforms throughout his career and has made it a centerpiece of this run as well, calling out Hochul for failing to disclose meetings with lobbyists, among other potential ethical lapses. 
On Friday, Suozzi added a new criticism, saying it was obvious that Hochul moved up the timeline for delivering rebate checks to homeowners in order to coincide with this month's primary election. When money for the rebates was included in this year's state budget, the governor's office said checks would be coming in the Fall of 2022. But the Wall Street Journal's Jimmy Vielkind reported today that his check just arrived, dated May 31, and crediting "Governor Hochul and the New York State Legislature" for "providing you this Homeowner Tax Rebate check."
Asked whether the governor's office moved up the timeline and why, Hochul's press secretary Hazel Crampton-Hays provided a statement. "Governor Hochul worked with the legislature to secure tax relief for New Yorkers in the State Budget, and given rising costs and national inflation, the Department of Tax and Finance has been working to deliver these benefits to eligible homeowners as quickly as practicable and not delay relief at a time when so many New Yorkers are struggling." 
But in Suozzi's eyes, the reason was clear: "There's no question she's doing it because the primary's coming up," he said. "It's great that homeowners are getting money. I'm all for that. That's wonderful. It's the timing that is suspect. And with her name on it, on top of that."