Campaigns & Elections
New York's 2022 GOP gubernatorial primary results
Rep. Lee Zeldin wins GOP nomination.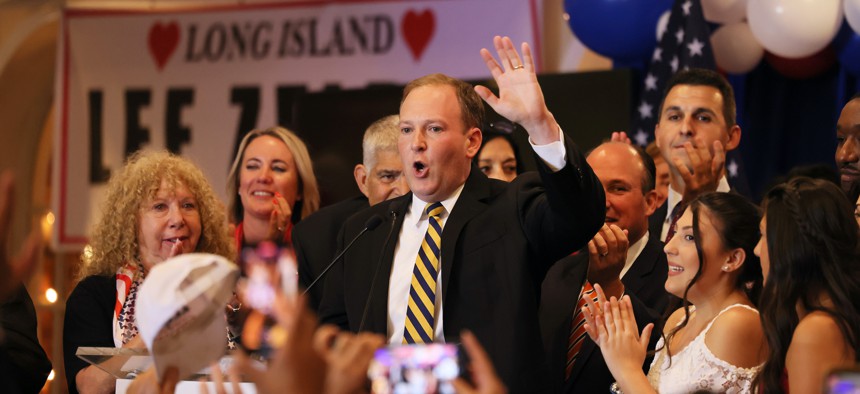 Rep. Lee Zeldin won the Republican primary contest on Tuesday, defeating a crowded field, but nonetheless meeting expectations that he would secure the nomination.
After what initially appeared to be a tight race for the GOP gubernatorial nomination about an hour after the polls closed on Tuesday, Zeldin moved ahead of Andrew Giuliani to win 41% of votes with 86% election districts reporting as of 11:30 p.m., according to preliminary results from the New York State Board of Elections.
Zeldin, speaking from Long Island on election night, attacked his now-competitor in the general election, Gov. Kathy Hochul, who handily won her party's nomination on Tuesday. "Kathy Hochul is in over her head," Zeldin reportedly said. "She's a walking identity crisis."
In elections past, Republicans in New York have avoided primaries for governor, consolidating around the candidate who received the party's designation. In a deep blue state like New York, where only one Republican has held statewide office in the past four decades, the GOP generally pools resources around a single candidate considered to have the best chance against a Democrat. This year, Zeldin received the party designation, which usually clears the field of other potentially interested candidates. But this time, that didn't happen, and Zeldin finds himself in a four-way primary.
Zeldin finds himself in a four way primary with businessman Harry Wilson, former Westchester Executive Rob Astorino and Andrew Giuliani. The race is not only more crowded than the Democratic primary, but it has also proved to be more contentious as the candidates used the debate stage lob attacks at each other. 
Zeldin has emerged as the apparent favorite in the race as polls consistently showed him leading the pack. Although former President Donald Trump has not weighed in on the race – despite candidates courting his endorsement – Zeldin did win the support of former Vice President Mike Pence recently, which likely helped bolster his already strong presence in the contest. And recent polling by Emerson College had Zeldin ahead of his competitors by double digits.
Giuliani, meanwhile, benefits from his strong name recognition and popularity among voters, which polling has found is higher than Zeldin's despite his lead in potential votes. 
Little separates the candidates from a policy standpoint, with all four arguing to repeal bail reform and turning to fracking and nuclear power for clean energy. They also share similar views abortion rights. Zeldin has said that as governor, he'd work to require parental consent for minors to receive an abortion and allow only doctors to perform them. The views are shared by Astorino and Giuliani, as well rolling back other provisions of the 2019 Reproductive Health Act and banning late-term abortions. Wilson was the only outlier, committing to leaving the state's abortion laws alone as a pro-choice candidate. 
All four, however, offered staunch support for gun rights, including keeping the age to buy an AR-15 style weapon at 18 and opposing a federal assault weapons ban. Zeldin, Giuliani and Astorino all applauded the Supreme Court decision to overturn New York City's century-old concealed carry law, while Wilson criticized Hochul and former Gov. Andrew Cuomo of unconstitutionally restricting New Yorkers' gun rights. A common thread among all four was on limiting restrictions on "law-abiding" citizens in the state. 
Ultimately, the race may be decided not on how voters feel about policy positions, but rather which of the four candidates come across as the Trumpiest as the former president's influence on the GOP continues to impact races nationwide. Zeldin and Giuliani leaning heavier into the pro-Trump sentiments of the party than Wilson and Astorino. In fact, Wilson was the only candidate to explicitly acknowledge that the 2020 election was not stolen from Trump, while Giuliani attacked Zeldin for calling some of Trump's comments racist in 2016. 
Lee Zeldin: 41%
Andrew Giuliani: 23%
Harry Wilson: 16%
Rob Astorino: 19%
With 11,105 out of 12,860 election districts reporting
Powered By
NEXT STORY: New York's 2022 Democratic gubernatorial primary results