Heard Around Town
Dan Goldman raises $1.2 million in a month for open NY-10 race
An FEC ruling means Mondaire Jones' cash advantage in the race could get even bigger, as he raises again from the same donors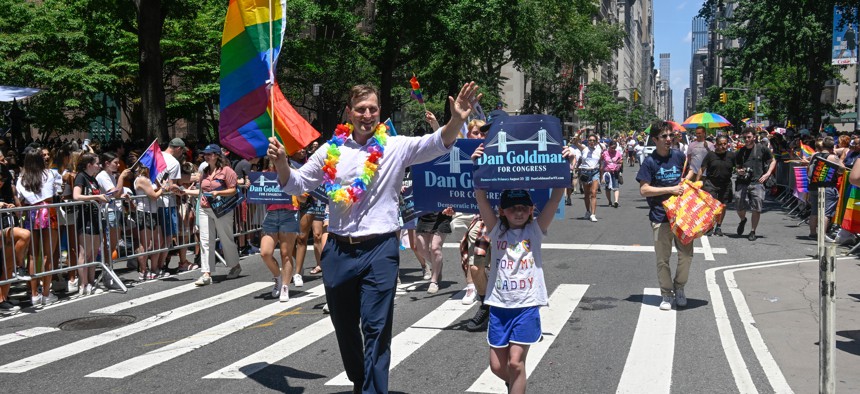 Former lead counsel in the first impeachment of Donald Trump, Dan Goldman, has raised $1.2 million in a month in the race for the 10th Congressional District – an impressive pace for the competitive open seat featuring other big names.
That came from more than 2,100 individual contributions, and none of it is self-funding by Goldman, a wealthy heir and former assistant U.S. attorney – though the campaign says he hasn't ruled out spending his own money. Goldman's team shared that info exclusively with City & State ahead of the campaign finance filing deadline on July 15. 
Other candidates for the race in Lower Manhattan and Brooklyn will be chasing Mondaire Jones' fundraising, since he had reported $2.9 million on hand, as of March 31. And Jones is likely to report another huge number. The Federal Elections Commission ruled that it's treating the August primary as a new race separate from the original June primary that was scheduled before the maps were tossed out. That means candidates like Jones who were already running can hit up the same donors who maxed out before, such as the Congressional Black Caucus PAC or Patriotic Millionaires chair Morris Pearl, to max out again. 
That's bothered other campaigns who think it gives Jones an even bigger head start than he already had. "It's pretty ridiculous," an operative on a competing campaign remarked. 
Other leading candidates in the race such as Yuh-Line Niou, Carlina Rivera, Jo Anne Simon and Bill de Blasio declined to share their fundraising totals in advance. Liz Holtzman, who recently hired consulting firm SKDK, told City & State she had raised around $125,000 so far. "We started our campaign recently," read a statement from Holtzman.
Goldman has been expected to bring in a lot of money after his aborted run for state attorney general last year raised $1.5 million in just a month. This time, his campaign said 1,500 of the contributions since he started fundraising on June 1 were $100 or less, a good sign of grassroots energy. However the filing due next Friday will reveal how many of those actually came from within the district. That statistic could be telling and prove whether the MSNBC contributor who earned a national profile during the impeachment hearings will actually be a top tier candidate in the race against more experienced candidates, many of whom have run in parts of the district before.
Powered By
NEXT STORY: Here's how the DSA keeps its lawmakers in line