Campaigns & Elections
Jones swore off Goldman Sachs' money – but took donations from its top lobbyists
A look at fundraising in the 10th Congressional district, where Mondaire Jones has more money than de Blasio, Goldman and the rest of his opponents combined.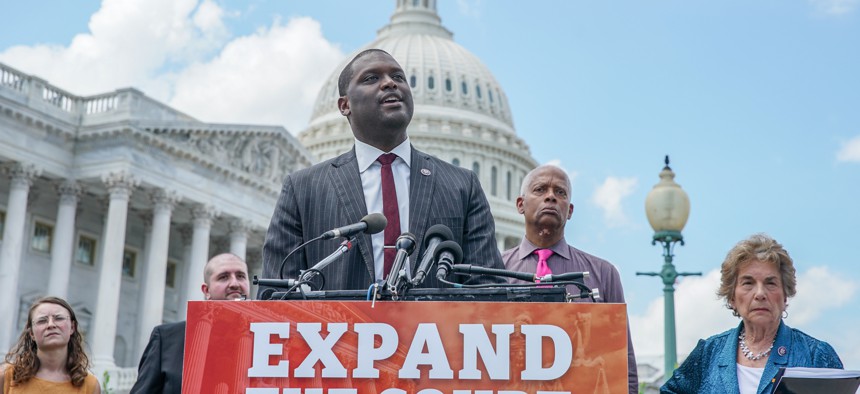 Back in his first run for Congress, Rep. Mondaire Jones targeted his then-opponent Nita Lowey's base of contributors. Jones pledged to not to take donations from corporate political action committees.  "Nita Lowey, by contrast,  takes money from donors like Goldman Sachs, Lockheed Martin, Northrop Grumman, and the Sackler Family, which caused the opioid crisis," he wrote in a July 2019 Medium post.
Lowey dropped out, and Jones won an open seat as the progressive choice. He has stuck by that pledge, and doesn't take PAC money – but once he took office, he did take money from two of Goldman Sachs' top lobbyists. Jones received $2,000 from Michael Paese and $500 from Joyce Brayboy, who are both Goldman employees registered to lobby for the investment bank before the House of Representatives. Jones also took $250 in 2020 from Scott Farbish, a vice president of government affairs at Goldman, who isn't a federal lobbyist. 
Is taking money directly from a corporate PAC any worse than taking it from the corporation's lobbyists? Jones' campaign says yes. "There is a substantive difference between a person and a corporation, unless your name is Clarence Thomas," said Jones campaign spokesperson Bill Neidhardt, referring to the conservative Supreme Court Justice.
But Jones, who is leading the field in the 10th Congressional District in fundraising, with more cash on hand than his other 12 opponents combined, takes these purity pledges seriously. His campaign reported refunding nearly $70,000 in contributions this quarter, including $1,000 to a corporate political action committee associated with auto parts provider LKQ Corp. But the vast majority of refunded donations were to fossil fuel industry lobbyists – contributions returned so as to comply with his No Fossil Fuel Money pledge endorsed by the country's leading environmental organizations. 
Campaign finance filings for the second quarter of the year were due to the Federal Election Commission on Friday, and candidates and their supporters for the competitive open seat have been talking a lot about who's taking money, and from where. 
"Unlike every other candidate in this race, Rep. Mondaire Jones is endorsed by End Citizens United because he is the only candidate in this race who has passed legislation to get big money out of politics and rejects corporate PAC contributions," Jones campaign spokesperson Bill Neidhardt wrote in a statement to City & State. "Rep. Jones has also rejected donations by fossil fuel lobbyists, all while Council Member Carlina Rivera has taken direct corporate contributions and Dan Goldman has vowed to dump millions of his family fortune into this election. The choice is clear."
Jones' team is overstating their case, a bit. Rivera listed a single $2,500 contribution from Zapas Construction, a Queens based contractor. It was wrongly classified as a donation from an individual, omitting the names of the company's partners, when they should have been included. The Rivera campaign said it was a clerical mistake that will be corrected. Goldman likewise, told HuffPost last week he was "prepared if necessary to put some of my money in to level the playing field against someone from another district who brings a large war chest into this race" – referring to Jones. Goldman declined to say how much money he would spend, but he has access to millions, as an heir in the billionaire Haas family, which led Levi Strauss & Co. Seven people with the last name Haas gave Goldman a combined $35,000 so far. (Despite his name being Daniel Sachs Goldman, the candidate does not have any direct connection to the investment bank.)
Goldman raised the most money this quarter, bringing in $1.24 million, as City & State first reported. He has $1.08 million on hand. Goldman received donations from prominent names in real estate including Douglas Durst and Stephen Ross and Martin Ginsburg. Goldman also received $950 from the campaign of Suffolk County Executive Steve Bellone – who has not publicly endorsed Goldman. 
"With more than 2,100 contributions in only one month – and more than 1,500 of $100 or less – we have been overwhelmed by the broad support for Dan's candidacy," Simone Kanter, communications director for Goldman's campaign, wrote in a statement.  
Jones brought in $525,000 in the last three months, and leads the field with $2.8 million on hand – more money than all of his opponents have combined. Jones is the one sitting Congress member in the field, though he is running in an entirely different district after moving from Westchester County to Brooklyn, in pursuit of the open seat. He has also been running for Congress the longest, while his other leading opponents joined much later, after the new district lines were set. 
Rivera reported $354,000 on hand, after raising $401,000. Rivera has been embraced by the Yes In My Backyard, or YIMBY movement for her relatively pro-development views, and many of her donations reflect that, coming from real estate developers such as Jed Walentas, Bruce Teitelbaum, Donald Capoccia and Kirk Goodrich, as well as handful of real estate lobbyists. Former gubernatorial candidate Cynthia Nixon, who has endorsed Assembly Member Yuh-Line Niou in the race, seized on these donations, tweeting Monday that Rivera's filing "looks like something Guiliani might have turned in," accusing her of being "bankrolled by big real estate & a who's who of lobbyists for bad corporate actors." 
Rivera campaign spokesperson Alyssa Cass fired back in a statement provided to City & State: "NY-10 will be won in the streets, not the tweets. And we have the best ground game in the race."
Niou herself brought in $241,000 this quarter and reports $202,000 on hand. Prominent donors included Nixon, the Working Families Party and former Congressional candidate Lindsey Boylan. Despite Nixon's tweet, Niou took a limited amount of money from real estate developers such as Bernard Chiu of Upland Capital and Gary Spindler of Park-It Management. Niou also received a max-out $2,900 donation from Jason Ortiz, whose firm Moonshot Strategies has lobbied the city on behalf of real estate interests. In a statement provided to City & State, Niou campaign spokesperson Max Burns suggested the money would be returned. "Yuh-Line has long made the commitment to reject developer money or corporate PAC money and will not accept those dollars in this race," he said. 
Former New York City Mayor Bill de Blasio brought in $511,000, and has $450,000 left to spend. He reported at least $5,000 in donations from PACs associated with the International Union of Operating Engineers. His campaign has not yet publicly announced an endorsement from that union or its affiliates. Other donors included a handful of his former commissioners and appointees, as well as real estate developers such as John Catsimatidis, Gary Barnett and Hal Fetner.
Recent polls for the open seat covering Lower Manhattan and parts of western Brooklyn show Rivera, Niou and Goldman as the top three candidates in the race, though nobody has a clear lead, and many voters are still undecided ahead of the August 23 primary.