Eric Adams
Who can actually get a gun in New York City?
The New York City Police Department will be forced to change their strict gun permitting standards to adhere to the U.S. Supreme Court's determination that the state's rules for concealed carry licenses are unconstitutional.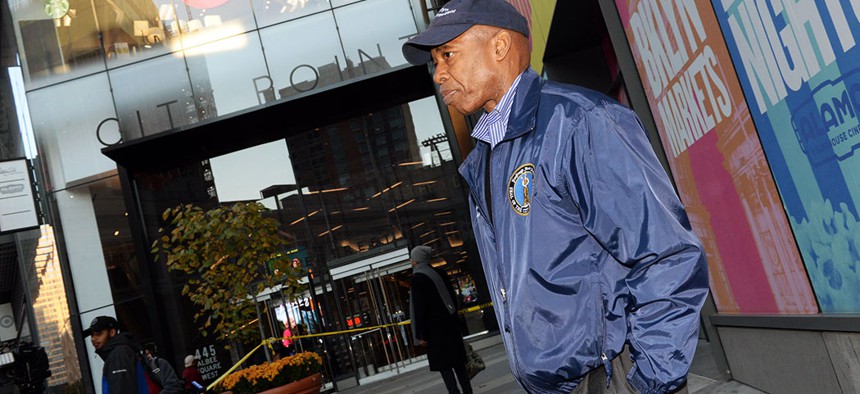 New York City officials are expecting an increase in the number of guns carried legally in the city following the Supreme Court's overturning of the state's concealed carry law in June. The New York City Police Department, which is the licensing agency tasked with issuing gun permits in the city, is notoriously strict when it comes to granting permission to carry a gun. The law overturned by the court allowed licensing agencies to apply a level of subjectivity in determining who had a "unique need for self-protection." Now that the standard has been ruled unconstitutional by the high court, the state has set new guidelines for issuing the permits, effective Sept. 1. 
While more applicants are expected to be approved to carry guns in the city under the loosened restrictions, they must first undergo an extensive vetting process, including an interview with the licensing agency – something the NYPD already requires – along with reference checks, gun-safety training and more. Ultimately, licensing agencies will have discretion to decide who possesses good "good moral character" and the ability to use a weapon "only in a manner that does not endanger oneself or others."
Guns will still be prohibited in many places in New York City, thanks to a new state law passed in light of the SCOTUS ruling that bars guns in certain "sensitive places," including Times Square, courthouses, schools, parks, concert venues and more.
The Supreme Court ruling comes as gun violence in the city has increased from pre-pandemic levels. At the same time, gun sales have spiked nationwide. Between March 2020 and March 2022, 18% of U.S. households purchased a gun, and nearly 50% of adult Americans now live in a household with a firearm, according to the National Opinion Research Center at the University of Chicago. 
Police in New York have said they are awaiting further instruction from the state and courts on how to implement the new law. For now, here's what it takes to get a gun in New York City:
HOW DO YOU GET AN NYPD GUN LICENSE? 
Since 2018, the NYPD only accepts online applications for handgun licenses, rifle/shotgun permits and renewals. The process includes registering a profile, submitting fingerprints and required documents, and paying the application and fingerprint fees. Once an application has been received and reviewed, the NYPD schedules an in-person interview. Within six months, the applicant will receive a letter stating whether the application was approved. 
WHO CAN CARRY A GUN IN NEW YORK CITY? 
General requirements under the existing law for carrying a handgun are that the permit holder is at least 21 years of age, of good moral character, and in a safe mental and physical condition to operate a firearm. Before issuing a gun license, the NYPD conducts a background check that includes a close review of the applicant's medical and legal history, such as reports of arrests, summonses and domestic violence.
Applicants for a carry or premise license must also submit a letter of necessity. Retired law enforcement officers are eligible to apply for a license, and those who were employed in New York City are even waived the handgun license application fee. Similarly, security guards can obtain a permit with appropriate documentation from their employer. 
WHAT TYPES OF LICENSES DOES THE NYPD ISSUE? 
The NYPD issues five types of licenses, each for a term of three years. Not all permits allow for unrestricted concealed carrying. Licenses are issued for use in a residence or at a business and specify whether the licensee can carry it or use it in a specific location. Premise licenses are restricted to the address indicated on the permit, and licensees may transport their firearm and ammunition to an authorized range, shooting competition, hunting location and another approved location. To carry a concealed firearm, an applicant must obtain a carry business license, which is valid for a specific person, business, occupation or address. In special circumstances, the license can be issued for safety unrelated to business. The limited carry business permit is restricted to certain conditions and must otherwise be unloaded and stored away. A special license requires the permit holder to possess a valid carry country card. The NYPD issues carry guard licenses to security guards, which permits the carrying of a handgun only while actively engaged in employment or on transit to and from the place of employment. Retired officers can obtain a law enforcement retiree license. 
SO CAN ANYONE WHO'S NOT AN NYPD OFFICER OR RETIRED NYPD OFFICER GET A LICENSE? LIKE FORMER MAYOR BILL DE BLASIO? 
The NYPD may issue a carry business license for safety reasons. According to the New York State Rifle and Pistol Association, anyone who completes an application, satisfies the NYPD's general requirements, as stated above, and passes the background check is eligible for obtaining a New York gun permit. This applies to anyone, and thus, with a letter of necessity, a public figure can obtain an NYPD firearm license. 
With reporting by Sara Dorn
Powered By
NEXT STORY: Rodneyse Bichotte Hermelyn's time as Brooklyn Democratic leader may be nearing its end