2022 congressional primaries
Candidates debate whether it's time for a rookie in the 12th Congressional District
Attorney Suraj Patel made the case for change against longtime Reps. Carolyn Maloney and Jerry Nadler.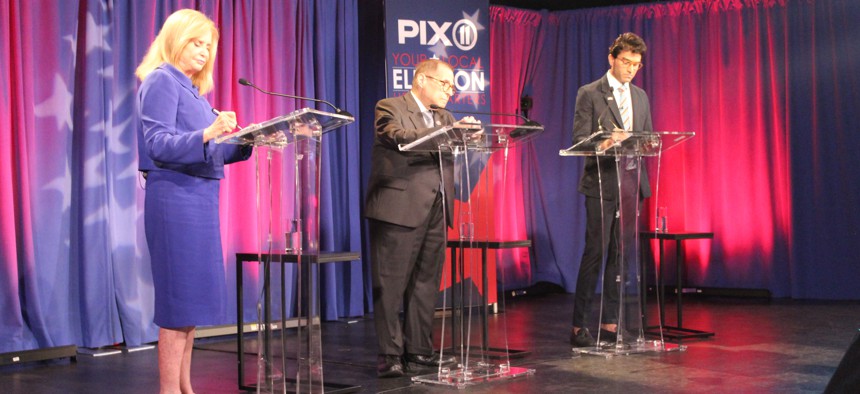 The Democratic primary candidates for the 12th Congressional District faced off in a debate on Tuesday night where they discussed national issues, including President Joe Biden running for reelection in 2024, the conservative-leaning U.S. Supreme Court, along with local issues like crime and congestion pricing.
Ahead of the debate, a new poll also released Tuesday showed longtime Reps. Carolyn Maloney and Jerry Nadler, who were drawn into the same district during New York's redistricting process this year, in a tight race. The poll found 29% would vote for Nadler, 27% for Maloney, while Suraj Patel had support from 20%.
During the debate, co-moderated by City & State and PIX11 and organized in partnership with Hunter College, which hosted the event at its Kaye Playhouse, the candidates stuck to their campaign strategies with Patel, 38, casting himself as a fresh face in politics and Maloney, 76, and Nadler, 75, playing up their records of accomplishments.
When asked about a recent article by The Associated Press about new voices in politics, Maloney said: "This is not a time for rookies. This is a time for our best team going forward to combat an extreme Supreme Court." Patel blamed the members of Congress for failing to codify Roe v. Wade into law prior to the Supreme Court's decision to overturn it – something Nadler and Maloney blamed on the U.S. Senate, after the legislation in May failed to garner enough support to overcome a GOP-led filibuster. "If the elections give us two more Democratic senators, we'll have the votes to overcome the filibuster," Nadler said, adding later in the debate about passing universal gun background checks and assault weapons bans: "I don't care what Mr. Patel says about a new generation and new thinking. It takes votes to do that."
In another criticism of his opponents, Patel said that both have taken corporate PAC money, something he highlighted in a recent campaign ad. "The No. 1 shareholder in the top four largest gun manufacturers is BlackRock. It is also the largest contributor of PAC money to both of my opponents," he said. Neither Maloney nor Nadler responded to the attack during the debate. When questioned about the corporate PAC money after the debate, Maloney said, "I'm the only one up there who's actually done anything for campaign finance reform. … When I was on the City Council, I passed one of the first public financing of campaign laws. At the time it was called one the toughest and best in the nation."
The right-leaning Supreme Court was a significant topic of discussion – and one where Maloney slightly differed from the other two candidates. She said she would support the impeachment of the Supreme Court justices who have been accused of misleading Congress on Roe v. Wade during their confirmation hearings. Nadler, who chairs the House Judiciary Committee and would be tasked with starting the impeachment process, said he did not believe there was enough evidence to do so. Patel concurred. "I have to agree as a fellow attorney with Congressman Nadler that these people were smart enough to dance around perjuring themselves in front of Congress, and therefore, I do not see an evidentiary basis for impeaching the Supreme Court justices that lied to us, because they were clever about it," he said.
All of the candidates agreed, however, that more justices should be added to the Supreme Court.
In another point of agreement, the candidates all said they would support President Joe Biden if he ran for reelection in 2024. In a debate last week, when a slightly different question about a potential Biden 2024 run was posed to the candidates about if he should run, Maloney repeated her controversial comment that it was unclear if he would. And Nadler said: "It's too early to say." Patel called attention to those comments in his opening remarks during Tuesday's debate. "The rookie on this stage is the only one who didn't just spend seven days embarrassing themselves by throwing President Biden under the bus for reelection in 2024. I mean, from Tucker Carlson to Sean Hannity, Democrats are being asked about President Biden's future now thanks to the comments made by the two people on this stage with decades of experience," he said.
On gun control, Nadler and Patel took a firm stance against the Republican narrative that essentially any measure to limit the sale and use of firearms would be a violation of the Second Amendment, while Maloney played up her push for bipartisan gun legislation that "doesn't conflict with the Second Amendment."
She added: "I also am proposing gun safety laws that I think I can get through the Senate, that I think I can get bipartisan (support)."
Patel retorted: "I imagine Congressman Nadler and I have the same comment, which is that the Second Amendment does not protect an individual's right to bear arms … and so passing meaningful gun control legislation, in my opinion, does not violate the Second Amendment." Nadler also seized on Maloney's comment: "Mr. Patel is right in what he said, but I'll go further. Contrary to what Ms. Maloney seems to believe, the (National Rifle Association) and the Republicans call any gun legislation a violation of the Second Amendment no matter what it is."
In a shift away from what was once a progressive rallying cry for police reform – and in an apparent appeal to voters concerned about crime – all three candidates said the New York City Police Department should be given more federal funding. Maloney emphasized the need for mental health services to combat crime, pointing to legislation she recently introduced that would expand access to mental health services. The bill was named after Michelle Go, who was pushed to her death on the Times Square subway tracks in January by a homeless man with a history of mental health issues. Patel advocated for hiring more detectives. And Nadler boosted his record on passing gun control measures, including an assault weapons ban, in the House. He also said "people have to trust the cops," while noting his bill, the George Floyd Justice in Policing Act, which would strengthen police accountability measures, passed the House in 2021.
On the local issue of the congestion pricing plan to toll drivers south of 60th Street in Manhattan, the candidates agreed there should be an exemption for drivers who live in the congestion pricing zone. And none of the candidates said there should be a delay in the plan, which could take effect as early as next year.
In closing, Nadler and Maloney both spotlighted their progressive bona fides, while Patel recalled his childhood in an intergenerational household where he "slept on a one-bedroom floor with my grandparents and parents who immigrated from India with nothing."
"We're on the verge of a historic only-in-New York moment here. In the next 14 days, we can put somebody into this congressional seat who understands your concerns," Patel said.
– with reporting by Jeff Coltin