New York City
As Carlina Rivera runs for Congress, city lobbyists see an opportunity to donate
Rivera says she won't be influenced, but that hasn't stopped government relations specialists from tossing cash her way.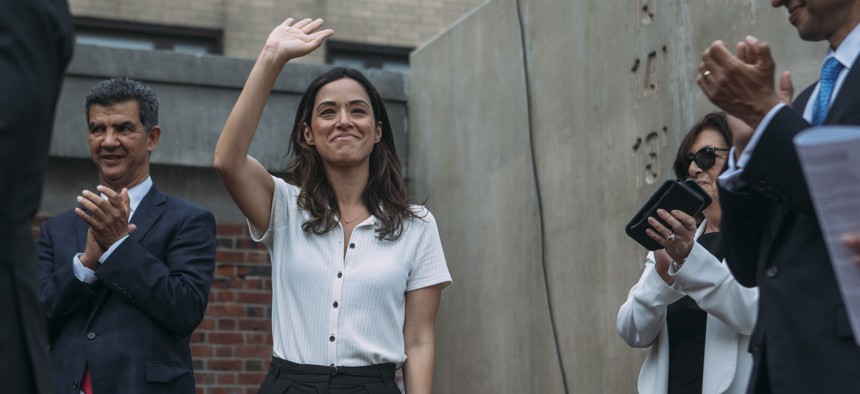 New York City Council Member Carlina Rivera seems to be local political insiders' favorite candidate in the 10th Congressional District. And that federal campaign has given lobbyists another outlet to donate to her while also actively lobbying her on the city budget and legislation – which is a way of working around the city's own strict campaign finance laws.
The practice is entirely legal, and there are no allegations that she has changed a vote or made a budget allocation as a result of the donations, but the donations give a sense of which lobbyists want Rivera to know she has their support. Registered lobbyists are only legally allowed to donate up to $250 to candidates in City Council elections, but the limits are higher in congressional races. That means lobbyists can donate a far larger sum to Rivera – up to $2,900 for the primary – than they could if she were running for reelection to the council. Rivera is eligible to run for reelection in 2023 and serve through the end of 2025. Regardless of the outcome of the 10th District election, Rivera will remain in some level of political office, whether it be Congress or City Hall. Lobbyist donors may feel they'll win either way.
A who's who of donors
City & State found at least 19 donors listed in the city's database have lobbied Rivera or her staffers in the past eight months. Their contributions come to about $24,150 of Rivera's overall $638,000 raised. While two lobbyists gave as little as $250, at least 11 gave $1,000 or more. David Rich, political megadonor and in-house lobbyist for the Greater New York Hospital Association, gave Rivera the maximum $2,900, and another $2,900 on top of that she could only use in the general election. Rich's association reported lobbying Rivera's office this year on a council resolution to support federal funding for Puerto Rico's Medicaid program.
Michael Woloz, president and CEO of CMW Strategies, donated $1,000 to Rivera's campaign. His firm lobbied either Rivera or her staff for four separate clients this year, discussing the city FHEPS rental assistance program for the Legal Aid Society, and talking about issues including outdoor dining for the Latino Restaurant, Bar and Lounge Association.
At least six lobbyists for Bolton-St. Johns gave to Rivera, in amounts ranging from $250 up to the $2900 maximum. The firm has lobbied Rivera's office on more than a dozen issues over the past year, including staffing issues on Rikers Island on behalf of the Fortune Society, and funding in the budget for the Waterfront Alliance.   
Rivera's campaign attests that she's always been someone who's garnered broad support and pointed to her record as proof that she can't be bought. For just one example, the council member was the lead sponsor on a bill requiring short-term rental platforms to provide information about transactions to the city, which Bolton-St. Johns lobbied against on behalf of Airbnb. 
"Carlina's coalition of supporters is unmatched, with support from every corner of NY-10, from Brooklyn to Manhattan, from NYCHA developments to brownstone neighborhoods," Alyssa Cass, a spokesperson for Rivera's campaign said in a statement. "They are with her because Councilwoman Rivera is independent and unbought, with a clear record of answering only to the voters and fighting for what's right for her constituents."
Rivera was asked directly about this dynamic during a debate hosted by NY1 and WNYC last week where campaign fundraising was a major topic. Rivera pushed back, saying she's repeatedly taken on big interests and that her record shows where she stands.
"This neighborhood, this community, this district, they know who I am. And they know that housing specifically has been such a core issue not just in my career but that it is something that has directly influenced my life," she said. "So my record is very clear as to the issues that I stand up for. That's for working families and that's for people who have historically lived on the margins."
Influence peddlers are all over the NY-10 race
Candidates getting contributions from those who are looking to influence them is a fact of life, and Rivera isn't the only one in the race who is doing so. As City & State previously reported, Rep. Mondaire Jones received contributions from two of Goldman Sachs' top lobbyists, even after criticizing his former opponent for taking donations from the investment bank's political action committee. Assembly Member Yuh-Line Niou has taken money for her campaign from registered lobbyists at the state level, such as Wayne Ho, who lobbies the Assembly as president and CEO of Chinese American Planning Council, and Jason Ortiz, who represents a variety of clients with business before the Assembly, from nonprofit service providers to real estate developers. (A spokesperson for Niou's campaign told City & State they were planning to refund Ortiz's donation because of her pledge against taking certain real estate industry donations. Ortiz has also given $2900 to Rivera.) Another sitting Assembly member in the race, Jo Anne Simon, received money from Samara Daly, a lobbyist for hire with Bolton-St. Johns, and Chris Coffey, CEO of Tusk Strategies (Both also donated to Rivera). 
Another leading candidate in the race, Dan Goldman, isn't a sitting elected official, but has taken thousands of dollars from donors who may be looking to influence him as well, such as real estate developers Stephen Ross and Douglas Durst. Goldman has reported putting nearly $4 million of his personal wealth into his campaign.
Anytime a sitting office member runs for reelection, lobbyists can donate, and anytime somebody runs for another office at the same time, there are more places to donate. That's part of why former New York City Mayor Bill de Blasio (who has dropped out of this very 10th Congressional District primary) received so much scrutiny for his presidential run. That federal account provided another avenue for interested donors like the Hotel Trades Council to ply him with cash.
The potential conflicts are magnified when a city politician runs for state office, where the donation limits are higher, and there are few rules barring the source of donations. During his 2018 campaign for lieutenant governor, then–Council Member Jumaane Williams accepted tens of thousands of dollars from donors registered on the city's Doing Business database – a significant portion of his total fundraising in the race. 
Still, Rivera stands out among her opponents for the number of supporters with business before her government office – so many that it essentially makes up a who's who list of city lobbyists, not to mention real estate developers. Rivera has not yet opened a campaign account for what would be a 2023 reelection campaign, so the federal account is the only place for supporters to give.  
In pursuit of access
Because lobbyists have a financial interest in having access to elected officials, their involvement in campaign fundraising is inherently fraught with conflicts of interest, according to Blair Horner, executive director of the New York Public Interest Research Group.
"By and large, lobbyists are in the business of the lobbying business, and what they sell to potential clients is access," Horner said. "It's hard to show that unless you worked for (the candidate) or you were some high ranking official or an elected official, or you've helped raise money for someone who does get elected."
Supporters could be donating to earn access, or to suggest to clients they have access. Of course, there could be other reasons to give. Many donors are voters themselves, with a personal preference for who wins the seat. They may also have a personal relationship to Rivera, who has worked in and around city politics for more than a decade as a program director at a nonprofit organization and as a staffer to former Council Member Rosie Mendez. 
"She's been in this world for years and years and years, and if you've worked with her she's likable, approachable, always gets back to people," said Coffey of Tusk Strategies. His firm has lobbied Rivera's office this year, on food delivery legislation for sustainable container company DeliverZero, but Coffey said he personally hasn't lobbied the council in years. "People that have seen her up close have a good idea of what she's going to do if she gets to Congress. I think that helps drive them." 
Still, influence peddling is a legitimate concern in any level of political campaign and there are legitimate reasons that lobbyists might believe they have more to win donating to Rivera than other candidates who aren't guaranteed to remain in a political office after the election. 
"They are betting on a winner either way," Horner said. "Now, that doesn't necessarily mean that Council Member Rivera will do what they want."  
Goldman, whose personal wealth has drawn scrutiny throughout his campaign, said during Wednesday's debate that he's worried about the selling of the seat, citing, in part, "Rivera's receipt of donations from special interests."
To this, Rivera fired back, calling him a "walking campaign finance loophole" for his massive personal loans to his own campaign. 
"I know who I am, and all of the endorsements that I have from our Congress people, from our borough presidents, from our council members, but especially from the community, because of my record fighting for these issues that are so important to us," she said. "Housing, health care, transit, abortion access. I am a fighter, I always have been. I'm a workhorse. And I'm more interested in finding a creative solution than making a statement."