Campaigns & Elections
Bill de Blasio ends congressional campaign for NY-10
A couple of discouraging polls preceded the former mayor's exit from the crowded, high-profile race.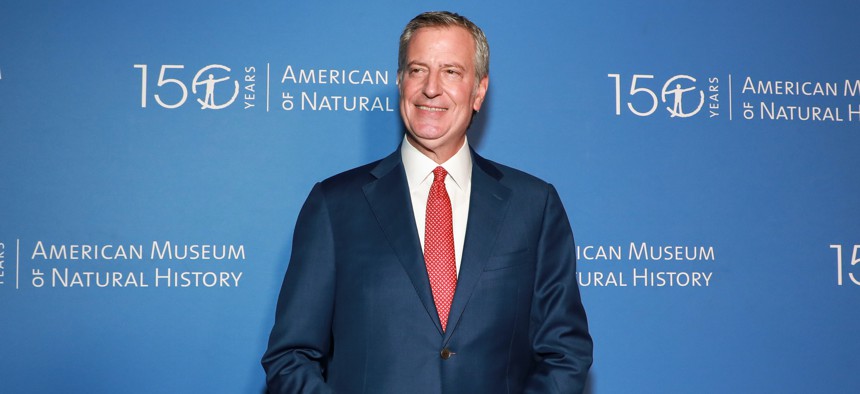 Bill de Blasio is dropping out – again. The former mayor of New York City announced Tuesday that he would no longer be running in the 10th Congressional District. "I've listened really carefully to people," de Blasio said in a short video posted to Twitter shot outside one of his homes in Park Slope. "And it's clear to me that when it comes to this congressional district, people are looking for another option."
The race for the 10th Congressional District has quickly become one of the most high-profile in the state. It's an open seat spanning lower Manhattan and much of brownstone Brooklyn, and 13 candidates are on the ballot, including Rep. Mondaire Jones, City Council Member Carlina Rivera, Assembly Member Yuh-Line Niou and former House impeachment counsel Dan Goldman.
Public polling in the race has been brutal for de Blasio. A July poll run by progressive firm Data for Progress – whose founder Sean McElwee has actually been a public defender of the former mayor's progressive legacy – showed de Blasio in seventh place, with seemingly no viable path to victory. An internal poll commissioned by Niou's campaign and de Blasio's former allies in the Working Families Party similarly showed de Blasio in a distant seventh. A whopping 49% of respondents said they definitely would not vote for de Blasio. No other candidate got more than 6% on that question.  A source close to de Blasio's campaign told City & State that de Blasio's internal polling was also dire. 
Still, de Blasio proved somewhat popular among the donor class. New campaign finance data released last week showed the former mayor trailing opponents including Jones, who has raised $3.3 million, and Goldman, who has raised $1.2 million. But de Blasio had still outraised other candidates, including Rivera and Niou, taking in roughly $511,000. He leaves the race with a little over $450,000 on hand.
Some longtime de Blasio supporters donated to multiple candidates in the race, or even abandoned the former mayor in favor of other contenders. Rivera received donations from former de Blasio supporters Jed Walentas and Steve Nislick. "Carlina looks forward to earning his vote," Rivera campaign spokesperson Alyssa Cass said of de Blasio after Tuesday's announcement.
The former mayor racked up significant debt while in office, including nearly $1 million owed to lawyers, consultants and taxpayers as of last October, according to The City. At the time, de Blasio owed roughly $435,000 to lobbying firm Kramer Levin & Naftalis, as well as owing taxpayers roughly $320,000 for the use of his NYPD security detail during his 2020 presidential campaign and over $182,000 in outstanding campaign debt.
His presidential campaign account alone still owes debts totaling more than $91,000, mostly to law firms Shapiro Arato Bach and Trister, Ross, Schadler & Gold. He also used the latter firm for his Congressional run, and reported owing the firm an additional $1,913 for its services. 
De Blasio's run in the newly drawn 10th district followed an ill-fated presidential campaign in the middle of his second term as mayor. Failing to gain traction in a crowded field of candidates, the former mayor ended that bid after just four months in September 2019. Following former Gov. Andrew Cuomo's resignation last year, de Blasio also signaled that he would challenge Gov. Kathy Hochul for the Democratic nomination for governor this spring. Following months of speculation, de Blasio put that possibility to rest in January with a similar video announcing that he would not in fact be running for governor. Before declaring his candidacy in the redrawn 10th congressional district, he entertained a run in the 11th congressional district.
With Tuesday's announcement, de Blasio signaled that he no longer sees a future as an elected official. "Time for me to leave electoral politics and focus on other ways to serve," he wrote on Twitter.
The mayor who served from 2014 through 2021 has gotten job offers and opportunities since leaving office, but wasn't seriously considering them, the de Blasio campaign source said. "I think he's going to be more open to listening to some of those opportunities than he was before… probably something that's still in the public capacity, but maybe doesn't have him as a principal."
De Blasio will presumably still be on the ballot for the August 23 primary, since it has already been set. Would he now endorse one of his former opponents? "We haven't discussed that," the source said. "I think it's a possibility."
The former mayor, whose favorability ratings sank below those of former President Donald Trump as he finished out his second mayoral term, looked pained as he announced his departure from the race. "I feel New York City in my heart and soul, I really do," he said. "I'll see you along the way."