Campaigns & Elections
Dan Goldman declares victory in 10th Congressional District
The former House impeachment counsel spent his way to victory in a close race for the open seat over Yuh–Line Niou, other progressives.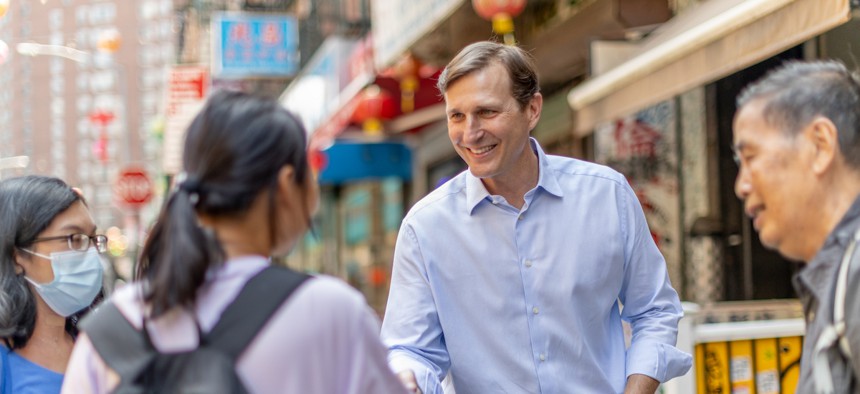 First-time candidate Dan Goldman claimed victory in the 10th Congressional District following a tight race on Tuesday night that ended with him up by fewer than 1,500 votes over Assembly Member Yuh-Line Niou and days' worth of absentee ballots uncounted. The Associated Press called the race for Goldman early Wednesday morning.
Goldman, speaking to supporters at a watch party at the Torch and Crown Brewing Company in SoHo, said he would "appreciate and respect the democratic process and make sure all of the votes are counted," while also declaring himself the Democratic nominee for the open seat. "It is quite clear from the way that the results have come in that we have won," he said, standing alongside his wife, Corrine, and four of his five children. 
Goldman spent the beginning of the night watching the results with family and friends, according to Kanter, before making his appearance at the watch party around 10:30 p.m.
Goldman served as counsel to the House Democrats during the first impeachment of then-President Donald Trump and presented himself to voters as an experienced fighter on national issues, even as he lacked the deep local connections of some of his opponents in the race. He was also the leading moderate in the primary, declining to line up with opponents who supported policies like Medicare for All, broad student loan forgiveness and expanding the U.S. Supreme Court.
In the last days of the campaign, after he received the coveted New York Times endorsement, the former federal prosecutor faced attacks from many of the other candidates over self-funding his campaign with $4 million (He's the heir to Levi Strauss & Co.), his flip-flop in an interview regarding legal restrictions on abortion and most recently, a tongue-in-cheek endorsement from former President Donald Trump. 
But as Goldman was targeted, many observers felt the progressive vote in the district was split among multiple left-leaning candidates – allowing Goldman to eke out a victory. Niou had urged the other candidates like Rep. Mondaire Jones and City Council Member Carlina Rivera to coalesce behind her, she recently told Politico, but each publicly resisted, saying their own strong campaigns had a path to victory. 
With 99% of precincts reporting, Goldman won 26% of votes, while Niou netted 24%, followed by Jones with 18%. Rivera won 17%. There were nine other candidates on the ballot for the open seat covering lower Manhattan and western Brooklyn, including Assembly Member Jo Anne Simon and Liz Holtzman, a former New York City Comptroller and Brooklyn district attorney who previously served in Congress – and left office in 1981.
Niou, at an election night watch party at a restaurant at the Brooklyn Marina, said she would "not concede until we count every vote. We sent the message that things can be better. We can fight and win back our democracy."
Goldman, who has never represented the district in any capacity, lagged in support from high-profile elected officials and unions compared to some of his competitors. Reps. Adriano Espaillat and Nydia Velázquez supported Rivera. Niou was backed by New York City Public Advocate Jumaane Williams and six democratic socialist legislators, along with the Working Families Party. Jones, though he was endorsed by House Speaker Nancy Pelosi as the only incumbent running, struggled to gain a foothold with voters who were less familiar with him because he moved to Brooklyn from the Hudson Valley to run in the 10th District after redistricting. 
At Goldman's party, speakers included DC 37 Local 299 President Jackie Rowe-Adams and Assembly Member Robert Carroll, who stumped for Goldman during the campaign. Also in attendance were former City Council Member Alan Gerson and former Lt. Gov. Richard Ravitch. 
In his election night speech, Goldman vowed "to fight for our planet and to protect our children and neighbors from the scourge of gun violence and hate crimes in our society." He also said his perceived win was "a rebuke of Donald Trump who tried and failed again to meddle in an election" – referring to the former president's backhanded public "endorsement," of the man who helped impeach him. 
Goldman, a Tribeca resident, spent the morning campaigning in his own neighborhood, as well as the Financial District and Chinatown. "The reaction from voters in the street today has us feeling optimistic for the result later tonight, but we are certainly taking nothing for granted," he told City & State in a statement several hours before the polls closed.
Niou, campaigning at M.S. 131 in Chinatown on Tuesday dressed in green pants – a tribute to the Green New Deal – said she was focused on getting voters to the polls in what was expected to be a low-turnout election. "We've seen that a lot of people have heard about us and that's a really, really, really good sign," she said. "We actually have just been really reminding folks why it's so important for us to get the vote out. … It's actually galvanized them to get out to vote because they are seeing that a lot of people are away."
Goldman led the field in spending, though Jones entered the race with an early fundraising lead due to his incumbent status. And Rivera, who will remain in office in the City Council, racked up donations from lobbyists with interests in the city budget and council legislation.
12th District race sees the end of an era for Carolyn Maloney
In New York City's other high profile primary,  Rep. Jerry Nadler crushed his Congressional colleague of 30 years, Rep. Carolyn Maloney with a decisive win in the 12th Congressional District. Maloney's decadeslong career is coming to an end, getting just 24% of the vote to Nadler's 55%. Attorney Suraj Patel netted 18% of votes. 
Maloney, giving a concession speech on Tuesday night, said she had called to congratulate Nadler. "I'm really sad that we no longer have a woman representing Manhattan in Congress," Maloney said. 
The two Congressional heavyweights were redrawn into the same district spanning the Upper East Side and the Upper West Side, as well as Midtown Manhattan. The race initially seemed like a tight one until the most recent poll ahead of primary day showed Nadler far ahead. Nadler also won The New York Times endorsement.
During the campaign, Maloney leaned heavily on her support for abortion rights and the need for female representation in Congress in the wake of Roe v. Wade's reversal. Nadler, meanwhile, positioned himself as the most progressive candidate and won support of prominent Democrats, including Sens. Elizabeth Warren and Chuck Schumer. Their House colleagues largely opted not to endorse in the race.
In the final days of the campaign, the race turned nasty at times, with Maloney referencing the New York Post calling Nadler "senile." Nadler called the attack, along with rumors he would step down and boost former New York City Comptroller Scott Stringer for the seat "ridiculous, obviously." Campaigning on the Upper West Side Tuesday morning, the 75-year-old Nadler was already looking ahead, when asked if he planned to serve the full term. "Absolutely," he said. "and I'm planning to run again in two years."