New York City
Don't expect major changes to NYPD's gun control measures under new concealed carry law
Police officials said Tuesday that they will not install checkpoints or increase patrols in Times Square, where guns will be banned under the new law that takes effect Thursday.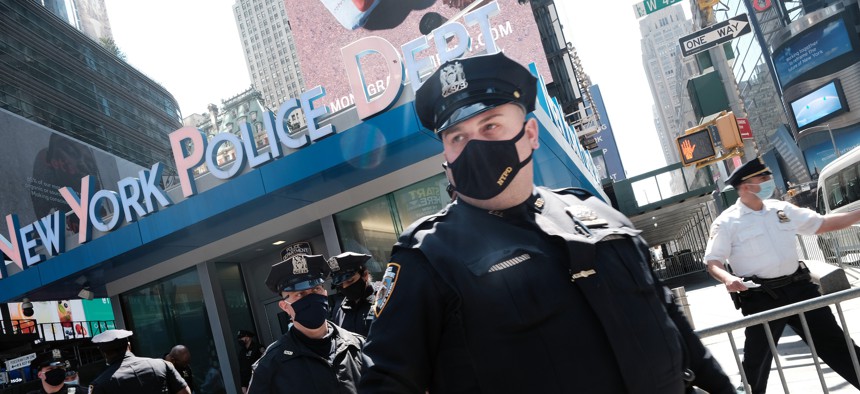 New York City officials are preparing for loosened concealed carry restrictions to take effect on Thursday – but don't expect an immediate influx of guns on the street or an increased presence of police officers. Though the state has received an uptick in license requests from people seeking to carry guns outside of their homes since the Supreme Court ruled in June that New York's existing permit requirements were unconstitutional, the New York City Police Department can take up to six months to process new applications. And while existing license holders will be prohibited from carrying guns in Times Square and other "sensitive places" beginning Thursday, NYPD officials said they will not increase patrols to enforce the ban. 
"I think it's important to just note that this isn't necessarily a sea change for what our officers are doing now. There have always been essentially gun-free areas in New York City, whether those are government buildings, court buildings, or New York City parks," Robert Barrows, NYPD executive director of legal operations and projects, said at a New York City Council hearing on Tuesday. "What this law did and what these rules will do is essentially expand the number of gun-free areas in New York City." 
Council members met Tuesday to discuss new legislation that would define the parameters of Times Square, where guns will be banned. The council legislation would prohibit guns within approximately 34 blocks between 40th and 53rd Streets and Sixth and Ninth Avenues. 
Under the Supreme Court's Bruen ruling issued June 23, police departments can no longer require concealed carry permit applicants to show proper cause, eliminating a degree of subjectivity from the process. The eligibility requirements established by the state legislature in a special session earlier this summer, however, install new provisions to determine who can obtain a license – including a mandated 16 hours of training, review of social media accounts, an enhanced "moral character" standard and in-person interview with a licensing agent. Those provisions take effect until Sept. 1, and people have rushed to obtain permits since the proper cause standard was eliminated and before the new eligibility standards begin. The New York State Police Department received a total of 9,187 requests for fingerprinting and background checks in August this year, compared to 3,187 during the same time last year, CBS2 reported Monday. The NYPD received 3,058 handgun license requests this year through Sunday, compared to 3,335 in all of last year, a department spokesperson told City & State Tuesday.
"That's a source of concern, right? Because you will have thousands of people with concealed carry licenses who did not have to get trained, who did not have to have their social media reviewed. What is being done to take a hard look at those folks?" Council Member Erik Bottcher asked NYPD officials on Tuesday. 
Those who applied within the June 23-Sept. 1 window would have to attest that they understand they must complete the required 16 hours of training and submit their social media accounts when their licenses are renewed, NYPD attorneys said Tuesday. "We have very robust licensing requirements to begin with. These are things – we already required references prior to the state law being in effect. We already took a look at social media accounts," said Juliane Faruggia, managing attorney at the NYPD's Legislative Affairs Unit. 
The NYPD, in the coming days, will install temporary signage at the entrances of Times Square warning people that it is a gun-free zone, and the Department of Transportation will also display electronic messaging boards carrying the warning, officials said Tuesday. The NYPD will not increase the number of officers or set up checkpoints in the area, however. 
The temporary signs could be easily missed, council members said Tuesday.
"It would have to be much larger for people to really notice," Council Member Joann Ariola said. "Because there are dozens of signs . . . coming in and out of Manhattan."
Officers have been educated on the  new provisions, Barrows said, noting that the department's community affairs division will also visit businesses and merchants in the Times Square area to inform them of the new law.
"I think our approach at the police department is going to be similar to any other violation of the law," Barrows said. "Our officers are going to investigate and they're going to address the condition."
Pursuant to state law, anyone who carries a gun in Times Square, along with a number of other "sensitive locations," including schools, government buildings, churches, playgrounds and homeless shelters, among others, could be charged with a Class E felony. Active-duty military personnel, security guards who have been granted special armed registration cards, peace officers and retired police officers are exempt from the provision. 
Council members on Tuesday also expressed concerns that existing license holders will be unaware of the ban on sensitive places by Thursday's deadline. 
"I'm not hearing (public service announcements). I'm not hearing commercials. What if I'm the average gun-carrying person and I don't have access to the internet? How am I going to get that information?" Council Member Rita Joseph said. "(You) said you're meeting with stakeholders to share the messaging. I haven't heard not one thing. Not one sign, nothing, anything, and September 1, again, is literally around the corner, so this should have happened last week so the information can get out."
Barrows said the department has not proactively reached out to license holders. "In terms of a larger strategy, I think you are going to see a lot of information that is going to be pushed out by the city this week," he said.