Heard Around Town
Eric Adams takes a glass half full look at August losses by his endorsed candidates
The mayor also took pride in Dan Goldman's congressional primary win over more progressive candidates.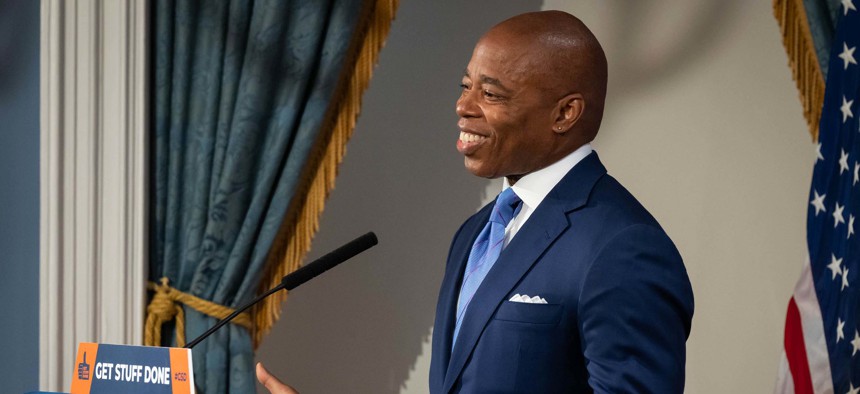 New York City Mayor Eric Adams suggested that Dan Goldman's apparent win in the 10th Congressional District was a win for the mayor's own political vision. "When you do an analysis of (the primary), I don't believe the congressional winner in the Park Slope area was a DSA candidate," Adams said. "I find him to be more moderate than anything." 
The mayor was asked Monday what he thought about the losses by three of the four state Senate candidates he publicly endorsed in the August primary. Adams pointed to the one win, by incumbent state Sen. Kevin Parker. "If you're looking at the glass as being half empty, look at the fact that I see it as being half full," he said.
Adams also seemed to try to juice his record, saying he also endorsed state Sen. Joseph Addabbo Jr., who won his primary. Whether that was a public endorsement or private support is up for debate – there's no mention of an endorsement on the Queens state senator's campaign website or social media, there was no coverage in the media, and a staffer for one of Addabbo's opponents, Japneet Singh, said they never heard anything about an endorsement. Addabbo responded to City & State after this story ran in the First Read Tonight newsletter and said he was endorsed by the mayor. "I believe he recorded a robocall for me during (get out the vote). Adams' team also previously told NY1 that he had endorsed state Sen. Anna Kaplan, who won her primary. However, like with Addabbo, there was no mention of that endorsement on Kaplan's website, her social media or in press coverage of the race.
Adams had been uncharacteristically quiet, not formally taking questions from the press for a week, since the day before the Aug. 23 primary. The mayor held a press conference Monday touting a package of maternal health legislation that the City Council passed earlier this month.
Adams said his standing in Albany won't be hurt, despite endorsing against state Sens. Gustavo Rivera and Jabari Brisport and presumptive state Sen. Kristen Gonzalez. "I get real communication from my colleagues up there, stating that 'Eric, we are in line with what you are saying,'" he said. "So we'll be all right. This is Albany. Albany's Albany."