New York City
Female-majority council passes bill to expand doula access
The legislation was passed along with several other maternal health-related bills on Thursday.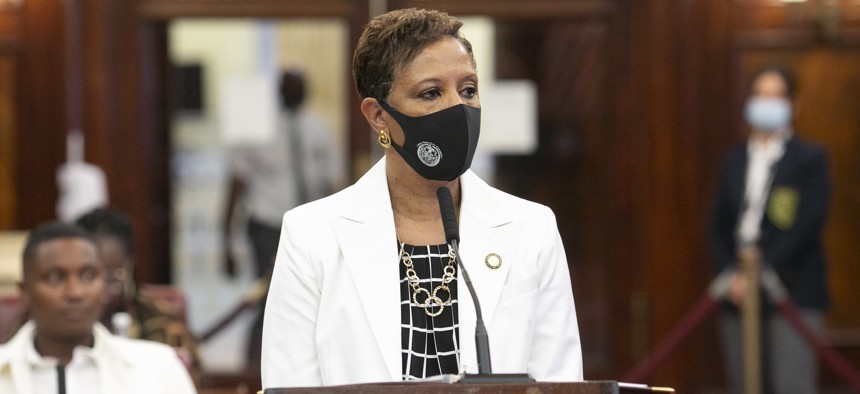 The first New York City Council to have a mother as its leader passed a package of maternal health bills on Thursday, including a bill that will require the Department of Health to create a program to train and provide free doula services to residents of marginalized neighborhoods across the city.
Black women experience higher rates of maternal mortality and morbidity, and research has shown that support from doulas can improve outcomes and experiences for mothers. "Black women face a maternal mortality crisis that is connected to our country's history of racism and unequal access to services rights and opportunities," Council Speaker Adrienne Adams, who is also the body's first Black speaker, said on Thursday.
The bill would require a program to train at least 50 doulas and provide doula services for free in marginalized neighborhoods. Doulas would be trained in subjects including birth equity and trauma-informed care.
On the campaign trail, Mayor Eric Adams promised to increase access to doulas in light of these health disparities. Earlier this year, the mayor launched a Citywide Doula Initiative with the goal of training 50 doulas and reaching 500 families with free doula access in high-need neighborhoods by June. Representatives for the health department did not immediately respond to a question about whether that goal was met. It's unclear exactly how the program required by the council bill relates to the Citywide Doula Initiative. Asked for comment on the council bill, a spokesperson for the mayor said that they will review the legislation. 
This is the first New York City Council that is made up of a female majority, and racial health disparities and maternal mortality were among the issues some female members listed as priorities at the beginning of the year and while campaigning. 
The council passed several other maternal health-related bills on Thursday, including a maternal health bill of rights, sponsored by New York City Public Advocate Jumaane Williams, and several bills that require public education and outreach on issues including maternal mortality and doulas.