New York State
Hochul doubles down on telling GOP candidates to leave New York
The governor spent the final night before primary day stumping for Pat Ryan in a competition that is seen as a bellwether for whether Democrats will maintain control of the House.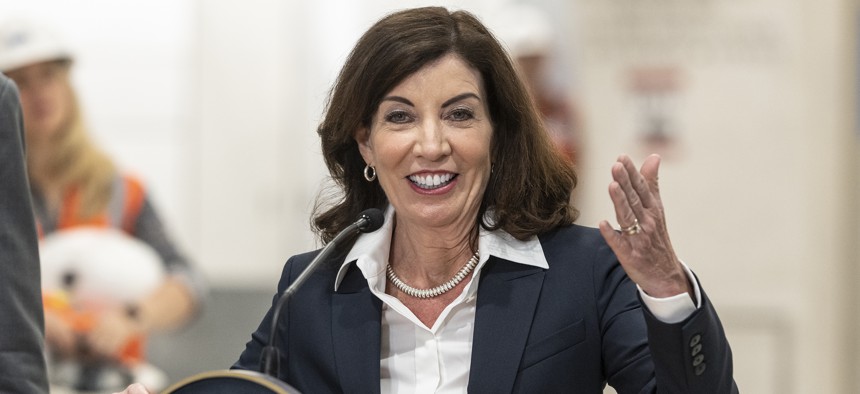 Gov. Kathy Hochul spent the last night before Election Day campaigning alongside Democrat Pat Ryan in a race that's being viewed as a bellwether for which party will control the House after the midterms. Hochul for the second time in recent weeks used her platform to play into national party politics by attacking Florida, a strategy that signals Democrats are pulling out all the stops to maintain a majority in the House.
"We're here to say the era of Trump and Zeldin and Molinaro – just jump on a bus and head down to Florida where you belong, OK?" she said alongside Ryan on Monday, State of Politics reported. "You are not New Yorkers."
The race between Ryan, the Ulster County executive, and Republican Dutchess County Executive Marc Molinaro is one of just two on Tuesday that will decide the winner of a Congressional seat due to a vacancy. The existing 19th District covers the Catskills and mid-Hudson Valley regions. In 2016, voters there helped elect former President Donald Trump, but President Joe Biden won it in 2020. The other non-primary race, in the 23rd Congressional District, is far less competitive, with Steuben County Republican Party Chair Joe Sempolinski poised to win. The winners of both races will serve in Congress for just four months, finishing out the current term. 
Hochul's comments on Monday mark the second time in less than two weeks she has taken a swing at Florida. At a Holocaust-education bill-signing earlier this month, she thanked the state's 1.77 million Jews for "calling New York home. Don't go anywhere or to another state. Florida is overrated. I shouldn't say this, but look at the governor. It starts at the top down," she said.
Republicans seized on the comments following both appearances. Molinaro on Monday said in a statement that she "sounded exactly like Andrew Cuomo when she said those who disagree with her should leave New York. This is just the latest example of how arrogant Kathy Hochul, Pat Ryan, and liberals have become."  Following the earlier jabs, Hochul's Republican opponent in the November gubernatorial race, Rep. Lee Zeldin, called her "clueless" about "why New York leads the entire nation in population loss," according to the New York Post.
The state Republican Party also sent a fundraising email on Tuesday that featured Hochul's comments. "This year we must send Kathy Hochul and the Democrats a giant message that we aren't going anywhere. Not only are we NOT leaving, we're going to take our state back from the corrupt, disastrous Democrats who are destroying New York," the email said.
While Hochul highlighted Florida's reputation as a Trumpist Republican haven, the GOP has sought to frame the exodus of some New Yorkers there as an indicator of voters' dissatisfaction with issues they attribute to Democrats, including rising crime rates and high taxes. In the race for the 19th District to fill the seat vacated by now-Lt. Gov. Antonio Delgado, both candidates have stuck to their parties' signature talking points. In addition to inflation, Molinaro has attacked Democrats for bail reforms his party blames for rising crime. Ryan has played up his pro-abortion stance, a strategy largely seen as a test of whether the party can channel anger over Roe v. Wade into victories at the polls during the 2022 midterm cycle. 
Recent polls show a tight race between the two contenders. Ryan had support of 43% of voters in a recent Democratic Congressional Campaign Committee survey, while 46% said they backed Molinaro.
Ryan is also on the Democratic primary ballot Tuesday in the newly drawn 18th Congressional District to serve a full term, while Molinaro is the GOP nominee for the new 19th Congressional District in the November general election.
Powered By
NEXT STORY: 2022 New York congressional primary election results