News & Politics
Lobbyists navigate a more civil yet nuanced landscape in Albany
A more receptive governor's office and a solidly progressive state Senate have created new opportunities.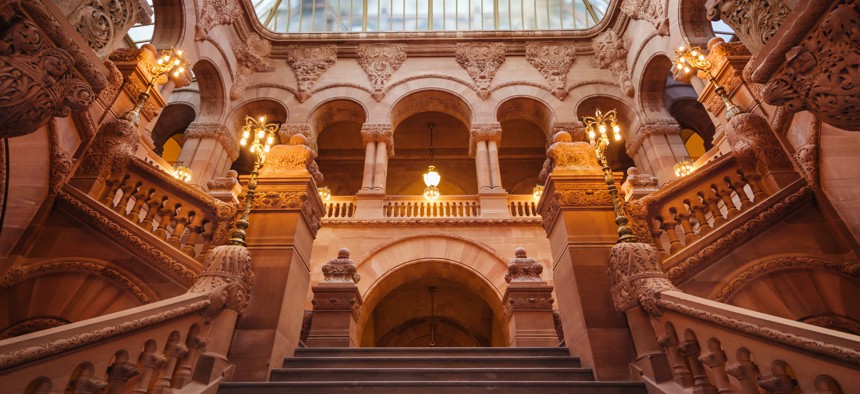 For a decade, and until only about a year ago, lobbyists, advocates, consultants and other Albany influence peddlers all feared one thing: the wrath of then-Gov. Andrew Cuomo and his inner circle of enforcers, such as Melissa DeRosa, Larry Schwartz and Alphonso David. Dealing with Cuomo's inner circle was never pleasant, according to lobbyists, but cross them and they'd lash out.
In the past year with Gov. Kathy Hochul, they said that's changed.
"It's obviously an enormously different demeanor and culture with the new administration," said Mike Elmendorf, president and CEO of the Associated General Contractors of New York State. "I haven't been screamed at yet, and I don't know anyone who has been, so that's a marked improvement." Now, he added, "You can have conversations with people (in the governor's office) without them becoming irate if you offer a different perspective as you defend the interest of your client or industry. And that's certainly a welcome change."
City & State reached out to more than a dozen lobbyists and advocates representing diverse, and often opposing, interests to ask about how their jobs have changed in the past year or so. Some of them declined to speak, and some only did so on background, but among those who spoke publicly, a clear picture emerged: Dealing with the Second Floor, which houses the executive offices, is now a lot less nerve-wracking.
"The Hochul administration is by and large more civil and polite than Cuomo's," said longtime lobbyist Jim Featherstonhaugh of the law firm Featherstonhaugh, Wiley & Cline. "But that's partly because it's a new administration, which tends to be less cynical and more open to not only talking but listening to people."
Saima Anjam, senior vice president at The Parkside Group said, "There's a new collaborative approach in dealing with stakeholders and it's been a refreshing change." Before, she said, "There was this balance of, how pushy can we be before we blow up all of our work?"
Some of this change seemed to be attributed to the respective personalities of Cuomo and Hochul. "Andrew was a tornado, an absolute force of nature," said David Weinraub, who heads Brown & Weinraub, the state's highest-grossing lobbying firm. "He was very involved in every single aspect of things, especially media coverage. He spent an inordinate amount of time with journalists and was super aggressive. And on many occasions, you could be talking to his staff but know that their questions and subtleties were coming from him."
Hochul, on the other hand, Weinraub said, "In my view (she) is not as focused on her image and how it plays in swing states. Andrew was national this, national that. Kathy, for now, just wants to succeed, and she's more concerned about what the Albany Times Union and The New York Times are going to think than the Los Angeles Times."
Of course, Hochul has basically been in campaign mode since she stepped into Cuomo's shoes in August 2021. "We're in an election cycle," Elmendorf said. "We may not see what this administration is really going to be like until after the political dust settles." (Polls generally show Hochul comfortably leading her Republican rival, Rep. Lee Zeldin.) "At this point, the administration has been careful not to really upset anybody."
Despite that, some lobbyists – perhaps especially liberal and progressive ones – sense more good faith from Hochul than they ever did from her predecessor. "Cuomo fought for big corporations and the super-rich, and so does Hochul," said Michael Kink, who leads the anti-inequality group Strong Economy for All coalition. "Look at her campaign finance filings, and you'll see that she quickly consolidated the massive support of the business class and the lobbyists who work for them."
He added, "But Cuomo had to be dragged kicking and screaming into doing anything (to ameliorate inequality), and never until an issue had an 85% to 90% approval rating. Hochul seems a little bit more humane – and her people aren't complete and total jerks."
Peter Iwanowicz, executive director of Environmental Advocates NY, said, "When it comes to the environment, Gov. Hochul seems to me (to be) someone who actually wants to do the right thing. The past administration did some things right on the environment, but it always felt like Cuomo had to do it for political purposes. Hochul has allowed her administration to call their balls and strikes fairly on a number of projects, looking at the science, like on power plants proposed in the Hudson Valley."
Which leads to another point: Many lobbyists said substantive communication was possible again with heads of key state agencies like housing and health – a marked contrast from the start of the COVID-19 pandemic, when Cuomo seemed to consolidate pandemic decision-making and messaging within his own office, with himself as the star of a daily TV briefing.
"I see that the governor and her team have more trust in whom they're working with at the agencies," Anjam said. Elmendorf largely agreed: "The folks in the agencies have been given more latitude to do their jobs without the obsessive level of micromanagement, which was the hallmark of the prior administration."
That latitude, Iwanowicz said, "indicates someone who has faith and trust in their agency heads, which didn't exist with Cuomo."
Of course, all this new ease of communications with Albany's executive branch exists in tandem with lobbyists navigating a slightly more long-standing yet still newish relationship with the Legislature, which has seen an incredible influx of first-term lawmakers in recent years.
"It's a different animal altogether, the amount of new faces and turnover over the last several election cycles," Elmendorf said. "Before COVID, you'd walk around and know every name on every door, and now I say, 'Who's that?,' which brings both challenges and opportunities. Once, you could divine better (where people would fall on something), but now there's a lot of new, younger players in both (the state Senate and Assembly Democratic) majorities."
It's ironic, he added, that Zoom lobbying – something that began as a stopgap during COVID-19, and initially felt less than ideal – evolved into an efficient new tool for connecting with all those new faces. "In a lot of ways, we have a more focused conversation when we're all working from home than we would in their office, where they get pulled out of the meeting by something else."
Many lobbyists said that whereas once they tried to get their first win in the Assembly and then tried to crack the nut of the state Senate, it was often the reverse today – work with state Senate Majority Leader Andrea Stewart-Cousins to pass legislation there, then hunker down for the harder ask to Assembly Speaker Carl Heastie.
Despite those shifts, nearly everyone said the absence of Cuomo's overbearing presence had facilitated a lot of new possibilities.
"Cuomo took up a lot of space and energy," Weinraub said. "If Cuomo liked your idea, it was great for you, and if he was against it, you were dead. So now, there's more of an opportunity to work an issue."
Tim Murphy is a Queens-based freelance journalist focusing on health care, housing and LGBTQ issues.