New York City
Max Rose and Brittany Ramos DeBarros vie to be the Democrat with a chance to win Staten Island
In the 11th Congressional District, it'll be an uphill battle for either in the general election against Rep. Nicole Malliotakis.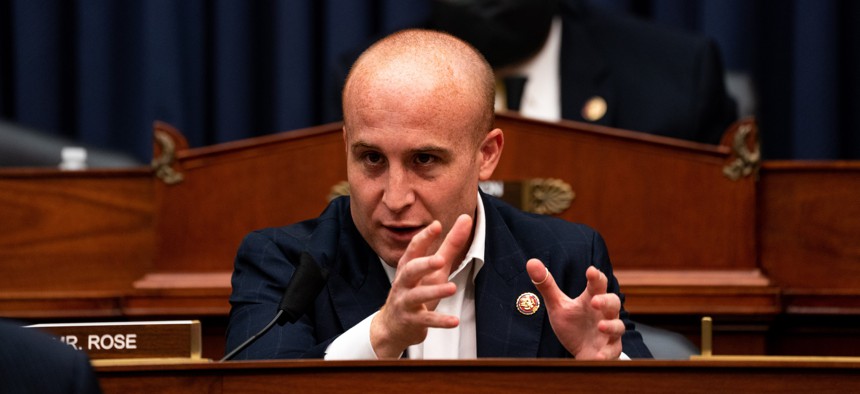 As the August primary election approaches in the 11th Congressional District, candidates have been laying the groundwork for a competitive general election that's likely to garner national attention as New York City's only Republican House member, Rep. Nicole Malliotakis, looks to hold the swing seat.
The district, which spans Staten Island and a slice of southern Brooklyn, has been represented by five different members – both Republicans and Democrats – since 2009. This year might not see a change, however. The district still leans red, after a thwarted redistricting attempt that would have included the deep-blue bastions of Sunset Park, Park Slope and Gowanus in Brooklyn. And at this point, every outlet or organization rating which party will win seats in November has pegged Malliotakis as the likely victor. But Malliotakis' Democratic challengers believe the political winds may be shifting in their favor.
Max Rose, a U.S. Army veteran, was elected to this district in 2018 – but lost his seat to Malliotakis two years later. Now, he's hoping to win back the seat. To do that, he would first have to get past progressive activist Brittany Ramos DeBarros in the Aug. 23 Democratic primary. Rose has a huge lead in fundraising and has scored some big endorsements. Still, Ramos DeBarros' campaign shouldn't be discounted. She's also an Army veteran and has proven to be an effective fundraiser. She earned the backing from big endorsers like the Working Families Party, Sunrise Movement New York City and a slate of progressive politicians, despite being a first-time candidate. While Rose has pointed to his experience and ability to forge bipartisan solutions, Ramos DeBarros has positioned herself as a fresh political voice better suited to invigorating a diverse base with her progressive policies. Also running is longtime educator Komi Agoda-Koussema, who isn't expected to have much of an impact on the race.
Whoever wins the Democratic primary will likely receive a flurry of national support. New York has been regarded as one of the best opportunities for Democrats to pick up Republican-held seats, which could help the party's chances of holding its slim nine-member majority in the House. Similar dynamics played out in 2020 when the parties poured millions into the race between Rose and Malliotakis. The latter – who had the backing of then-President Donald Trump – ultimately defeated Rose with 53% of the vote after he drew significant backlash for marching alongside anti-racism protesters on Staten Island.
Malliotakis faces her own primary challenge this month, which she is likely to easily win against anti-vax activist John Matland.
Turnout could prove to be a significant factor in both the Democratic primary and this fall's general election. While there are 189,629 active Democrats and 118,864 active Republicans registered in the district, according to the latest state Board of Elections data, 54% of those who voted in the 2020 presidential election cast their ballots for Trump. It's been a difficult seat to hold – no Democratic member of Congress has won a second term on Staten Island since John Murphy held the seat in the '60s and '70s. The district was also the only in New York City to have voted for Trump in both 2016 and 2020.
Still, Richard Flanagan, a political science professor at the College of Staten Island, said it has never been a safe Republican district. While voting margins have tended to fall just shy of 60% for Republicans when Democrats run inexperienced candidates without money, experienced candidates with cash have often been able to make it competitive.
As someone who has held the seat – and beat Republican incumbent Dan Donovan to do it – Rose said he has the experience and the endorsements from the Staten Island Democratic Party and the United Federation of Teachers to potentially win. He has even picked up some progressive backers that could have gone for Ramos DeBarros, like New York City Comptroller Brad Lander and Reps. Katie Porter of California and Pramila Jayapal of Washington. Rose also has a major fundraising advantage, with $1.9 million on hand as of June 30, compared to Ramos DeBarros' $148,000. Malliotakis' $2.6 million on hand, however, easily outstrips both.
Rose has positioned himself as a moderate Democrat, able to forge bipartisan solutions but still fight for issues like stopping gun violence and protecting a woman's right to choose.
Regarding whether his decision to run again was motivated by the redistricting lines originally being drawn in a way that favored Democrats, Rose said the partisan makeup of those boundaries was always secondary to his desire to fight for constituents – many of whom were desperate for "real policymaking that protects their freedoms" and an end to "this vitriol and divisiveness." While some speculated he might drop out given how difficult the district looked to win, he said it would be "cowardly" to hop into a congressional race with better odds, according to the Staten Island Advance.
Over the summer, eight different national prognosticators said Malliotakis had the edge, including the Cook Political Report and FiveThirtyEight.
"The details and contours of the congressional district are quite frankly irrelevant to me. I am well aware of what prognosticators have said recently about this race and this is not the first time that I have been counted out and underestimated," Rose told City & State. "We have no problem with that dynamic, and we assure you that we are going to outwork everyone else in this race, and that we are going to win on Election Day."
While Rose and Ramos DeBarros both served in Afghanistan, they left with very different opinions on the war. When she was deployed out of college, she said, she was a "true believer" in the cause, but as time went on she became disillusioned by the violence and the way powerful corporations benefited from the bloodshed.
Ramos DeBarros said she had never imagined making the pivot from organizer to congressional candidate. Having grown up relying on church friends for groceries and receiving notices that threatened to kick their family from their home even as her parents worked multiple jobs, she'd written off electoral politics, feeling nobody in that world cared about people like her. She decided to run after people she worked with in the advocacy space encouraged her to do so.
She's not dissuaded by how her fundraising stacks up against Rose's, pointing to the fact she's already outraised progressive representatives Jamaal Bowman and Alexandria Ocasio-Cortez when they were at this point in their first campaigns. Nor does she feel Rose is the safest choice to take on Malliotakis. She said her path to victory lies in mobilizing Democratic constituents who don't usually vote in elections because they don't feel represented – and by pushing back against the overarching idea that in order to win, Democrats need to chase center-right voters and push their most moderate candidates.
"Incumbents have a lot of advantages in primary elections and in general elections and yet Max Rose lost as an incumbent with a 3-to-1 fundraising advantage over Malliotakis in a district that has almost the double the number of Democrats as Republicans in a blue wave year," Ramos DeBarros said. "Why would we believe that if we do all of that all over again, that we would get a different result?"
Though Flanagan thought Rose was the favorite, the potential for low turnout like in the June primary could introduce an element of uncertainty. If Ramos DeBarros mobilizes enough voters and there's low turnout across the board, she could have a path to victory.
Malliotakis has made some polarizing decisions throughout her first term. For one, she'd tied herself closely to Trump, who was a staunch endorser of her 2020 campaign. Shortly after Malliotakis took office in 2021, she voted against certifying the Arizona and Pennsylvania election results even after the U.S. Capitol was stormed on Jan. 6. She also voted against Trump's second impeachment in the wake of the Capitol attack.
Still, she's shown flashes of independence from the Republican Party, especially in recent months, including being one of the few Republicans to vote for the infrastructure package. She's also voiced some support for new gun regulations and voted to codifying same-sex marriage rights.
In an email, Malliotakis said it was crucial that the city's congressional delegation have at least one Republican member – especially if Republicans end up taking back control of the House in the midterm elections.
"I will be a vocal advocate for our city and for the federal funds we need and deserve, not to mention a voice of reason in a delegation filled with far-left leaning members who would rather score ideological points than reach across the aisle and work with the Republican leadership," she said. "Unlike others in the delegation, I will fight for commonsense legislation that will benefit all New Yorkers and make sure the New York City Police Department has the resources needed to make our streets and subways safe."
As for how the district's political climate has shifted over the past two years, Malliotakis said "radical policies" like bail reform and the defund the police movement have pushed moderate Democrats and independents "into the ranks of the GOP."
Regardless of who wins the Democratic primary, they will likely face a challenging uphill battle against Malliotakis, according to Flanagan. The political winds may be against Democrats across the country, though if inflation continues to cool and gas prices go down, those headwinds could lessen.
"I still think the winds will be at Malliotakis' back. The question is how strongly are they blowing?" Flanagan said. "The wind at her back may have peaked a month or two ago but I still think it's going to be there in November."