This Week's Headline
New York chooses nominees for Congress and state Senate
Rounding up the week's political news.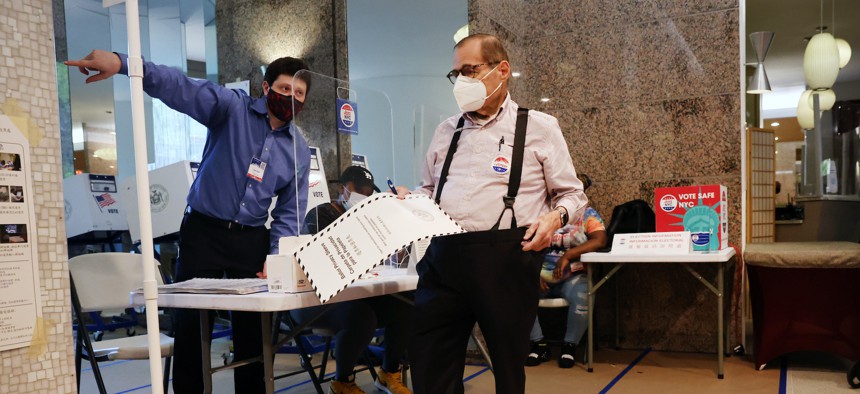 Battle of the titans
It didn't take long for the dust to settle and a clear victor to emerge in the 12th Congressional District, where two powerful House leaders from opposite sides of Manhattan were pushed into a tumultuous primary after neither would concede the seat to the other when redistricting forced their hands. Rep. Jerry Nadler was crowned the Democratic nominee within a few hours of the polls closing, handily defeating longtime Rep. Carolyn Maloney with 55% of the vote to her 24%. Attorney Suraj Patel, who positioned himself as a fresh voice representing generational change, scooped up 19% of the vote. What started as an unprecedented contest between two New York political fixtures turned into a tense standoff in the weeks leading up to the election. Maloney referred to a New York Post editorial in the final days of the campaign that called Nadler "senile," something he said wasn't true. But when Nadler began picking up speed in the final weeks of the campaign after receiving a coveted endorsement from The New York Times and performing well in several debates, Tuesday proved there was really no going back. And in the end, there could only be one political titan remaining: Maloney's nearly 30-year tenure in Congress has come to a close (at least for now), while Nadler will continue on as the powerful chair of the House Judiciary Committee.
Hudson Valley spotlight
Of all the political contests that played out in New York this year, a bellwether race in the Hudson Valley probably captured the most national attention. The 19th Congressional District special election centered on abortion rights in wake of Roe v. Wade's reversal, and many looked to Democrat Pat Ryan and Republican Marc Molinaro's battle as a gauge for the country's current political climate in battleground districts. Higher than expected turnout was enough to boost Ryan to victory, giving him 51% of the vote and sparking hope for the Democratic Party's chances to hold their razor-thin majority in Congress this November. The special election results in New York caused The Cook Political Report to revise its midterm outcome, predicting slightly fewer GOP gains in the House than it had before. Still, the seat won't be a guaranteed notch on Democrats' belt for long. The district will once again find itself in the spotlight – and on the ballot – in November. Ryan will remain in office for four months while running for a full term as the Democratic nominee in the 18th Congressional District, and then Molinaro will have another chance in the general election, this time facing the Democratic nominee and political newcomer Josh Riley.
Sean Patrick Maloney keeps his seat
From the start of their charged contest in the 17th Congressional District, Rep. Sean Patrick Maloney held several strong institutional advantages over progressive state Sen. Alessandra Biaggi. While the well-known senator has made a name for herself as a fierce state leader backed by a slew of progressive organizations and politicians, it wasn't enough to topple the Democratic Congressional Campaign Committee chair. In the end, he won with 66% of the vote, crushing progressive hopes in the region. Despite angering many of his peers for running in the new lines and pushing out Rep. Mondarie Jones, Maloney's deep ties to the Hudson Valley area along with his strong labor support and major fundraising advantages were enough to propel him to victory. "Tonight, mainstream won," Maloney said during his victory speech. "Common sense won. Democrats want candidates who get results and bring home the win."
Red on red clash
Of all the Republicans vying to win their party's nomination for Congress heading into November, former gubernatorial candidate Carl Paladino and state Republican Party Chair Nick Langworthy's battle was perhaps the most controversial. Though Langworthy ultimately edged out his polarizing challenger with 51% of the vote, the primary contest in the 23rd Congressional District was close – far closer than many anticipated. The race caused a schism among New York Republicans – caused in large part by Paladino's history of racist and sexist remarks as well as the inappropriate attacks he's slung at other political figures. It was also seen as a proxy war for influence over the state Republican Party between Langworthy and Rep. Elise Stefanik, who backed Paladino for the seat. In a special election within the same district, Republican Joe Sempolinski bested Democrat Max Della Pia, though the margin was much closer than expected at 53% to 46%. The district showed an 11-point Republican advantage according to Cook's model, so Della Pia overperformed by a few percentage points. And in Long Island's 1st Congressional District, the Republican and Conservative Party-backed Nick LaLota, who is chief of staff in the Suffolk County Legislature, easily knocked out his two challengers, setting himself up as the likely replacement for GOP gubernatorial nominee Rep. Lee Zeldin.
Second chances and big margins
A number of highly competitive Democratic races have played out across the state where money has flooded in and political newcomers have bet big – while others have tried again. Longtime political insider Robert Zimmerman beat four other candidates with 35% of the votes in the crowded 3rd Congressional District, with support from the Democratic establishment, including the Queens Democratic Party, major labor unions and even Hillary Clinton. He will vie against Republican nominee George Santos this November to replace Rep. Tom Suozzi in what's likely to be a competitive fight. Newsday reported that it may be the first time that the two major-party congressional candidates on Long Island are both out gay. After failing to clinch the victory two years ago, veteran Francis Conole pulled a comeback in the 22nd Congressional District, securing the nomination this time around with 39% of the vote. In the 4th, 11th and 16th Congressional Districts, Democrats Laura Gillen, former Rep. Max Rose (who is looking to win back the seat he lost two years ago) and progressive Rep. Jamaal Bowman all easily coasted to primary victories.
DSA-backed Gonzalez captures Queens
After a disappointing performance in the June primary, progressive Democrats gained ground this time around with some surprising upsets and narrow defeats. The biggest winner of the night however was Kristen Gonzalez – a political newcomer backed by the Democratic Socialists of America and other powerful left lawmakers. Facing a well-funded opponent in Elizabeth Crowley, she triumphed in the newly created District 59, capturing 57% of the vote and fending off the former New York City Council member, who had pulled in a lot more money and secured big endorsements from New York City Mayor Eric Adams and Rep. Adriano Espaillat. Gonzalez's success didn't echo across the board for state Senate DSA insurgents. Community organizer David Alexis fell to longtime incumbent state Sen. Kevin Parker in District 21, though the margin was notably tight. Alexis – a first-time candidate – put together a strong grassroots campaign against the Energy and Telecommunications Committee chair that ultimately left him trailing the longtime incumbent by a couple thousand votes.
Incumbents reign 
For the most part, incumbents proved they've still got what it takes, and the results Tuesday night were largely promising for many household names in the state Senate. In one of the most notable contests, state Sen. Gustavo Rivera of District 33 in the Bronx prevailed in a highly competitive battle against first-time candidate and lawyer Miguelina Camilo. The race was tight – 51% to 47% – and the odds appeared to be stacked against Rivera because he once again had to take on the Bronx Democratic Party, and redistricting added several new neighborhoods into the mix. Though Camilo, the more moderate candidate, enjoyed the support of a slew of powerful political leaders like Adams and Espaillat, it wasn't enough to end Rivera's more than 10 years in office. And it also means the New York Health Act, a plan to create single-payer health care in the state, will keep a major backer. Fellow progressive state Sen. Jabari Brisport breezed past a controversial Adams-endorsed candidate, the Rev. Conrad Tillard, and Renee Holmes with 69% of the vote in Brooklyn, earning the socialist a likely second term in District 25.  And in Washington Heights and Inwood, state Sen. Robert Jackson emerged the victor in District 31, with 57% in a crowded field of candidates. His strongest competitor was Angel Vasquez, the former chief of staff to Marisol Alcantara, who Jackson defeated in 2018, and Vasquez was supported by Espaillat, Reps. Hakeem Jeffries and Ritchie Torres, as well as Manhattan Borough President Mark Levine.