New York City
In the city's hottest primaries, candidates hold their breath for an endorsement from The New York Times
Candidates in the races for (at least) the 10th, 12th and 17th Congressional Districts are being formally interviewed – and lobbying hard behind the scenes – for the coveted, possibly decisive nod from the Gray Lady.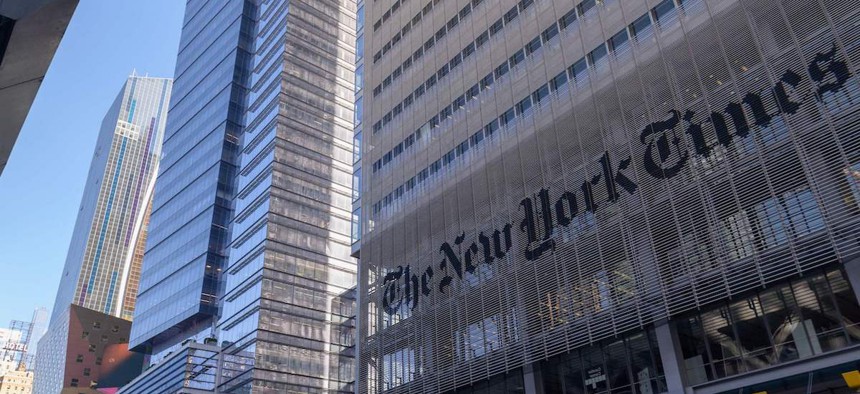 Wonder where New York Times readers live? A map of which neighborhoods in New York City voted for then-Sanitation Commissioner Kathryn Garcia for mayor last summer would be a good place to start. 
For most of her campaign, the de Blasio appointee had very little support or name recognition among average voters despite being respected in political circles. That all changed on May 10, 2021, when the Times editorial board endorsed her for mayor, catapulting her to near the front of the crowded race. After ranked votes were tabulated, she came in second to then-Brooklyn Borough President Eric Adams, and she carried most of Manhattan south of Harlem and much of northwestern Brooklyn. Evidently, that's the heart of the Times' New York.
Those areas are now home to two of the most-watched congressional primaries of the summer, and once again, the New York Times endorsement, which candidates in both races have confirmed they've been interviewing for, promises to be a major factor. The frenzy of behind-the-scenes lobbying for it suggests candidates are well aware of that too. One campaign said they've probably had 20 supporters email or call members of the board to make their case. "Everybody lobbies," said another campaign operative. "The question is to what degree."
Campaigns and supporters are particularly watching Mara Gay, who leads the state and local affairs coverage. "The rumor mill is Mara gets to choose who the Congress person is in 10," said one consultant who isn't involved in the race.
There are no 2 districts in the country where the NyT endorsement matters as much as 10th and 12th. Both will certainly impact race whether this week or next. .

— Chris Coffey (@chriscoffeytalk) August 2, 2022
In the 12th Congressional District, which spans Manhattan from the Upper West Side to the Upper East Side, veteran Reps. Carolyn Maloney and Jerry Nadler have found themselves in a three-way race with perennial millennial candidate Suraj Patel. Times-endorsed Garcia cleaned up in virtually every part of that district last summer. Nadler's campaign confirmed he went in for a meeting with the board at the end of July. Patel's campaign confirmed he went in for an interview as well. Maloney's campaign didn't get back to us before we published.
In the 10th Congressional District, a dozen candidates are vying for an open seat including East Village City Council Member Carlina Rivera, Hudson Valley Rep. Mondaire Jones, Lower Manhattan Assembly Member Yuh-Line Niou and Trump impeachment lawyer and blue jeans heir Dan Goldman. The district spans lower Manhattan and parts of Brooklyn including Brooklyn Heights, Cobble Hill and Park Slope that in 2021 were all carried by – you guessed it – Kathryn Garcia. Niou's, Goldman's and Rivera's campaigns confirmed being interviewed. 
The interviews were 30 minutes each with a final lightning round, and the board – which includes Gay and Opinion Editor Kathleen Kingsbury, among other journalists – focused on national issues more than local ones, according to a campaign source. 
Early voting starts Saturday Aug. 13, but most observers expect the endorsements to be published as soon as Thursday, or early next week. Everyone involved is reading tea leaves, to predict who will get the bump. The Times endorsed Jones in a crowded field for the open 17th Congressional District two years ago. Will he get the nod again in his new district? Niou won the Times endorsement in her first Assembly campaign in 2016, while The Gray Lady declined to weigh in on Rivera's 2017 council run. There is a history in the Midtown race too. The Times backed Nadler for reelection two years ago, and chose Maloney over Patel – even as the paper endorsed some other upstarts challenging longtime incumbents, including Adem Bunkeddeko and Jamaal Bowman.
The Times also brought in Hudson Valley Rep. Sean Patrick Maloney and his challenger in the 17th Congressional District, state Sen. Alessandra Biaggi, for interviews. The paper could back Biaggi in that race – after endorsing her in the 2018 race to unseat former Independent Democratic Conference leader Jeff Klein. That same year, the Times endorsed Zephyr Teachout for attorney general, while criticizing Maloney's candidacy in the same primary. 
Of course, The New York Times isn't the only paper that holds any sway. The Daily News also endorsed Garcia last summer, and they're expected to weigh in soon as well. 
Rebecca C. Lewis contributed reporting.