New York City
NYC schools eliminate in-school PCR testing, pivots to take-home tests
Over the past year, city leaders have steadily peeled back layers of COVID-19 safety mitigations in schools such as masking, social distancing guidelines and now its sweeping PCR surveillance testing program.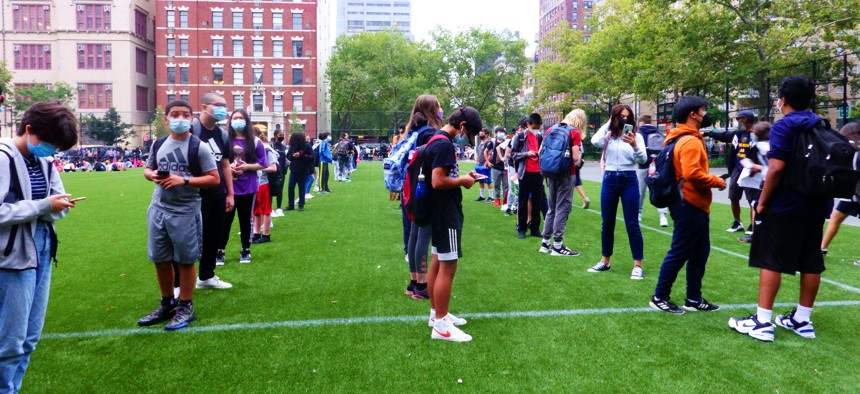 New York City officials released updated health and safety guidance for the coming fall Tuesday morning, quietly confirming that the Department of Education's sweeping PCR testing program won't be in action upon the million-plus students' return to classes Sept 8.
Instead, public schools will distribute four take-home tests each month to students and staff in addition to making the tests available on an as needed basis for anyone with symptoms or who has potentially been exposed to the virus at school.
Students will also no longer be required to fill out a daily health screener to enter the school building and masking remains optional except for students and staff who return to class after testing positive for COVID-19 five days later, according to the new guidance. Additionally, staff and visitors will still need to be vaccinated to enter school buildings, but the same requirement won't extend to the majority of students unless they participate in high-risk sports or extracurricular activities like chorus, cheerleading or theater. 
City & State first learned that officials planned to get rid of the in-school PCR surveillance testing earlier this month from a source with knowledge of the program who said the decision was announced internally in July. Thursday, Aug. 11 was the last day that the tests were administered at summer school sites and the NYC Health + Hospitals team that has overseen the in-school testing program will be dissolved at the end of the month, with many of the approximately 25 employees to be let go, they said. 
Up until today, news of the city's plans has largely been kept silent. And two weeks ago – while officials stopped short of directly refuting that the city would be moving away from in-school PCR testing – a spokesperson for City Hall told City &State that no final decisions had been announced and that anyone saying otherwise is speaking with "absolutely no authority."
ACity Hall spokesperson told City and State Tuesday that this year's COVID-19 guidance for schools is aligned with the latest CDC guidance, saying the sprawling system's policies have repeatedly proven "schools are some of the safest places for children to be." They pointed to the city's distribution of millions of at-home tests since the beginning of the year – a tradition that will be continued this school year in place of in-school PCR testing. 
"Our continued use of at-home tests will allow us to immediately inform all staff and students if they test positive and need to isolate, and will allow those at home to know whether to come in," the City Hall spokesperson said. "New Yorkers have adapted in the way they are looking for test results and we are delivering the services they are asking for. We will continue to take all steps necessary to keep our children safe and healthy."
The PCR testing program, which was run by NYC Health + Hospitals' Test and Trace Corps (now rebranded Test and Treat) in collaboration with the Department of Education, has been one of the city's longest standing mitigation strategies against COVID-19. Initially rolled out in fall 2020, administrators aimed to randomly test about 10% of students every week with the goal of detecting potential virus outbreaks. Not everybody populating the city's nearly 1,900 schools has participated – leaders have encouraged students and staff to opt in to the program, but nobody was required to do so. 
In May, New York City Mayor Eric Adams announced that over 2 million PCR COVID-19 tests had been administered throughout the school year. Weekly testing also continued this summer for the thousands of elementary and middle school students attending the city's Summer Rising program. 
Over the course of the past year, city leaders have steadily peeled back layers of COVID-19 safety measures in schools such as masking and social distancing guidelines as vaccination levels have risen and the number of positive cases have decreased. 
Since its implementation, the PCR testing program has been the subject of much debate, with many educators, parents and unions like the United Federation of Teachers urging additional testing especially during spikes. On the other hand, some health experts have argued that the random testing isn't effective enough to justify its high cost – about $30 million per month, according to Chalkbeat New York. Like much of the country, the city has paid for its surveillance in-school testing with temporary federal grant funding. 
The Los Angeles Unified School District – the country's second largest school district behind New York City – recently announced it would be dropping its own weekly testing, pivoting instead to "response testing" where only those experiencing COVID-19 symptoms or who are close contacts will be tested.
New York City's PCR testing program played an essential role in its push to reopen schools and to get students back into classrooms in the wake of the height of the pandemic. Many teachers and staff – concerned by the potential ramifications of contracting the virus – have pointed to regular testing as a tool to help them feel safe teaching in-person again. 
When City & State first learned officials were likely to eliminate the program earlier this month, leaders from the United Federation of Teachers said they'd not been involved in conversations with the city about the plan.
Today, the union acknowledged the new guidelines. 
"As Covid changes as a disease, our responses also have to evolve.  While the distribution of at-home tests has been reduced, the DOE has assured us that additional at-home tests will be available for any schools that need them," Alison Gendar, UFT deputy press secretary said in a statement. "We also urge parents to make sure that they and all eligible children receive vaccines and boosters."
A source with direct knowledge of the plan told City & State that they feel one of the things that has hampered the New York City program's efficiency is the fact that students and staff have had to opt in to participate. An opt-out method, they said, may have been a better way to get a more robust swath of students in the testing pool. About 400,000 of the city's 1,059,000 million students have consented to testing, they said.
They feel the city's decision to end PCR testing is not irresponsible given the program's hefty price tag and the low rates of transmission in schools, but it is a hasty one as millions of dollars were invested in the program. If the education department decides it wants to restart in-school testing, if the number of cases picked up again, officials would likely need to start from scratch.
Powered By
NEXT STORY: Tiffany Cabán, Shahana Hanif endorse Yuh-Line Niou for Congress