New York City
What will decide the NY-10 Democratic primary? Probably not major policy differences
In a hard-to-predict race with half a dozen top contenders, all eyes are on key media endorsements and get out the vote efforts as early voting begins.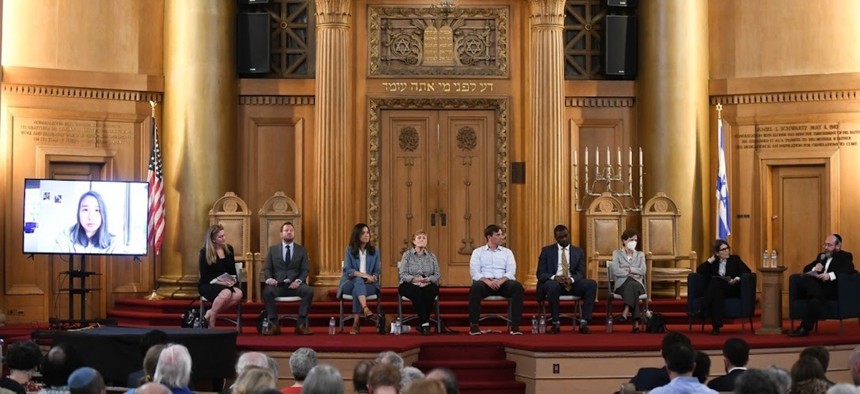 In a city full of political prognosticators and professional pollsters, no one is quite ready to predict the winner in the Democratic primary for New York's 10th Congressional District. The newly drawn district roughly spans downtown Manhattan below 18th Street and stretches into brownstone Brooklyn, Sunset Park and parts of Borough Park. The plurality white and heavily Democratic district contains sizable Asian and Latino populations as well as part of the more conservative Orthodox Jewish community. In an irregular Aug. 23 contest, it's anybody's guess as to which Democrat will prevail and – in all likelihood – coast to victory in November's general election for the open seat.
"If we were at Saratoga at the tracks, not only would I not put two bucks on this race, I don't even think I'd put one buck on this race. I'd look for a 50-cent window," Democratic strategist Bruce Gyory told City & State earlier this month.
Although the race might not have an odds-on favorite, it does have a pack of half a dozen or so contenders among the 13 candidates who will appear on the ballot – including former New York City Mayor Bill de Blasio, who dropped out of the race.
New York City Council Member Carlina Rivera, a progressive from the Lower East Side who relocated to Kips Bay last year, has consistently polled at the front of the pack. Polling high alongside her has been Yuh-Line Niou, the Assembly member representing lower Manhattan and Chinatown, who has carved out the furthest left spot on the ideological spectrum. Dan Goldman, the Democrats' counsel in then-President Donald Trump's first impeachment and Levi Strauss heir, may not have the experience of a local elected official, but he's flush with cash, has also polled in the top three and just won an influential endorsement from The New York Times. Rep. Mondaire Jones, another contender with more of a national profile than a local one, relocated from his Hudson Valley 17th District to run in the 10th District, and he could be buoyed by his substantial fundraising and status as a sitting member of Congress. Assembly Member Jo Anne Simon, who represents neighborhoods in Brooklyn including Brooklyn Heights and Gowanus, has trailed in the polling but has her fair share of endorsements from local elected officials and political clubs. And there's former Rep. Elizabeth Holtzman, who represented the then-16th District in the 1970s and recently received an endorsement from the Daily News' editorial board.
So far, the leading candidates are largely aligned on important issues for progressive Democratic voters, including codifying abortion rights and passing gun control measures such as banning assault rifles – priorities that face uphill battles in Congress. There have been some exceptions, however, including Niou's expression of support for the Boycott, Divestment, Sanctions movement's right to protest against Israel. Goldman has also been cast as more moderate in a field of progressives, with other candidates pointing out his ambivalence on "Medicare for All" and criticizing his now walked back comment that he wouldn't object to a state law banning abortion after a fetus is viable, as long as the mother's health wasn't at risk and it wasn't a case of rape or incest.
Still, in the last two weeks of the hard-to-predict race, political experts said it won't be questions of policy that distinguish the candidates and propel one to victory, but the impact of key endorsements, candidates' ability to get out the vote and whether voters want a local lawmaker or national Democratic champion to represent them in Congress.
The gray elephant in the room
Endorsements always play an important role in a low-turnout election in which few, if any, candidates have districtwide name recognition. "Any endorsement, regardless whether it's a newspaper or a club or a union is going to matter," said political consultant Lupe Todd-Medina, who is not working with any of the campaigns. And while endorsements have been flying in all directions – with Rivera garnering perhaps the widest cross section in both Manhattan and Brooklyn – one of the race's most coveted endorsements comes from the Gray Lady. In the 10th District in particular, the backing of The New York Times editorial board could hold immense sway with Democratic voters. "All the mail, all of the lit on the ground, all of the ads on Facebook and Twitter are going to say 'endorsed by The New York Times.' Cobble Hill, Brooklyn Heights, Park Slope – it matters," Chris Coffey, CEO of Tusk Strategies, told City & State earlier this month, prior to the Times announcing its pick. "You can argue whether it should matter as much, but it matters a lot." (Coffey is not working with any of the candidates but did donate $500 to Rivera in June.)
On Saturday, the first day of early voting, The New York Times editorial board announced Goldman as its pick for the 10th district, noting that despite the fact that he hasn't represented the district before, his "uncommon experience, particularly his knowledge of congressional oversight and the rule of law, could prove especially valuable in Congress in coming years." Though the Times didn't endorse Jones, they mentioned the Hudson Valley Congress member several times in their endorsement of Goldman, suggesting that Jones could have been their second pick.
In the public polling so far, a large chunk of voters have remained undecided, meaning that every contender – even those with seemingly stronger bases of support and polling relatively higher, including Rivera and Niou and Goldman – needed a boost like one the Times could provide to build bridges to those up-for-grabs voters. That Goldman won the paper's backing is an undeniable boon to his already high performing campaign.
Grumble all you want about the Times being cast as an unofficial kingmaker in the race, but the district turned out for Kathryn Garcia in the New York City mayoral primary last year, with its residents largely voting for the former sanitation commissioner whose campaign flew under the radar until the Times announced her as its pick for mayor.
Holtzman's endorsement from the Daily News will also give her campaign some momentum, though the newspaper's backing is not expected to be as influential as the Times' in this district.
When it comes to consolidating a broad range of other endorsements in both Manhattan and Brooklyn from elected officials, labor and other political organizations, Rivera might have the strongest footing. "She's picked up the most endorsements and made the fewest mistakes," Gyory told City & State earlier this month. The council member has the backing of Reps. Nydia Velázquez and Adriano Espaillat as well as the borough presidents of Manhattan and Brooklyn – Mark Levine and Antonio Reynoso.
Twenty members of the City Council were listed as Rivera supporters on her website, as was former Council Member Margaret Chin, who represented lower Manhattan and whose backing of Rivera, some experts speculated, could cut into Niou's base of support among Asian Americans. Labor unions 1199SEIU and Transport Workers Union Local 100 have backed Rivera, as have organizations that include the Jim Owles Liberal Democratic Club and the New York League of Conservation Voters – a potentially important nod for climate-focused voters in this waterfront district.
Meanwhile, Niou has locked up the support of major progressive organizations, including the Working Families Party and New York Communities for Change as well as the only endorsement from a citywide official in the race: Public Advocate Jumaane Williams.
A local elected or national figure?
For voters in the 10th Congressional District who aren't closely following the endorsements of borough presidents or City Council members, CNN or MSNBC might be where they hear about a candidate running for the open seat. Goldman's more national profile and his role in the Trump impeachment could win him supporters. "Dan Goldman, his social profile and political profile is very similar to a large number of residents and voters in the West Village or Park Slope," John Mollenkopf, a professor of political science and sociology at the CUNY Graduate Center, told City & State earlier this month. Jones, too, as a sitting member of Congress who has been a prevailing voice on voter rights and expanding the U.S. Supreme Court, is running on a more nationally-focused record.
Though neither has represented these neighborhoods before – and Goldman has never held elected office – both are flush with cash and running lots of television ads. "There are probably people in the district who tend to be more nationally focused: 'I want to send someone to Washington who's going to fight for voting rights and give them hell.' Those people are probably going to choose between Mondaire and Dan Goldman," Coffey said. "If you care more about local issues and wanting to be heard and wanting to see your congressperson and know that they're fighting for local issues, then you may be more likely to choose Carlina or Yuh-Line or Jo Anne Simon." How many voters will end up voting on that distinction was unclear so far though, Coffey said.
But while this role inevitably involves working on more national issues, some voters will also be looking for a local representative. "Even at the federal level when you're running, you've got to know the local issues. That's where a Jo Anne Simon, a Yuh-Line, a Carlina – they're going to do very well because they know the local issues," Todd-Medina told City & State earlier this month. 
Having a local record to run on also gives critics something to pick apart. The 10th District includes waterfront neighborhoods that saw devastating flooding during Superstorm Sandy – and with more recent storms. The project to rebuild East River Park at a higher level and with a flood barrier to protect from future storms has faced energetic pushback from local activists who argued that the plan eliminated crucial green space and could harm air quality during the construction process. Those activists have long targeted Rivera, since she represents the council district where the park is, for her support of the resiliency project. Niou has criticized the way the city handled the project.
Niou also faced criticisms of NIMBY-ism for her opposition to a proposed development for senior low-income housing that would have been built on the Elizabeth Street Garden site, eliminating much of that area's green space. Asked about the environment in which more left-leaning progressives have opposed affordable housing developments for not being affordable enough, Niou said community voices have to be prioritized in the effort to create more affordable housing. "I'm always trying to get to 'yes,' but I also think that it is really difficult for our communities when they have no input," Niou told City & State. "There's nothing wrong with density. We know that density is actually green and amazing and able to help with lowering carbon footprint. But we also have so little green space."
Despite the more noticeable differences between candidates on some of these local policy issues, it's unclear how many voters are keyed into them and will make their choice based on neighborhood fights. But even if these more niche issues haven't come to the forefront of the race, the candidates' profiles as either local elected officials or more national figures might. "It feels like at least partially – and personality might be the wrong word – but a personality- and background-based race. Who is the profile of the candidate that you want more?" Coffey said.
Getting out the vote
Political observers can agree about one thing in the 10th Congressional District Democratic primary: Voter turnout is going to be low. Though brownstone Brooklyn's wealthier and voter-rich enclaves have been identified as a potentially decisive class in the primary, it's also possible that population is off at vacation homes during the late August primary. New York's early voting option does increase the likelihood that residents of the district will be around for at least one voting day, however. And absentee ballots – if voters remembered to request one – could also be critical.
The district's Asian and Latino populations are not negligible – roughly 19% and 22%, respectively – but Mollenkopf said that over 80% of voters live in census blocks that are majority or plurality white. "The median will be older, well-educated, professional people who are homeowners, who are liberal Democrats and who religiously vote in Democratic primaries," Mollenkopf predicted of the voters who would turn out for the primary.
In the final couple weeks of campaigning, political consultants said candidates should focus on running a robust ground game. "I still believe in the old school, traditional, you've got to get your seven, eight touches to the voters," Todd-Medina said. "I still believe in doing a bit of snail mail, as well as getting out in the subways and shaking hands."
Niou, Holtzman and Goldman all said they would focus on the ground game in the final weeks. Rivera, Jones and Simon did not respond to requests for comment in time for publication. "The big issues right now are making sure that we have the spend going toward our field team and our actual volunteers," Niou said.
"We're trying to reach the voters in every possible way," Holtzman said. "Meeting them at farmers markets, on subways, on the streets, in front of grocery stores." Holtzman added that the campaign might use "other forms of media" at the end.
"We're running the most robust and sophisticated ground game in the field to remind voters in every corner of the district that our democracy and fundamental rights are at stake and that Dan has spent his entire career defending both," Simone Kanter, a spokesperson for the Goldman campaign, said in a statement.
Political consultants predicted that Niou – thanks in part to her backing from activist organizations and the Working Families Party – could run a strong ground game, as could Rivera. Goldman and Jones still have fundraising advantages though – Jones reported roughly $2.8 million on hand at the end of June and Goldman reported over $1 million – that can help fund not only mailers and digital ads but late get-out-the-vote efforts.
At the end of the day, candidates will likely be competing over a couple of percentage points. "I expect a race in which there is not a 50% winner and there might not even be a 33% winner, but there might be a 26% winner," Mollenkopf said.
Powered By
NEXT STORY: Adams feuds with Texas and Trump feuds with Tish