Heard Around Town
21 in '21 rebrands as The New Majority NYC, with 31 women on the City Council
The new name comes with a summary report looking at the confluence of factors that led to so many women being elected last year.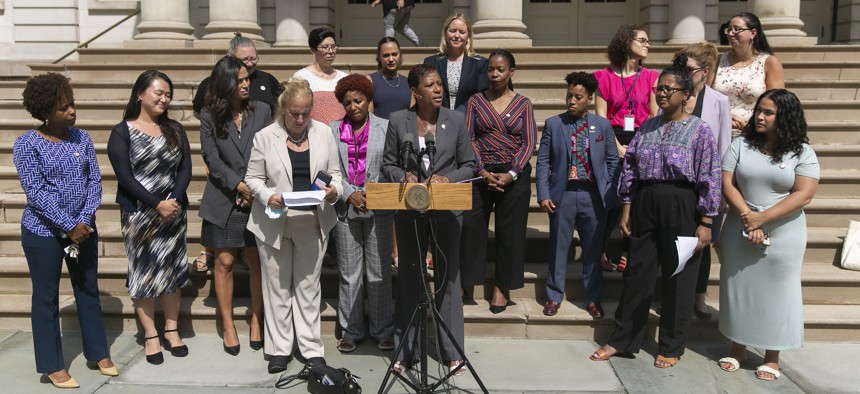 21 in '21 aimed high and still overshot its goal. The organization focused on electing 21 women to the City Council in 2021 instead saw 31 women get elected to the 51-member body – good enough for 61% of the legislature. Now the hailed nonprofit is rebranding, looking to the 2023 City Council elections and beyond. 
21 in '21 is changing its name to The New Majority NYC. The organization shared details exclusively with City & State ahead of a planned announcement Wednesday afternoon on the City Hall steps with City Council Speaker Adrienne Adams and members of the Women's Caucus. 
Founded in 2017, the need for a rebrand was obvious. "21 in '21 put us in a very particular corner. It is 2022 and that is an anachronism at this point," joked Executive Director Jessica Haller. "The challenge that we're taking on now is not just to achieve a very specific number in a very specific year for gender parity, but to say that 2021 was the year that we achieved authentic representation and we're going to maintain it into the future."
To that end, The New Majority will also be releasing the summary of a report with the researchers at RepresentWomen looking at the confluence of factors that led to so many women being elected last year. 
"Neither systems-level (term limits, small donor public financing, ranked choice voting) nor candidate-level (recruitment, training, support) efforts create sustainable opportunities for bringing more women to office," the summary reads. "The secret to New York City's success story is the 'yes, AND'  approach that 21 in '21 took to incorporating a systems-level awareness to candidate recruitment and support throughout the 2021 election cycle."
The New Majority will be trying that again in 2023, when it plans to endorse a full slate of candidates. They'll open up applications for both incumbents and new candidates to be endorsed in late November –assuming that the City Council doesn't accept the Districting Commission's new maps next week. 
Next year's City Council races may not result in much turnover. Unlike last year, when a majority of the seats were open due to term limits, every single incumbent will be eligible to run for reelection in 2023 – and many will likely win another two year term without much of a challenge. Yvette Buckner, a political consultant and board chair for The New Majority NYC declined to talk about strategy, and whether the organization planned to endorse against incumbents – men or women – or flip Republican-held seats. "We're a membership organization," she said, "so the process will play out how the process will play out."
While 21 in '21 didn't back all the women who won council seats, it was a key endorsement for some like Council Member Rita Joseph, when it came "really early, and it sent a strong message," she said. "The support, the mentoring, the network, it helped us first time women candidates, and it was major."
The New Majority isn't a political action committee, and doesn't donate to candidates, but it does provide services, including mentorship from current and former City Council members. Mentors for the past cycle included Council Members Diana Ayala and Carlina Rivera and now-retired members, including former Speaker Melissa Mark-Viverito, plus Alicka Ampry-Samuel, Julissa Ferreras-Copeland, Diana Reyna, Karen Koslowitz, Helen Foster, Helen Rosenthal, Una Clarke, Vanessa Gibson and Margaret Chin.