Politics
All the ethics snafus dogging Kathy Hochul
The governor has notched eye-popping fundraising numbers, and it's difficult to do that without raising some eyebrows.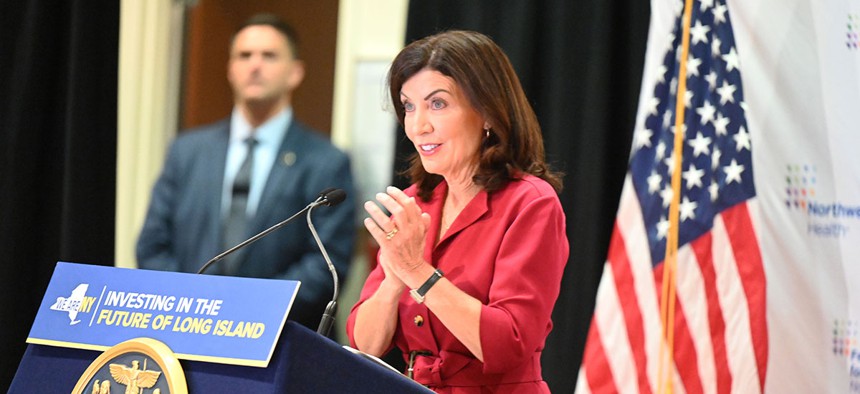 Gov. Kathy Hochul, like previous governors before her, is not afraid to wield the power of the office to her advantage. "She's using her position as governor to raise enormous amounts of campaign contributions, which is also consistent with her predecessors," said Blair Horner, executive director of the New York Public Interest Research Group, a good government group. 
Hochul has been able to raise $34 million by June, according to the New York Times, within a very short period of time, leading to speculation that she could be amassing the most expensive gubernatorial campaign in state history. "She's embraced that sort of American worldview, that you raise as much as you can and that diminishes the electoral threat," Horner said. 
Though she stepped into the office promising "a new era of transparency," ethical questions about her fundraising and leadership have dogged Hochul from the start. "The longer she's been governor, the less willingness and openness we've seen and that is certainly cause for examination, if not concern," said Tim Hoefer, president and CEO of government watchdog group Empire Center for Public Policy.  
In an emailed statement, Hochul's spokesperson Hazel Crampton-Hays said the state's first female governor has prioritized ethics and transparency, "enacted new policies to ensure a safe and respectful workplace…, improved the process of producing public records and continued to release her tax returns and schedules, and made reforms to increase transparency and accountability throughout state government." She also noted Hochul signed an executive order requiring state employees to take ethics training and required agencies to come up with public transparency plans.
Here's a list of the Hochul administration's bad looks. 
The $637 million in pricey COVID-19 tests from a major donor
This continually unfurling ethical crisis struck the Hochul administration last winter when COVID-19 levels were spiking. The Times Union initially found in July that New York had purchased about $637 million in COVID-19 home test kits from Digital Gadgets, an intermediary supplier owned by Charlie Tebele who, along with his family members, has made hundreds of thousands of dollars in contributions to the Hochul campaign. In a follow-up report, the Times Union found that the state had purchased a significantly higher amount of test kits from Digital Gadgets than any of the other companies combined, and at a higher cost, on average. This was then followed by the most recent report this month, which showed that California paid 45% less than New York for the same tests by bypassing the middleman and ordering straight from the manufacturer. The New York Post recently revealed that the Hochul campaign hired Tebele's son as an intern. The Hochul administration has maintained that she didn't know the owner of Digital Gadgets was a donor and that the purchase of the test kits from Digital Gadgets was absolutely necessary to face the pandemic, even going so far as to say that she "would do it all  again." Crampton-Hayes said the tests were purchased during a time of high-demand and that Hochul did not oversee the procurement process.
Accepting donations from appointees – thanks to a loophole
The New York Times reported in August that Hochul accepted at least 40 donations totaling more than $475,000 from the people (and in some cases their family members) that she or her predecessor appointed to state boards and commissions. This is in spite of a current executive order, renewed by Hochul herself, that prevents such appointees from making contributions to the campaign of the governor who appointed them. The Hochul administration's defense has been that the donations are comprised of Cuomo appointees and of Hochul appointees who had made donations before receiving their appointments from her. These justifications have allowed them to circumvent the ethics order, but it exposed a loophole. As Horner of the New York Public Interest Research Group put it, "New York's (ethics) laws are so weak and so inadequately enforced that it's pretty much anything goes as long as you stay within the weak guardrails that exist." Crampton-Hayes noted that Hochul has appointed more than 350 people, each requiring a vetting process. 
Russ Maxwell and Medical Answering Services
July 2022, the Times Union reported that the state Department of Health awarded Medical Answering Services with a multibillion-dollar contract to act as the middleman in arranging transportation for Medicaid patients' doctor's appointments. It was revealed that Russ Maxwell, president and owner of Medical Answering Services, is a longtime Hochul "fan" and donor. The Times Union found that Maxwell had hosted a fundraiser on behalf of the Hochul campaign and made contributions in the middle of the DOH's decision-making process. The DOH responded to the story by citing its more than 10-year partnership with Medical Answering Services and by asserting that Hochul's office has no influence in its decision-making process. Hochul's office said the same.
Bill Hochul and Delaware North
In an apparent conflict of interest that was noted before Hochul's first day as governor, the company her husband works for has considerable business before the state. Bill Hochul, who previously served as a U.S. Attorney under President Barack Obama, is currently the senior vice president and general counsel for Delaware North, a hospitality and gambling giant. Delaware North has numerous ventures around the state, both with and without state contracts, including food and beverage concessions at Niagara Falls State Park, two upstate airports and the current Buffalo Bills stadium. One state contract has already been renewed under the Hochul administration and another ended over the summer. As Buffalo News reported, it was announced before the start of Hochul's term that Bill Hochul would remain in his position at Delaware North while simply recusing himself from matters involving the state. However, ethics experts have not bought into the recusal plan, with some stating his mere presence at the company induces a conflict of interest. Crampton-Hayes noted that Hochul is the first governor (the administration believes) to have publicly released her recusal policy – which commits her to recuse herself from all state business involving her husband's employer.
Plans for a new Buffalo Bills stadium 
Hochul flexed her political muscle just a few months into her term with a major announcement to have the state and local governments put $850 million toward the cost of a new Buffalo Bills stadium. While many were wondering where the state would procure the sum, it was reported that Hochul had recently strong-armed the Seneca nation into handing over its backlogged debt of about $564 million from their casino revenue-sharing compact, temporarily freezing some of the nation's bank accounts. After years of legal battle where the Seneca Nation tried to avoid paying their share to the state, Seneca President Matthew Pagels made sure to point out that a new Bills stadium could potentially provide a lucrative deal for Delaware North – the company that employs the governor's husband. Delaware North already provides concessions for the current Bills stadium and is vying to continue doing so in the new stadium. "Legal or not legal, from a perception viewpoint it looks terrible," said Hoefer of Empire Center. "If it is indeed something that the governor thinks is in the best interest of New Yorkers, they should be going above and beyond to make sure that legally and perceptually this looks and feels like something that is going to indeed be in the best interest of New Yorkers." Crampton-Hayes said that the Buffalo Bills will independently decide whom to award a concessions contract to in the new stadium, and that Delaware North was not involved in stadium negotiations.
Brian Benjamin resigns amid campaign finance scandal
Eight months after being sworn in as Kathy Hochul's lieutenant governor, Brian Benjamin resigned after charges concerning illegal campaign financing were unsealed by federal prosecutors. The federal indictment alleged that during his time as state senator, Benjamin engaged in clear instances of quid pro quo with developer Gerald Migdol and then went to great lengths to cover up the scheme, including during his background check for the lieutenant governor position. The indictment details how Benjamin allegedly engaged in numerous exchanges with Migdol for campaign contributions, including one instance where Benjamin used the power of his state Senate office to direct state education grants to Migdol's charity. Benjamin has denied all wrongdoing. It seemed that Hochul was poised to take a big hit from the scandal, but quick political maneuvering allowed her to evade the trouble. The state Legislature passed a measure allowing Hochul to name a new running mate for the upcoming election, thus overriding a previous rule that would have left her stuck with a candidate under federal indictment. Hochul told WNYC's Brian Lehrer: "I made the best decision I could with the information I had at that time, but clearly, we need to have a different process, a more strengthened, streamlined process that can get us to more detail than we had at the time. We were obviously not aware that there had been investigations from federal authorities or even the district attorney's office at the time."
Correction: Due to a state database error, this article previously stated when a Delaware North contract was up for renewal.
Powered By
NEXT STORY: GOP candidates in swing House seats soften their messaging on abortion