Politics
Health departments face challenges in polio vaccination drives
Despite relatively high polio vaccination rates in New York, some stubborn gaps in immunization remain.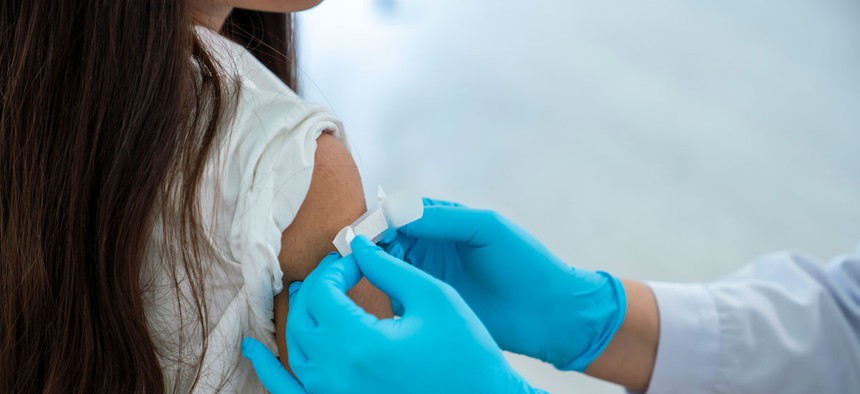 The new COVID-19 booster is not the only shot public health officials in New York are trying to get in arms. Following evidence of circulating poliovirus in several counties in New York, including in New York City, the state and local health departments are tasked with closing a stubborn gap in immunizations against the risk of paralytic disease.
This July, the first case of polio in almost a decade was identified in an unvaccinated man exhibiting paralysis in Rockland County. Poliovirus has since been identified in wastewater samples in New York City, Sullivan County, Orange County and Nassau County, though no other cases have been reported. 
To cope with the outbreak, the state Department of Health is reminding New Yorkers about the importance of getting vaccinated. "Working daily with local county health departments and CDC, the New York State Department of Health is deploying vaccine, evidenced-based information, and activating healthcare providers, organizations, and community-based partners to ensure unvaccinated and under-vaccinated New Yorkers and children get immunized – and the facts about polio immunization – urgently," Samantha Fuld, a spokesperson for the state Department of Health wrote in an email. Last month, Gov. Kathy Hochul declared a disaster emergency, a move that expands those who are able to administer the vaccine to include emergency medical services workers, pharmacists and midwives.
As of Sept. 15, a total of 5,647 doses of polio vaccine were administered to people under 19 years old in Rockland County since mid-July, while 4,633 doses were administered to that age group in Orange County, according to data submitted to the state. Those two counties have among the lowest polio vaccination rates in the state, at roughly 60% and 59%, respectively.
New York City, meanwhile, has an overall vaccination rate of 86% for those under 5 years old, but some pockets, including in some Hasidic communities, have lagged in vaccinations. According to the New York City Department of Health and Mental Hygiene, vaccinations are lowest in Williamsburg, at roughly 56%. But recently, Orthodox Jewish leaders and public health officials have been working to get that rate up and combat misinformation about the vaccine. Curbed reported that there's been a rapid increase in vaccinations, according to community leaders and doctors. Just how many doses have been administered citywide since July is unclear. A spokesperson for the city health department said that the city keeps track of immunizations but didn't have an update on how many people have been vaccinated in the past few months, because the full multidose vaccine course stretches over several months.
But despite some of these achievements, vaccinating children – and adults – against polio still presents challenges for the state and local health departments. The Times Union reported earlier this month that accessing the polio vaccine has been difficult for some adults in the Capital Region. Though pediatrician offices are usually equipped with the vaccine, the report noted that some local health providers don't have it on hand or easily accessible for adults. Asked about the report, Fuld said that every county has access to a supply of at least 50 doses of the vaccine for adults who are unvaccinated or haven't completed the full vaccination series, and that counties can request more, though none have so far. Beth Cefalu, a spokesperson for Rockland County, pointed to a list of providers where adults should be able to easily access the vaccine, including at two health department clinics.
The inactivated polio vaccine, which is the only one that has been used in the United States since 2000, is typically administered as part of routine childhood immunizations and required for children to enter school – with some religious and medical exemptions. But public health experts said that it's important for adults to check that they're vaccinated too, including those who didn't grow up in the United States. 
New York City residents can check their immunization records on this online portal, while residents outside the five boroughs can ask health providers to check a state registry. Though health care providers have been required to report immunizations administered to people under 19 years old to the state since 2008, vaccination data for older New Yorkers is not as easily accessible. 
"Although the proportion of adults not adequately vaccinated against polio in the U.S. is small overall, certain geographies will have lower vaccination rates," former New York City Health Commissioner Dr. Dave Chokshi wrote in an email. "The challenge for public health authorities is not just identifying those areas – but also combating misinformation and disinformation, partnering with community-based physicians, and enlisting trusted local leaders to build vaccine confidence."
Asked whether local health departments' messaging strategies are in need of updating in light of the current outbreak, some public health experts said it needs to be made clear that vaccination is just as important for adults as it is for children. "We're concerned about the unvaccinated, whether they be children or adults," said Dr. Wafaa El-Sadr, a professor at the Columbia University Mailman School of Public Health. "For adults, they haven't thought about vulnerability to polio or the need to get vaccinated. I think the messaging should always say, 'This vaccine is very important whether you're a child or an adult.'"
Another challenge for public health officials is reaching populations with lower vaccination rates, combating misinformation and confronting vaccine hesitancy. Fuld said that the state Department of Health has communicated with health care providers and community-based organizations to engage in outreach about the risks of the virus and benefits of immunization, has provided information on social and other media, and has sent letters to residents in English, Spanish, Haitian Creole and Yiddish.
Cefalu said that Rockland County has hired an outside company to create and distribute thousands of flyers and other communication materials about the importance of getting vaccinated. A spokesperson for the New York City health department said that the city is continuing to engage with community leaders on how to encourage vaccination in their neighborhoods. Representatives for the state, Rockland County and New York City all declined to say how much they've spent on polio vaccine messaging and outreach.