Politics
Hochul leads Zeldin 52% to 39%, according to Data for Progress poll
Most recent polling has shown the governor with a comfortable lead over her challenger, in a state where 70% of likely voters say abortion should be legal under most circumstances.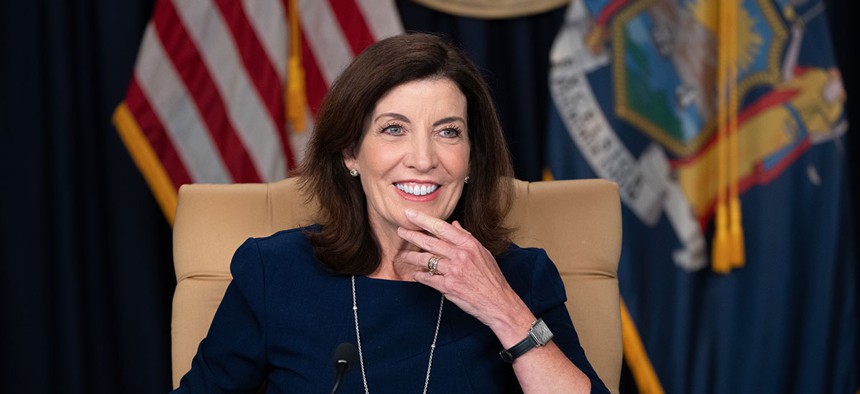 Gov. Kathy Hochul is up 13 percentage points on Rep. Lee Zeldin in a new Data for Progress poll of the New York gubernatorial race. Some 52% of likely voters say they'll vote for the Democratic incumbent Hochul, while 39% say they'll vote for the Republican challenger, Zeldin. Another 9% say they're not sure.
The progressive-leaning pollsters reached 931 likely voters through text message and web links to an online poll from Sept. 9 to 13. The poll was conducted in English only, and the margin of error was 3%. The cross tabulations are available here. 
Any single poll should be taken with a grain of salt, but reviewed together, recent public polling for the Nov. 8 election suggests that Hochul maintains a comfortable lead over Zeldin. The Republican's campaign has highlighted some recent polls showing a closer race, within 10 percentage points, but at least one such poll, but the Trafalgar Group, was an outlier that included a candidate who had not even qualified for the ballot.
Democrats are hoping that the U.S. Supreme Court's ruling against abortion access will be a motivating factor in this year's midterm election. The poll found 70% of likely voters said abortion should be "legal under most circumstances" – including 93% of Democrats and 46% of Republicans. Just 23% said abortion should be "illegal under most circumstances." 
Republicans had a slight edge over Democrats in enthusiasm, however. Some 39% said they were "more enthusiastic about voting in 2022 than usual," while 35% of Democrats said the same. Overall, just 18% of likely voters said they were less enthusiastic than usual this year. 
Both Hochul and Zeldin are about even in their favorability among voters. 47% had a favorable view of Hochul, to 45% unfavorable. Just 8% said they hadn't heard enough to say. Zeldin was even, at 33% favorable and 33% unfavorable, with 34% unsure. Hochul can thank New York state's greater than 2-to-1 Democratic voter enrollment advantage for her lead in the poll. Some 88% of Democrats said they'd vote for her, while 88% of Republicans said they'd vote for Zeldin. The Long Island congress member had a 48% to 39% advantage among independents. But even if Zeldin held a rally announcing endorsements from conservative Democrats such as New York City Council Member Bob Holden and former City Council Member Rubén Díaz Sr., not too many voters are following. Just 4% of Democrats said they'd vote for Zeldin.