Heard Around Town
Zeldin closes in on Hochul in poll that also includes … a candidate not on the ballot?
A much-discussed Trafalgar Group poll asked likely voters about Libertarian candidate Larry Sharpe.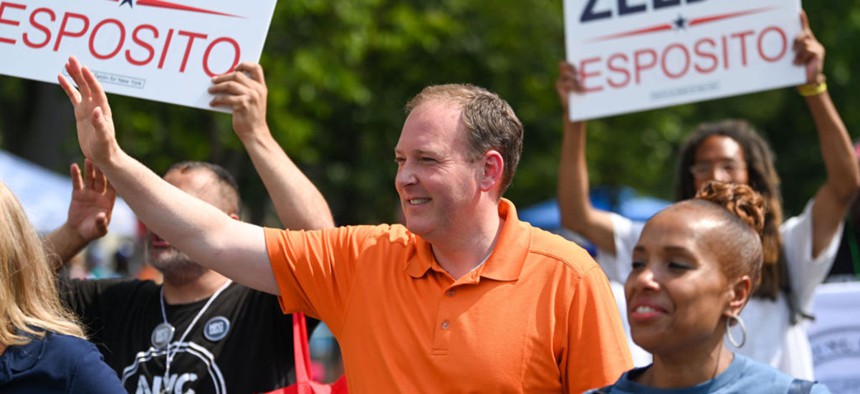 Only two candidates will appear on the ballot for the New York governor's race – but don't tell the Trafalgar Group that. The preferred polling agency of Donald Trump – the one that came the closest to predicting the 2016 outcome and the only pollster to predict a 2020 Trump victory – released a new poll on the November governor's race that has Gov. Kathy Hochul facing off against Rep. Lee Zeldin, whom Trump just helped fundraise for. The poll gave Hochul just a four point lead. Except the poll included a third candidate as well – Libertarian Larry Sharpe, who will not appear on the ballot. The New York Libertarian Party lost its automatic ballot access in 2020 and Sharpe did not qualify as an independent this year. In fact, no third party candidate made it onto the ballot this year, with Hochul occupying the Working Families Party line and Zeldin holding the Conservative Party line. Although past polls have included hypothetical candidates like former Gov. Andrew Cuomo, those came out at a time when his potential entrance into the race remained a topic of speculation. And unlike Sharpe, Cuomo's candidacy could have shaken up the election. Sharpe's inclusion in the Trafalgar poll certainly may raise some eyebrows, especially since its results are such outliers compared to other polls. It's sort of Trafalgar's trademark at this point, but with mixed success on that contrary polling panning out.