2022 general election
Hochul's law enforcement announcement conveniently helps her counteract Zeldin's claims
The governor made her position on crime clear at a public safety symposium, amid attacks from her opponent.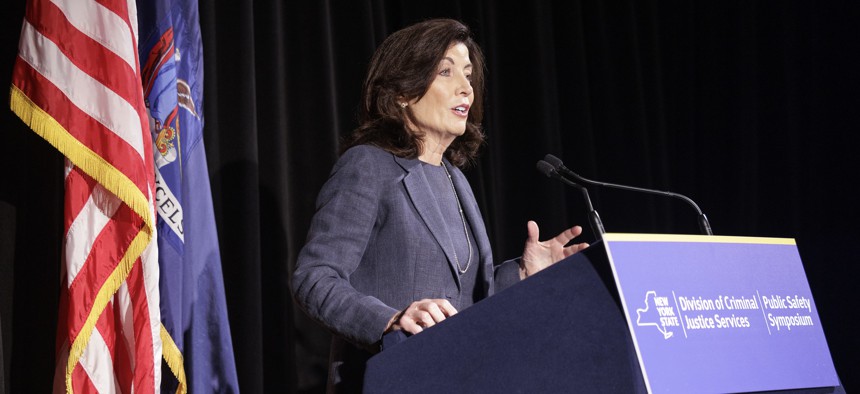 Gov. Kathy Hochul announced a $50 million investment in local law enforcement agencies, law enforcement technologies and pretrial services at the New York State Division of Criminal Justice Services public safety symposium in Albany on Wednesday morning. 
This official gubernatorial duty gave Hochul the perfect opportunity to reinforce her stance on crime weeks ahead of the gubernatorial election. The announcement comes amid harsh criticism from Republican gubernatorial candidate Lee Zeldin on the governor's position on crime – including bail reform and her refusal to remove Manhattan District Attorney Alvin Bragg. 
Using her incumbent's pulpit, Hochul highlighted her "heartfelt appreciation" for law enforcement officials and vowed to assist them in any way possible. The governor said the investment is additional funding to the $227 million allocated to gun violence prevention, and $143 million allocated to responding to mental health emergencies, among other public safety funding in the state's fiscal year 2023 budget, touting it as the "largest investment in public safety in a generation."
"This will help solve crimes as well as build trust between communities and their police departments," Hochul said.
Zeldin recently put out a campaign ad blaming Hochul for the rate of crime in New York with videos of criminal incidents and the message "On November 8, vote like your life depends on it, because it does! Hochul's Gotta Go!" The Republican nominee has defended the ad amid reports that it included an incident that took place in California and footage of incidents that happened before Hochul became governor.
The opposing gubernatorial candidates just recently touted their respective endorsements from a pair of related police organizations. Hochul gained the endorsement of The Police Benevolent Association of New York State, while Zeldin secured the support of the Police Conference of New York.
Giving the announcement, the governor said she wanted to make sure law enforcement officials had tools including body cameras, gunshot detection devices, drones, robotics and fixed and mobile cameras.
"You'll never hear the words from me or my administration 'defund the police,'" Hochul said. "In fact, we are doing the opposite."
Javier Lacayo, senior vice president at public affairs and political strategy firm SKDK, said recent polling shows crime is not a prominent issue for most voters heading into the midterm elections, but Zeldin is working hard to make it one.
"What you're seeing Zeldin try to do is follow this playbook that a lot of Republicans are doing nationally to make it seem like Democrats in charge of big cities have out-of-control crime," Lacayo said. "Zeldin is going to have a hard time making this stick," Lacayo said.
Lacayo pointed to the recent Siena College poll showing the economy and inflation was the top issue among 30% of people polled and "threats to our democracy" was second highest with 22%. 
In a statement to City & State, an official within Hochul's administration said the governor's top priority is to keep New Yorkers safe. "She continues to work every day with law enforcement and local officials to improve the criminal justice system, combat gun violence, and strengthen public safety across New York," read the statement.