New York State
How Gov. Kathy Hochul has benefited from the projects of her predecessor
Andrew Cuomo left a few flashy transit projects just shy of completion, allowing Hochul to coast through the ribbon-cuttings.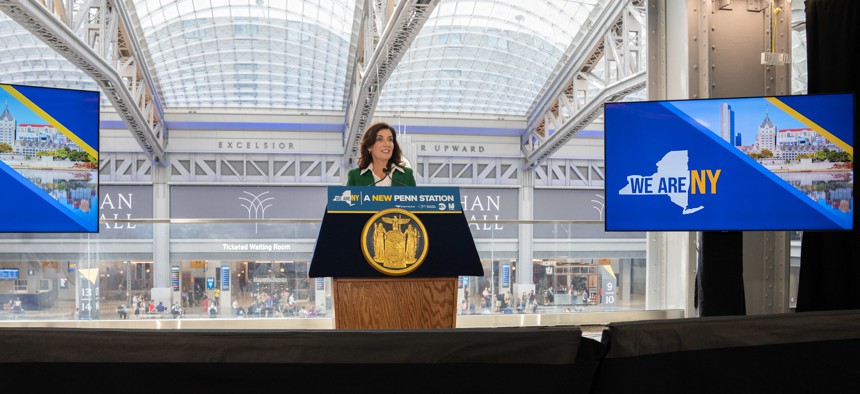 It's been over a year since Gov. Kathy Hochul replaced former Gov. Andrew Cuomo as New York's leader. Since then, Hochul has largely benefited from the projects she inherited from her predecessor. 
During his tenure, Cuomo spent a lot of time envisioning ways to solve many of New York's most daunting transit issues – even up until his final days in office. The controversial plan to revamp Penn Station, the new LaGuardia Airport terminals and the renovation of upstate airports are some notable initiatives that all started under the Cuomo administration. Since then, Hochul has put her own spin on them. 
Penn Station reconstruction project
Penn Station has remained an eyesore for commuters because of its outdated infrastructure for years. Hochul released her "vision" for a new Penn Station last year, complete with major upgrades to the train hub and development plans for the surrounding areas. 
The new train hub will include new entrances, a 450-foot long sunlit train hall and an underground tunnel that connects to Herald Square. The project will be funded by the development of 10 private commercial and residential buildings in the surrounding area. 
But Hochul inherited this project from Cuomo, who tried and failed to garner support for his plan to address the needs of the train hub during the height of his sexual harassment scandal. Cuomo's Empire Station Complex plan also incorporated real estate development projects in surrounding areas of Penn Station but had plans to expand the train hub with eight additional tracks - which Cuomo touted as increasing train capacity by 40%. The additional train track measure was removed from Hochul's revised plan.
Although Hochul inherited parts of the Penn Station plan from Cuomo, getting support for the plan had several roadblocks. Many of these have stemmed from questions regarding the size of developer tax breaks as well as the financing of the renovations to the train hub. 
The governor didn't just benefit from the original idea of the Penn Station project, she also gained from the political moves of Cuomo during his tenure – which secured a smooth approval of her current Penn Station plan. Cuomo weakened the power of the state's Public Authorities Control Board after blaming the board for Amazon backing out of a deal to put its headquarters in Queens, Politico New York reported. 
The state control board approved a deal between the city and state to help pay for Hochul's Penn Station plan – a major step forward for the governor.
LaGuardia Airport terminals
LaGuardia Airport was infamous for being dark, gritty and cramped. In 2014, then-Vice President Joe Biden likened being in the airport to being in a "third world country." After an $8 billion revamp, two brand-new terminals, B and C, were unveiled for the airport earlier this year.
This project started under Cuomo back in 2015 and continued in 2020 with the unveiling of the new arrivals and departures halls that were part of the larger $8 billion investment into the airport.
In January, when the completed terminal B was unveiled by Hochul, the former governor immediately released a statement crediting Port Authority officials and former members of his administration who "worked a day in and out for years to deliver for New Yorkers." 
The letter notably excluded his successor.
Months later when it was time to unveil Terminal C, Hochul credited Cuomo during her press conference. She highlighted the work his administration did for the new LaGuardia Terminal, calling him the "genesis" of the project.
"I want to give recognition where it is due," Hochul said at the opening of LaGuardia Terminal C.
Upstate Airport Renovations
This week Hochul announced $230 million in awards to rejuvenate and modernize nine airports in upstate New York. The funding, part of the Upstate Airport Economic Development and Revitalization Competition, was administered by the state Department of Transportation.
"By making critical investments to further modernize facilities across upstate New York, we are lifting upstate airports to new heights and providing a 21st Century transportation experience that travelers expect and deserve," Hochul said at a press conference announcing the awards. 
This initiative originated under Cuomo in early 2016 when he announced that $250 million would become available to "transform and modernize" upstate airports. His initiative included $230 million through the same Upstate Airport Economic Development and Revitalization competition and another $20 million which would be allocated through the governor's Aviation Capital Grant Program.
Cuomo also cited COVID-19 as one of the main reasons it was time to improve the airports.
"We went through a year of stagnation because of the pandemic, and as we work to build this state back better than it was before now is the time to think about how we can excel on both a national and international level," Cuomo said at the time.