New York State
Letitia James is Democrats' new hero
The state Attorney General's lawsuit against former President Donald Trump boosts her national profile as she vies for re-election.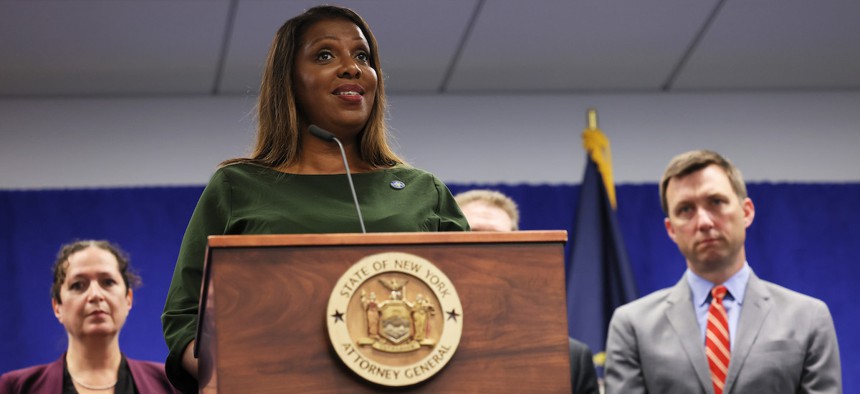 State Attorney General Letitia James' civil fraud lawsuit against former President Donald Trump is boosting her national recognition and casting her as a savior among Democrats less than two months before voters will decide whether to re-elect her to a second term. 
James on Wednesday announced she was suing Trump, his three adult children, Ivanka Trump, Eric Trump and Donald Trump Jr., along with the Trump Organization, its former CFO Allen Weisselberg and the company controller Jeff McConney for falsely inflating the value of his net worth by "billions of dollars."
The 280-page lawsuit filed in state Supreme Court accuses Trump and his affiliates of making more than 200 false and misleading asset valuations over a 10-year period in order to pay lower taxes, induce insurance companies to offer higher limits at lower premiums and secure loans under more favorable terms.
James, in a press conference announcing the lawsuits, said her office found Trump in violation of several state and federal criminal laws, including falsifying business records, insurance fraud, conspiracy and bank fraud, among others. She has referred the information to the Internal Revenue Service and the U.S. Attorney for the Southern District of New York. James also said she is cooperating with the Manhattan District Attorney's in its separate investigation of Trump and his business practices and will make her findings available to the office upon request. 
The suit asks the court to bar Trump and his children from serving as an officer or director in any corporation or similar entity and to ban Trump and his organization from acquiring commercial real estate and from applying for loans for a period of five years. She is also seeking a judgment of $250 million. 
In the three year investigation, James' office investigated 10 years worth of Trumps' business dealings between 2011 and 2021, interviewed more than 65 witnesses and reviewed "millions" of documents, she said. 
In several cases, Trump manipulated the value of his properties by using methods in violation of general accounting principles and against the advice of outside professionals, the lawsuit charges. The former president claimed his 11,000-square-foot apartment on Fifth Avenue was 30,000 square feet and valued at $327 million in 2015 and 2016 – more than three times its actual value, James said. 
In addition he ignored legal restrictions on development rights and marketability by marketing rent-stabilized units as individual apartments for sale, for example, and drastically inflating their value on financial statements, according to James. 
"I want to be clear – white collar crime is not a victimless crime. When the well-connected break the law to take in more money than they are entitled to, it reduces resources to working people, to regular people, to small businesses . . . and all taxpayers," James said. "Claiming you have money that you do not have does not amount to the art of the deal. It's the art of the steal," she added, referencing the title of Trump's 1987 book. 
James also noted that the investigation began when Trump's former personal lawyer testified before Congress. Cohen on Wednesday expressed relief at James' announcement. "I want to personally thank (Tish James) for acknowledging my participation and assistance in bringing accountability to the Mandarin Mussolini! My journey to the truth has been filled with sadness, pain and anger. Todays(sic) announcement makes it al(sic) worth it!!!" he Tweeted.
Trump, meanwhile, attacked James on his Truth Social network, accusing her of being "racist" and leading a "witch hunt" against him. 
"Another Witch Hunt by a racist Attorney General, Letitia James, who failed in her run for Governor, getting almost zero support from the public, and now is doing poorly against Law & Order A.G. candidate, highly respected Michael Henry," he wrote. "I never thought this case would be brought – until I saw her really bad poll numbers," Trump added, referencing a recent survey by right-leaning polling firm the Trafalgar Group that shows Henry one point ahead of James. 
To the left, James' lawsuit is a massive boost for the AG ahead of her re-election bid and puts her in the national spotlight as a figure who does not cower to the rich and powerful. Elected in 2018, James also took down Gov. Andrew Cuomo by authoring a report claiming he sexually harassed multiple women during his tenure, ultimately leading to his resignation. 
"This is a win-win for the Attorney General. It will make her a hero to many Democrats and a villain to Republicans, but she's only taking this action because the legal evidence is rock solid," said James Freeland, a political consultant and former spokesperson for former state Attorney General Eric Schneiderman. "If you're spearheading an effort to bring accountability – and hopefully punishment – for a crime family headed by a former president, your profile will be raised."
In a statement, her campaign cast the investigation as a fight for "everyday New Yorkers."
"She will continue investigating corruption and abuses of power, regardless of party or politics, while championing equity and fairness for all New Yorkers," her campaign manager, Yvette Buckner, said. "This is what the state of New York elected her to do and she won't back down."
Rachel Noerdlinger, a publicist and partner at the global strategy firm Actum, highlighted the historic nature of James' announcement and her tenure as the first Black woman elected to statewide office and both the first Black person and woman to be elected as state attorney general. 
"It's hard to find a historical comparison, because there have been so few Black women in a position of power like the one she is in right now," she said. "Tish stood up to a man who was president just 20 months ago, exposed the fraud people stayed silent about for decades, and took action. She just sent a message to Black girls around the nation that they don't have to be afraid to be themselves – that they should take a stance and do the right thing."