Heard Around Town
National Democrats look to Robert Zimmerman's House race against an "insurrectionist"
The 3rd Congressional District contest versus George Santos was moved into the DCCC's "Red to Blue" program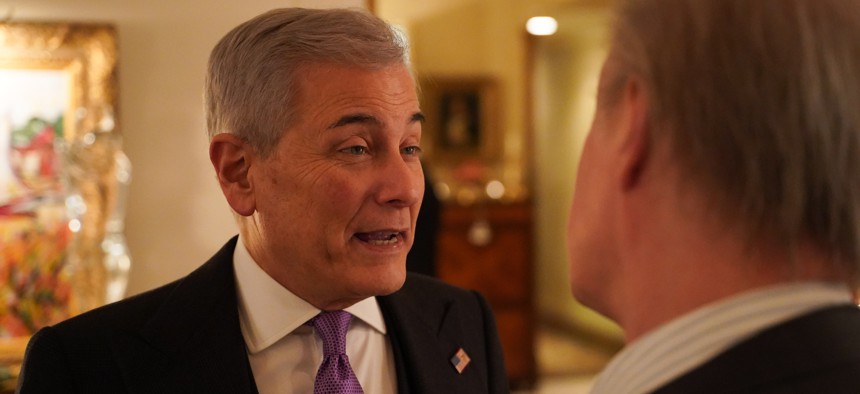 A competitive congressional race on Long Island is getting an attention boost from national Democrats aiming to defeat an "insurrectionist" Republican candidate. 
The Democratic Congressional Campaign Committee is adding the race in New York's 3rd Congressional District – covering parts of Nassau County and Queens – to its "Red to Blue" program. ("Red to Blue" is a bit of a misnomer in this case as the current 3rd District is represented by Democrat Tom Suozzi.) 
Running in the district is Democrat Robert Zimmerman, the leader of a public relations business, and Republican investment banker George Santos. Santos, the DCCC asserts, is an "insurrectionist" and "too radical for this district." 
The DCCC cites a video in which Santos brags about listening to Donald Trump speak in Washington D.C. on Jan. 6, 2021. "Something I mention often – I was at the Ellipse on Jan. 6," Santos said in an interview with Lara Trump in February 2021. "That was the most amazing crowd, and the president was at his full awesomeness that day. It was a front row spectacle for me." In a tweet that is geotagged from Washington, D.C., the day after Trump supporters stormed the U.S. Capitol in an attempted insurrection, Santos appeared to denounce the action. "January 6th, 2021 will go down as a sad and dark day in our history," he tweeted. "Our nation needs immediate healing."
Santos campaign manager Charles Lovett called the DCCC's criticism of Santos as an "insurrectionist" a distraction. "The DCCC is doing everything they can to try to distract voters from the disasters that Joe Biden and Nancy Pelosi's policies have caused with Robert Zimmerman's full support," Lovett said.
The DCCC's Red to Blue program provides Democratic candidates vying for competitive seats access to the committee's organizational resources, including help with field operations, and fundraising support. City & State identified the race as one of half a dozen competitive seats to watch. The recognition from the DCCC could bring Zimmerman – who beat out a crowded primary field earlier this month – national attention and potentially a fundraising boost. As of early August, Santos had almost twice as much cash on hand as Zimmerman.
Several other New York Democrats have also been identified as getting a helping hand from the DCCC's Red to Blue program, including Bridget Fleming and Jackie Gordon in Long Island's 1st and 2nd Congressional Districts, former Rep. Max Rose in Staten Island and Brooklyn's 11th Congressional District, Pat Ryan in the Hudson Valley's 18th Congressional District, and Francis Conole in the 22nd Congressional District surrounding Syracuse and Utica. The current 18th District – like the current 3rd District – is also now represented by a Democrat, making the "Red to Blue" designation a curious choice. A spokesperson for the DCCC said that open seats – which both the 3rd and 18th Districts are – are also included in the "Red to Blue" program.