6 New York congressional races to watch in November
Democrats and Republicans are battling across the country for control of the House of Representatives, and these New York seats could be key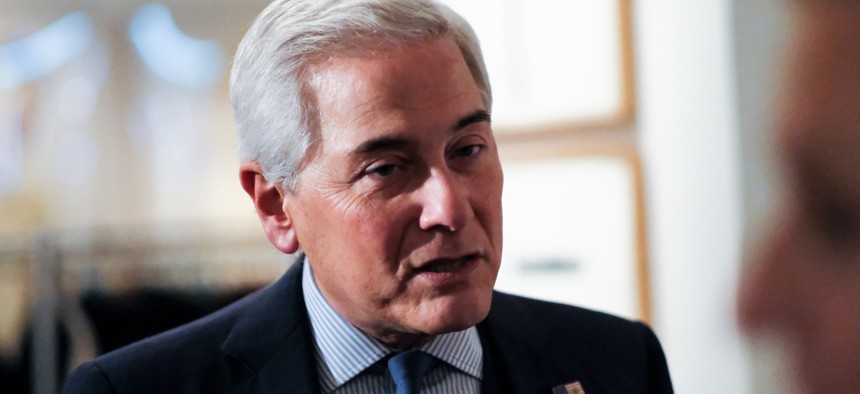 In the first midterm election of Joe Biden's presidency, Democrats across the country will be fighting like hell to maintain their narrow majority in Congress as Republicans mount a strong challenge to take control of the House. And though New York is not traditionally a battleground state, a number of competitive congressional districts could help turn the tide for either party come November.
With the primary election now out of the way – and a couple of potentially telling special elections also decided – attention is focused on New York's purple, and other slightly more competitive, districts. There are more than usual this year, and like with everything else in 2022, you can blame redistricting. The Democratic trifecta in Albany drew maps that made the Empire State a blue bulwark. Those got thrown out, and the special master who drew the new maps prized competitiveness over everything.
November will also see two 2020 rematches – between Republican Rep. Andrew Garbarino and Democrat Jackie Gordon on Long Island, and between Republican Rep. Nicole Malliotakis and former Democratic Rep. Max Rose in their Staten Island and Brooklyn district. Both of those races, while more competitive than many others downstate, have so far been rated as "likely" or "safe" Republican districts by outlets including Cook Political Report and Sabato's Crystal Ball.
Out of nearly a dozen general election match-ups considered to be somewhat competitive in New York, a handful have emerged as stand-out races to watch in November. These are the six races City & State is keeping a particularly close eye on in the lead up to the general election.
NY-1: Bridget Fleming (D) v. Nick LaLota (R)
Suffolk County
With his longshot attempt to unseat Gov. Kathy Hochul, Republican Rep. Lee Zeldin is leaving his Suffolk County seat in Congress, opening a path for a competitive general election to succeed him. Political prognosticators have rated the district as likely to lean Republican, though the new 1st Congressional District – which occupies much of the same stretch of Suffolk County as the current 1st District – voted to elect Biden over Trump in 2020 by a narrow 0.2% margin.
Competing for the seat is Bridget Fleming, a former Manhattan prosecutor who ran uncontested for the Democratic nomination, and Nick LaLota, the former commissioner of the Suffolk County Board of Elections who fended off primary competitors on Tuesday night with the support of county Republican leaders. In this race, like many others, abortion rights could be on the ballot. Fleming, a current Suffolk County legislator, is on record as supporting codifying the rights granted by Roe v. Wade, while LaLota has voiced support for the Supreme Court's recent reversal of Roe and has called for more restrictions on abortion access in New York state. 
NY-3: George Santos (R) v. Robert Zimmerman (D)
Nassau County and Queens
It didn't take long after Democrat Robert Zimmerman's primary victory on Tuesday night for George Santos, who ran unopposed for the Republican party line, to come out swinging. A statement released by Santos early Wednesday that included some broad criticisms of Zimmerman as a member of the "Democratic establishment elite" singled out the issue of bail reform in particular, suggesting that the issue could become a larger talking point during the general election. While Santos said that Zimmerman "supports dangerous bail reform," Zimmerman appears to be among the more moderate Democrats who are in favor of amending the state's 2019 bail reform law to allow judges to consider additional factors in determining bail. "I certainly support Gov. Kathy Hochul's efforts to put reforms into the bail reform issue," Zimmerman said in an interview on NY1 earlier this year.
Santos, an investment banker, and Zimmerman, the leader of a public relations business, are both gay, making this a rare matchup between two out members of the LGBTQ community. Santos lost to Rep. Tom Suozzi 56%-43% in this district last year, but now that it's an open seat – after Suozzi passed on reelection to mount a longshot run in the Democratic primary for governor – several outlets rate it as a toss up district.
NY-17: Michael Lawler (R) v. Rep. Sean Patrick Maloney (D)
Rockland County, Westchester County, Putnam County and Dutchess County
Having handily fended off a primary challenge from progressive state Sen. Alessandra Biaggi on Tuesday night, Democratic Rep. Sean Patrick Maloney will go on to defend his place in Congress – albeit in a largely different district than the one he currently represents. Running against Maloney is Republican Michael Lawler, who currently represents Rockland County in the state Assembly.
Maloney enters the race with the advantages of incumbency, even if he is running in a different district. He also has a massive fundraising advantage over Lawler, though there's still time for Lawler to narrow that gap, especially if national Republicans decide to target the chair of the Democratic Congressional Campaign Committee personally. A poll commissioned by Lawler's campaign earlier this summer put Lawler two points ahead of Maloney, though most outlets have so far rated the race as leaning or likely Democratic.
NY-18: Pat Ryan (D) v. Colin Schmitt (R) 
Mid-Hudson Valley
Democratic Ulster County Executive Pat Ryan is going to Congress – but only for the next four months, unless he can beat a second Republican in the Hudson Valley's more purple neighborhoods. The newly drawn 18th Congressional District includes parts of Ulster, Orange and Dutchess Counties, and while Ulster and Dutchess voted for Biden by decent margins in 2020, Orange very narrowly voted to elect Trump. Ryan, who will go into the election with a barely-there incumbent's advantage, is up against Republican Assembly Member Colin Schmitt.
The big question in the race is whether Ryan can or will center the topic of reproductive rights again, as he did when campaigning against Republican Marc Molinaro in Tuesday's special election for the current 19th Congressional District. That seat, which Ryan will occupy through the end of the year, was previously held by Democratic Lt. Gov. Antonio Delgado, and while it's unclear just how much Ryan's focus on supporting reproductive rights swayed voters, it was undeniably central to his strategy. Schmitt, like Molinaro, is on record as praising the Supreme Court's reversal of Roe v. Wade.
NY-19: Marc Molinaro (R) v. Josh Riley (D)
Southern Tier, Catskills and Hudson Valley
Marc Molinaro's defeat in Tuesday's special election is not the end of the Republican Dutchess County Executive's road to Congress. Molinaro may not be going into the general election for the new 19th Congressional District with all the momentum that he hoped, but he'll still face a competitive race against Josh Riley, the former political staffer who won the Democratic primary for the district. Some political predictors have cast the seat as one that could flip to Republicans, though Sabato's Crystal Ball on Wednesday changed its rating for the district from "leans Republican" to "toss up." Biden won the seat by a roughly 5-point margin in 2020, and the special election suggested parts of the district could be more hospitable to Democrats this year than previously believed. 
Riley and Molinaro both raised over $1 million so far – with Molinaro's spending so far concentrated on the special election and Riley's on his Democratic primary victory over Jamie Cheney. Whether Riley will attempt to make abortion rights a wedge issue as Ryan did in the special election against Molinaro remains to be seen. Riley has pledged to support the codification of Roe v. Wade, among other steps to protect access to abortion.
NY-22: Francis Conole (D) v. Brandon Williams (R)
Syracuse, Utica and surrounding areas
Central New York's open 22nd Congressional District is among the more competitive in the state, with two military veterans and would-be first-timers to political office facing off in the toss-up seat. Democrat Francis Conole, a defense policy advisor, is running against Republican entrepreneur Brandon Williams in the new 22nd District, which is more concentrated around Syracuse and Utica than the current 22nd District seat held by Republican Rep. Claudia Tenney, which stretches from Oswego County down to Broome County. Following the redrawing of district lines, Tenney departed to run in the more safely red 24th Congressional District.
In their respective primary races, Conole outraised Williams, though the pace of fundraising could change as national parties rally around their candidates in the competitive district. Conole also could get more outside support from the free-spending Protect Our Future super PAC, which showered the Democrat with money during the primary.