Politics
The August primary endorse-o-meter
Who's a kingmaker and who's a dud?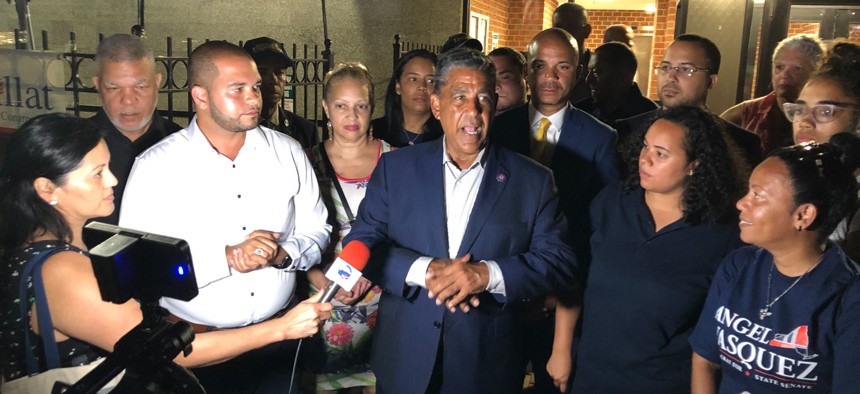 Political endorsements are a way for elected officials, organizations and labor groups to curry favor and signal that a candidate has their backing, which voters can then use to judge that person's ideological stance. It can be a useful tool to determine where a candidate falls – especially when facing a ballot packed with a dizzying assortment of names.
Tuesday's primary was no exception to this time honored tradition. Prominent names like New York City Mayor Eric Adams, Rep. Alexandria Ocasio-Cortez and influential groups like the Working Families Party pitched their support behind a slate of candidates to mixed success. Former President Donald Trump even entered the ring with two bizarre "endorsements" of two of his foes likely intended to hamper their chances. Far more often though, endorsements are aimed at bolstering a candidate's campaign – sometimes succeeding depending on the sway of whoever is granting the nod. But to what extent are endorsements a popularity contest? And how much sway did endorsements have in the Aug. 23 primary?
Here's a rundown of some of the most – and least – successful endorsers of the August primary.
The New York Times
RANKING: 5/5 "Times' way or the highway"
In recent years, the Times editorial board's endorsements have become increasingly influential in competitive New York City elections especially among affluent and college-educated voters. Political insiders speculated for weeks over which congressional candidates would earn that coveted nod. In the end, the board's decisions arrived a mere week and a half before the Aug. 23 primary – a boon for the highlighted candidates and a serious blow for those it passed over. And while the Times' drew some backlash for its selection of three white men (made especially controversial given the diverse field of powerful candidates the board had to choose from), that judgment resulted in them going three for three in the end. Rep. Jerry Nadler, former Trump impeachment attorney Dan Goldman and Rep. Sean Patrick Maloney all emerged victorious.
Working Families Party
RANKING: 3/5 "A solid, working nod"
Though on first glance it may seem that Tuesday night proved a tough night for the slate of left-wing candidates backed by the Working Families Party, there was a surge of good news for the progressive political party in many New York City state Senate primaries. Overall, results were a mixed bag. The WFP unveils a sweeping list of endorsees each election, selecting one person in nearly every race. In two of the most high profile congressional contests, state Sen. Alessandra Biaggi and Rep. Yuh-Line Niou fell to their moderate opponents (preliminary results showed Niou trailing Goldman by about 1,300 votes). Still, it's hardly all doom and gloom for the WFP: incumbent Rep. Jamaal Bowman easily weathered his moderate challenger, and a handful of state Senate candidates pulled big upsets, including DSA-backed political newcomer Kristen González in state Senate District 59 in Queens who trounced former City Council member Elizabeth Crowley, and state Sen. Gustavo Rivera, who fended off lawyer Miguelina Camilo in the Bronx.
New York City Mayor Eric Adams
RANKING: 1/5 "Mayor Who?"
In the first seven months of his tenure, Adams' endorsements have all revolved around a common theme: He wants to push Democrats towards the center. While new mayors tend to avoid stepping into contentious intraparty primaries, Adams has had no such qualms. He backed incumbents and political newcomers alike for state Senate, but steered clear of the congressional primaries. His gambit was met with largely poor results Tuesday night. While state Sen. Kevin Parker bested democratic socialist challenger David Alexis (albeit with a relatively narrow margin and a third candidate in the mix) in the 21st District, Adams-backed Crowley, Camilo and the controversial Rev. Conrad Tillard all lost decisively to progressives.
Rep. Alexandria Ocasio-Cortez 
RANKING: 3.5/5 "A rose by any other name would maybe not get elected"
Rep. Alexandria Ocasio-Cortez cast out a sweep of endorsements leading up to Tuesday night, many of which paid off. In progressive circles, the well-known lawmaker is often regarded as one of the most coveted endorsements. Five of the seven candidates that Ocasio-Cortez endorsed claimed victory Tuesday night, including incumbent Jabari Brisport, who cleaned house with over 70% of the vote in District 25, and Gustavo Rivera, who weathered a challenge from Camilo in one of the most contentious races of the primary. Rivera became a target after the Bronx Democratic Party dumped him for Camilo, citing the senator's alignment with the "far left of the party." Although most aboard the AOC train fared well Tuesday, she'd also endorsed Alexis and Biaggi who fell short against their longtime incumbent opponents. 
Rep. Adriano Espaillat 
RANKING: 1/5 "Kingmaker down"
Rep. Adriano Espaillat has a history of backing Democratic candidates that have gone on to win in competitive races, including Eric Adams and City Council Members Shaun Abreu and Oswald Feliz: It's no secret he's forming a "Squadriano." The Aug. 23 primary, however, was a less glowing testament to his political power. Espaillat's support of Camilo in state Senate District 33, New York City Council Member Carlina Rivera in the 10th Congressional District and Angel Vasquez in state Senate District 31, was not enough to get any of the candidates across the threshold to seize the Democratic nomination. His only silver linings were Assembly Member Nathalia Fernandez, who won the open primary  for Biaggi's former district, and state Sen. Cordell Cleare, who won a noncompetitive bid for reelection.
Rep. Ritchie Torres 
RANKING: 2/5 "Bummer summer"
Some of Rep. Ritchie Torres' primary endorsements took major blows, though a few were left standing tall at the end of the night. Robert Zimmerman secured the nomination in the competitive primary for the 3rd Congressional District on Long Island. Zimmerman parallels many of Torres' views as a pro-Israel candidate and steadfast in fighting for LGBTQ+ rights as an out gay man. Torres also backed Fernandez for state Senate, and former Rep. Max Rose in his primary against a progressive challenger. But Torres saw losses for Crowley, Vasquez and Camilo in state Senate races in Queens and the Bronx. Camilo especially hurt – Torres helped recruit her to run. 
New York City Council Speaker Adrienne Adams
RANKING:  0/5 "Better luck next time"
As the newly elected speaker of the New York City Council, Adrienne Adams unveiled her first endorsements in the weeks leading up to the election to a swell of anticipation. Many people were eager to see whether she'd back more progressive contenders – like many of her colleagues in the City Council – or more moderate candidates. In the end, her backing of Crowley to represent state Senate District 59 and her ally in the New York City Council, Carlina Rivera, weren't enough to get either across the finish line with both candidates scooping up a smaller percentage of the vote than many anticipated given their high-profile statuses.