Politics
How will new legislative districts impact New York's DSA?
It's a mixed bag for democratic socialists running to be in the state Legislature.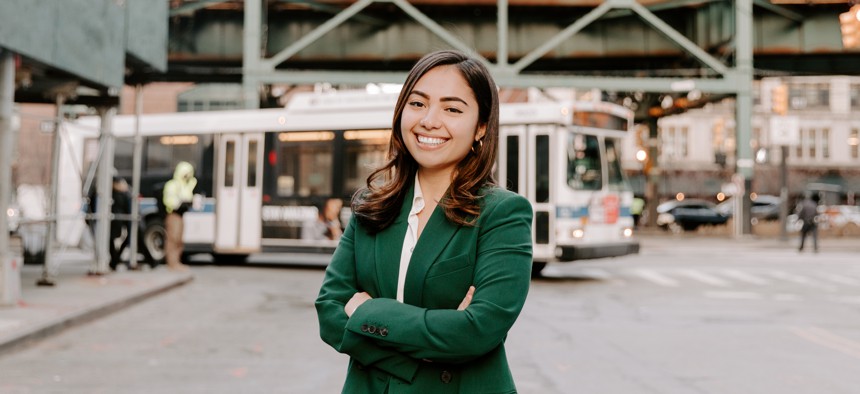 Newly proposed legislative lines are not completely friendly to insurgent candidates, but the decennial process could still help democratic socialists add to their political ranks in Albany.
Techie organizer Kristen Gonzalez officially announced her campaign Wednesday for a newly proposed state Senate seat straddling the border between Brooklyn and Queens where Latinos make up nearly half of the voting age population, according to one expert analysis. That makes five races where the New York City chapter of the Democratic Socialists of America, or a related group in the Hudson Valley, might pick up seats this election cycle, though their electoral chances depend on the final shapes of the districts.
"As a DSA member, I have seen just the incredible work that we've been organizing in different parts of this district," said Gonzalez – who added that she has applied to get the official endorsement of the group next week. "Now's a great opportunity to build on that progress, continue to engage those voters (and) build a large coalition of multiracial working class communities across Queens."
The proposed state Senate District 17 sprawls across the southern boundary of Queens from Long Island City through Maspeth, Ridgewood, Glendale and Woodhaven in the southeast area of the district. President Joe Biden won the district by an overwhelming margin, according to a map created by the Center for Urban Research at the CUNY Graduate Center, though the 2020 presidential election results highlight how voters lean more left in the western parts of the district, which also includes a slice of progressive Greenpoint in Brooklyn. "I am very intimately familiar with these neighborhoods," Gonzalez, an Elmhurst native who sits on Queens Community Board 4 and has recently worked as a tech consultant, said. "And then for the younger millennials – professionals that exist in parts like Long Island City, I also understand that narrative." 
Others are likely to get into the emerging field of candidates for the new district, but Gonzalez is the only one who has officially announced thus far. Three candidates have already received the backing of the New York City DSA chapter and another DSA-backed candidate is running  in the Hudson Valley. Some past elections have demonstrated how left-leaning candidates have done particularly well in neighborhoods with disproportionately high numbers of young, educated millennials while more traditional Democrats have generally leaned on Black and Latino voters to fight back challenges from the political left. The 2020 election of Assembly Member Marcela Mitaynes in southern Brooklyn, however, shows how DSA-backed candidates can succeed in areas with relatively high numbers of people of color, immigrants and working class voters. 
Gonzalez is not the only democratic socialist running in an open race for the state Legislature. The DSA-backed Illapa Sairitupac has already declared his candidacy for an Assembly seat in lower Manhattan being vacated by state Senate candidate Yuh-Line Niou. The implications of redistricting for the race remain unclear as the district contracts geographically while losing parts of the Financial District. 
Other races, however, show more dramatic changes in the district maps that appear to benefit incumbent Democratic legislators in New York City facing DSA-backed challengers. State Sen. Kevin Parker is getting a new district that will include more of his Black and Caribbean base in central Brooklyn while losing areas like Park Slope that he currently represents. That could disadvantage the DSA-backed David Alexis and fellow primary challenger Samantha Adler. On the other side of the borough, Assembly Member Erik Dilan has a district that has shifted south toward Latino-heavy Cypress Hills and away from the types of voters who helped democratic socialist state Sen. Julia Salazar beat his father – former state Sen. Martin Dilan – in the 2018 Democratic primary. That could make it harder for DSA-endorsed District Leader Samy Nemir-Olivares to defeat the younger Dilan in June.
Upstate, Assembly Member Kevin Cahill will face Sarahana Shrestha, the first DSA challenge of the cycle outside of New York City. Cahill has managed to build a fairly progressive reputation for himself, but Shrestha has outraised him, promising a real race for the district that includes liberal enclaves with lots of young voters like New Paltz. It remains unclear how the proposed lines might hurt or help either candidate, but the district will get a little smaller, losing parts at its western and southern edges while gaining a new town in the north, with its demographics remaining mostly unchanged.
Any one of the four official DSA candidates could add to the growing power of the political left next year. That all depends on how they adjust to the new districts expected to be approved by Albany Democrats this week, which include some changes beneficial to elected democratic socialists like Assembly Member Zohran Mamdani. Gonzalez, who said she has about $17,000 already raised for her campaign, could also benefit from the fundraising prowess and organizing muscle that has helped the DSA dramatically expand its presence in the halls of power at the local, state and federal levels – assuming she gets the official endorsement. In the meantime, Gonzalez says she is focused on stumping for votes in the new district by emphasizing democratic socialist ideas like single-payer health care, higher taxes on the wealthy and public renewable power. "You need a leftist on the inside pushing for this progressive legislation," she said. "But we very much still need to be on the ground."
Powered By
NEXT STORY: The positions Eric Adams hasn't filled yet