New York State
A toss-up looms in the changing 19th Congressional District
The swing district broke against Republican Marc Molinaro in the special election, but new lines and a lower-profile opponent could change the outcome.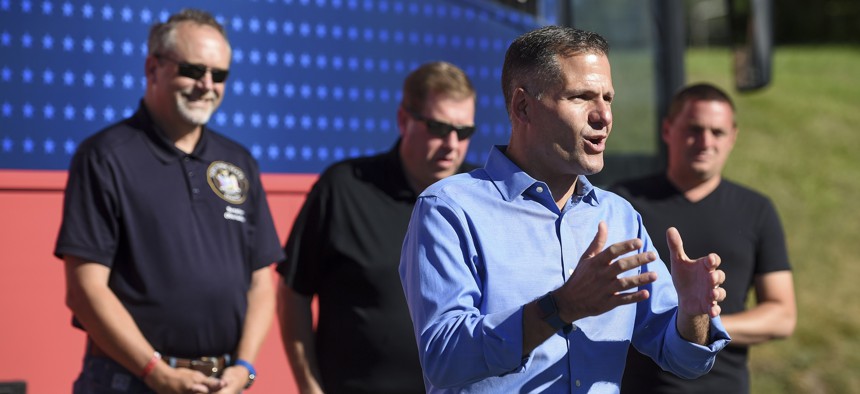 On Aug. 23, Democratic Ulster County Executive Pat Ryan surprised New York and the rest of the nation with his victory in the special election for the 19th Congressional District. Many expected Republican Dutchess County Executive Marc Molinaro to win the seat. Pundits called it a bellwether race, an indication that Democrats may perform better than expected in the November midterms.
Thanks to redistricting, though, a different set of candidates will face off in the newly drawn 19th District. Molinaro will remain, but Ryan will instead run for a full term in the 18th District. Instead, Democrat Josh Riley, a former congressional staffer, will take on the one-time gubernatorial candidate as the Democratic primary winner. Any other year, with Democrats controlling all of Washington, D.C., Molinaro would have been an easy favorite. But with the special election upset and the recent mobilization of Democrats around abortion and gun rights, Riley's chances appear to be improving.
In a confusing set of circumstances thanks to redistricting, as the special election winner in this district, Ryan will only serve until the beginning of 2023. Molinaro, meanwhile, decided to stick with the 19th District in the general election, despite the district no longer including Dutchess County under redistricting.
On paper, the new 19th Congressional District appears to lean blue and has actually become slightly more Democratic with its new lines – at least compared to the special election. The new district still voted for President Joe Biden over Donald Trump in 2020 by a 52%-48% margin. Before redistricting, many political observers believed that Molinaro would have had the upper hand in the old district, formerly held by Lt. Gov. Antonio Delgado, and expected the swing district to flip in a midterm election considered favorable to Republicans.
The same could have been said of the new 19th District before the special election and major U.S. Supreme Court rulings, including one that repealed the federal right to an abortion. "I would have handicapped this race in favor of Molinaro absent any other information," Daniel Magleby, an associate professor of political science at Binghamton University, told City & State. "But given what happened in the special and given what we are seeing around the country … it makes it hard for me to stick to that prior evaluation." He pointed to abortion as the issue mobilizing Democrats in unexpected ways, and referenced other nationally watched special elections that resulted in Democratic victories, like a Tuesday race for Alaska's congressional seat.
Of course, the special and general elections in the 19th District won't be directly comparable, given the different district lines, a new Democratic candidate running and the timing. Molinaro, a well-known Republican, will run against Riley's much smaller name recognition. Ryan, in the special election, also came into the race as an established politician, leading the county that had the largest share of voters in the district. Riley doesn't benefit from that name recognition, nor does he benefit from an election that coincided with more competitive Democratic primaries that may have motivated more Democrats to turn out than Republicans.
But with the new district lines, Molinaro lost what should have been his base in Dutchess County, where he underperformed in August. Meanwhile, part of Ulster County, which Ryan won, remains in the 19th District. And the new district gained Democratic cities like Binghamton and Ithaca that will likely be a boon for Riley. "Molinaro is going to do well in the rural parts of the district," Magleby said. "But this is also a district that now includes all of Tompkins County, it includes parts of Cortland and it includes all of Binghamton – and that's really going to be Riley's bread and butter."
The special election for the 19th District was part of a nationwide trend of Democrats overperforming expectations during a midterm as the party in power, indicating that November may not go as anticipated. That could be bad news for Molinaro, who found himself on the defensive following the Supreme Court ruling overturning Roe v. Wade and New York's long-standing concealed carry law. "He has to in some ways run against his state to run as a Republican," Magleby said. "I think a lot of these candidates … might have preferred the Supreme Court wait until after the election to really change the topography of politics in the United States." While Riley certainly has reason to feel more comfortable about this race, a resurgence of Republican voters could change the landscape once again in the fall.