Letitia James
What are Letitia James' chances of succeeding in her lawsuit against Trump?
According to experts, things are looking pretty good for the state Attorney General in her civil fraud case against the former president.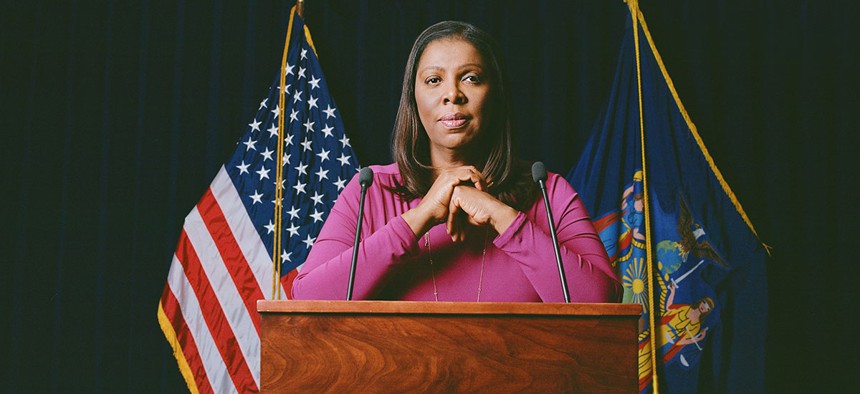 It's difficult to know for sure what the outcome of state Attorney General Letitia James' civil fraud lawsuit against former President Donald Trump will be. But experts told City & State the claims made against Trump show the state's top law enforcement officer may have a pretty strong case to make against the nation's former top exec.
The state Attorney General announced her office was suing Trump, three of his children, and the Trump Organization for falsely inflating his net worth by billions. The lawsuit alleges Trump misled asset valuations for tax benefits, to get lower premiums from insurance companies and to secure loans under favorable terms.
John C. Coffee Jr., a professor at Columbia Law School, said James will have to prove that financial statements from the Trump Organization were overstated, which she may be able to do quite easily. Coffee underscored President Trump's tendency to "brag about his great wealth".
"In this kind of suit, her [AG James] greatest ally is the past behavior of Donald Trump. He tends to make notorious overstatements, and he can be careless – even reckless," said Coffee.
Dan Goldman, who was the lead Democratic counsel during Trump's first impeachment, agrees that James has a good chance with the lawsuit. In a statement to City & State New York, Goldman said the state Attorney General's office conducted a "thorough investigation that lays out in great detail a premeditated and intentional scheme" to misrepresent the financial condition of the Trump Organization.
"Many of the misrepresentations are brazen and internally inconsistent, which is powerful evidence of wrongdoing," said Goldman. "When you layer on the adverse inference against Trump and his adult children for asserting their Fifth Amendment rights, this is a powerful case," said Goldman.
Experts say Trump's defense may not be strong and won't directly address the claims of the lawsuit. Some suspect the defense will rely heavily on the way he portrays his business relationships. Trump's defense team may claim the financial institutions had no problem doing business with him even if they didn't fully give credence to what Trump alleged about his net worth.
"These statements were made to sophisticated banks who probably did their own research. The defense counsel will say the banks loved working with Trump and lost no money, " said Coffee.
Jim Kainen, a professor at Fordham Law School, agreed that Trump's defense may claim the banks were well aware of Trump's braggadocious nature. "There may be 'no harm no foul' argument and the defense could say the banks knew what they were getting into," said Kainen.
However, even if Trump's defense tries to argue his organization has a positive relationship with financial institutions, this defense may still fall short. According to Coffee, the crime AG James will have to prove is simply whether or not Trump materially overstated the valuation of his company, either by overstating assets or underestimating liabilities.
The question remains if the lawsuit will go before a judge, or a jury, or be settled outside of court. Most civil lawsuits are resolved with a settlement, including the 2019 lawsuit where Trump paid $2 million for illegally using Trump Foundation Funds.   
Though experts suspect Trump may settle this lawsuit, the stakes are a bit higher because of the public criticisms Trump has made about James, calling her lawsuit a 'witch hunt'.
"After the statements Trump made about the attorney general, to then turn around and settle – to back down that way – I think would be potentially problematic for him," said Kainen.