New York City
Al Taylor, Inez Dickens among many names looking to unseat Kristin Richardson Jordan in 2023
A crowded field may be forming in Harlem against the socialist New York City Council Member.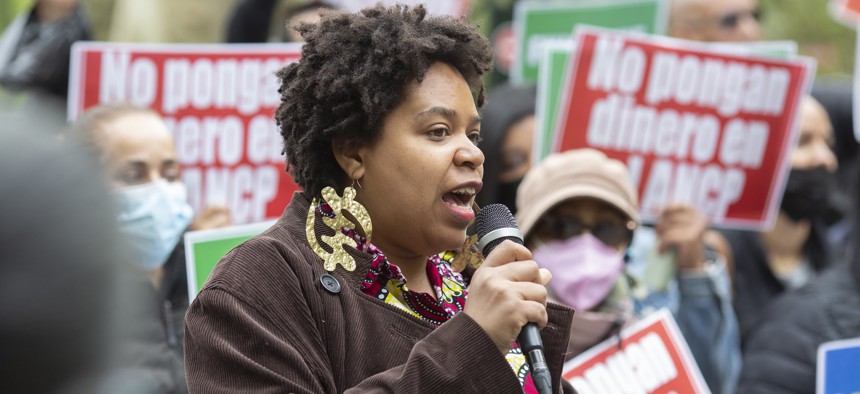 Assembly Member Inez Dickens isn't the only one considering a 2023 run against New York City Council Member Kristin Richardson Jordan – neighboring Assembly Member Al Taylor is also making calls. And criminal justice advocate Yusef Salaam of the Exonerated Five is also rumored to be thinking about a run. 
Taylor told City & State he's "kicking the wheels and checking the tires" on a run, but hasn't committed yet. "I will make a decision in the next couple weeks."
Mainstream Democrats in Harlem's Council District 9 would love nothing more than to unseat Richardson Jordan, a proud Black radical socialist who unseated longtime politician Bill Perkins in 2021 (Though Perkins barely campaigned, since he was running despite suffering from apparent cognitive decline). KRJ won by just 114 votes out of nearly 26,000 cast, so she's seen as vulnerable, especially after taking controversial positions like staunchly opposing to market rate housing in a mixed-use development proposal on 145th Street, and tweeting comments justifying the Russian government' invasion of Ukraine.
Dickens' interest was first reported by the New York Post. Richardson Jordan didn't respond to a request for comment. 
Another candidate rumored to be considering a run is Athena Moore, a political aide who got third in 2021. And Joshua Clennon, a low income housing manager who got eighth place in 2021, is the only candidate to have actually filed a campaign so far. Salaam declined to comment about a potential run. He is thought to have decided against running for the open state Senate seat in Harlem last year because he wouldn't have qualified for the legislature as a Georgia resident. But the City Council's New York residency requirements aren't as strict. 
Such a crowded field of challengers could help Richardson Jordan win reelection, even in a ranked-choice contest, as mainstream challengers split up limited attention and resources. "I would hope that we could coalesce behind one candidate," Manhattan Democratic Party Chair Keith Wright told City & State – with the heavy implication that "one candidate" would not be Richardson Jordan. "I've never had a conversation with the council member," said Wright, who used to represent Harlem in the Assembly. But he hasn't picked a candidate yet. "And I have not had serious conversations with all of the folks that are thinking about running." 
But with so many people eager to see KRJ lose, Taylor joked about how hard it could be to convince other candidates not to run: "You tell Assembly Member Inez E. Dickens what she can and cannot do and then come back and tell me how that went!"
Explaining why he would run, Taylor suggested that Richardson Jordan wasn't providing for the district, because of her lack of political relationships. "The motivation would be the services that could be brought to the community," he said. "We need unification and services rendered to the community that need it so desperately." 
A Harlem insider, who asked for anonymity to discuss the race, also made the case that Dickens would have better relationships with leaders like the mayor and the City Council speaker. "She would be a loyal Adrienne Adams soldier. That's the loyalty that brings about resources," they said, adding that Dickens would be a favorite if she ran. "Besides Jesus Christ and Charlie Rangel, no one has more name recognition than Inez Dickens." 
Dickens, who is 73 years old, represented the district in the Council from 2006 to 2016, before moving to the Assembly. She represents a greater portion of the council district currently than Taylor, who also lives just outside the current boundaries of the district, and would likely have to move. The news maps aren't finalized yet, but Richardson Jordan's district, with a Black plurality population covering all of Central Harlem, is expected to stay pretty much the same. 
All City Council members are up reelection to another two year term in 2023, due to redistricting. And if Dickens or Taylor were to win the seat, mainstream Democrats in Harlem would get another prize – the Assembly seat would be filled in a special election, giving insiders on the county committee a chance to effectively handpick the next legislator.