News & Politics
Assembly Member Mathylde Frontus' reelection is in danger – but some Brooklyn Democrats aren't eager to help
A former Democrat Alec Brook-Krasny is challenging her for the seat in a purple Assembly district plagued by petty drama.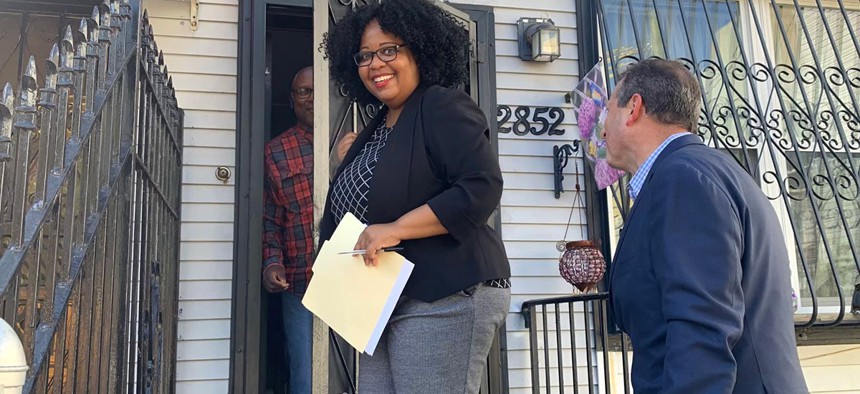 Petty political fights among southern Brooklyn Democrats seem to have been keeping Assembly Member Mathylde Frontus from getting the endorsements and support she needs in a tight race. And conditions are ripe for a comeback by former Democratic Assembly member turned Republican Alec Brook-Krasny, who was acquitted on charges of aiding an illegal opioid scheme. 
"Mathylde has not gotten half the support she deserves, and she's only gotten a quarter of the support that she needs," said one consultant who used to work with her. That may finally be changing – City Council Member Ari Kagan, who's part of the rival camp, endorsed her last week. And Rep. Hakeem Jeffries plans to publicly endorse Frontus – the only other Black Democratic elected official in southern Brooklyn – on Monday, a week before Election Day. But the Brooklyn Democratic Party, helmed by another political rival, Assembly Member Rodneyse Bichotte Hermelyn, has stayed out of Frontus' race entirely.
"There's some shift in the air, because it had always been me against the establishment Dems here in Coney, but that's shifting," Frontus told City & State on Friday. 
But not everyone's getting on board. "County itself, I have not been in touch with them," she said. "I haven't called them, they haven't called me, but I'm not staying awake at night thinking about that." 
A spokesperson for the party said it supports her, but could not point to any evidence. The party hasn't made a donation to her campaign, and there's no sign of her race in any emails or social media posts, or the party website. 
Frontus may need all the help she can get. Two years ago, Frontus held on to her Assembly seat with just 51% of the vote against Republican Mark Szuszkiewicz, who appeared to support the QAnon conspiracy theories and later attended the election-denying Jan. 6 rally that preceded the storming of the U.S. Capitol. 
Redistricting kept Assembly District 46, stretching from Bay Ridge to Coney Island, nearly the same. Joe Biden barely defeated Donald Trump, 52-48, within the district, according to Redistricting & You, from the Center for Urban Research at the CUNY Graduate Center. And unlike Szuszkiewicz, Frontus' opponent this year is a proven winner. Brook-Krasny first won the seat in 2006 and held onto it until 2015, when he resigned mid-term, reportedly because he wanted to make more money. Two years later, he was indicted for his role as chief financial officer of a medical laboratory connected to black market drug sales. A doctor he worked with pleaded guilty to 16 felony counts, but Brook-Krasny himself beat the charges. He was acquitted on some, while other counts resulted in a hung jury, and the charges were later dropped. 
He's now ready to get back into politics. Brook-Krasny ran in the Democratic primary for a City Council seat in 2021, finishing with just 9% of the vote to Kagan. He's running again this year, and is all in as a Republican – his campaign committee is called KrasnyGOP, and so is his campaign website. 
"People are calling him the o-word – an opportunist," Frontus said of her opponent. "Only a mind reader can tell if he had an epiphany or if he's politically calculating his odds of winning a race." 
Brook-Krasny reported $40,905 on hand in his campaign account as of his latest filing on Oct. 3 – just a couple hundred dollars more than the $40,747 Frontus reported. "I'm running again because I love my neighborhood," he told City & State. "It's not that I left the Democratic Party," the first Russian-born state legislator said, but the party left him. "I don't understand Democratic Party policies," he said, citing bail reform and socialist politicians. "I don't understand what they're doing these days." 
Fellow elected officials supporting a Democrat in a tough race would normally be a lay up, but there's been tension among the politicians in her district for years. Jeffries, state Sen. Diane Savino, former City Council Member Mark Treyger and others backed Ethan Lustig-Elgrably in the 2018 primary for an open seat. Frontus won in an extremely close race, but "she was unhappy about (the endorsements), and that set the tone going forward," explained Savino who also represents Coney Island. Since then, "we've had some fractures in what used to be a very cohesive working relationship among elected officials."
Those "fractures" include Frontus endorsing challengers to Coney Island Democrats, and the rest of them backing a primary challenge against her. It has also meant lots of backbiting, proxy battles with district leaders, and hit pieces in tabloids. 
Sources familiar with southern Brooklyn politics praised Frontus as smart and a great nonprofit leader, but a bad politician who doesn't have much of an electoral operation, if any. For just one example, she alienated some of her few political allies in Bay Ridge by endorsing progressive challenger Brittany Ramos DeBarros over Max Rose, who was heavily favored in the 11th Congressional District primary this year. 
A major reason Frontus  hasn't gotten the support she needs may be because she didn't ask for backing from her rivals until recently. "I'm just a weird politician. I don't chase endorsements," she said. "I feel like I've been treated unfairly in the past, but this is neither the time nor place to get into that."
In the end, fellow Democrats coming together to back Frontus may be due to the fact that some of them like Brook-Krasny even less than they like her.
"He's a super-duper hypocrite. Lazy. He doesn't do shit for anybody," Kagan said of the Republican. "What did he do during the pandemic, besides hide under a chair?" It may have taken Kagan a long time to publicly endorse Frontus, but now? "To me, the choice is so clear, I can't even start."