Heard Around Town
Biden, Schumer, Hochul make major economic announcements in NY swing districts
It's election season, so a little Democratic good news might go a long way.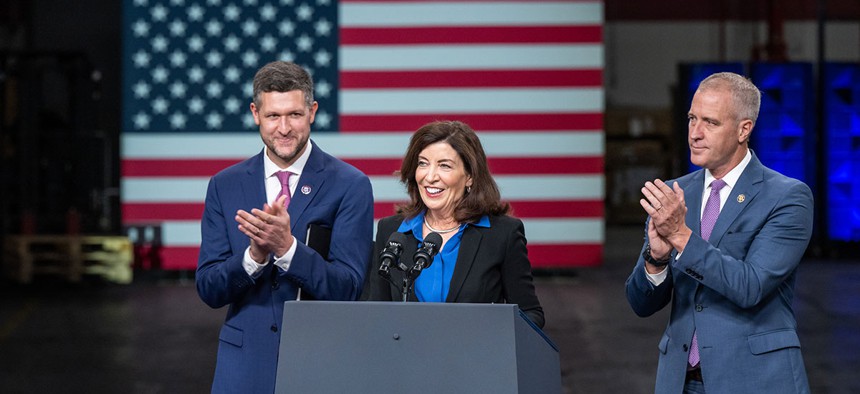 Politicians in New York made two major economic development announcements this week. Such investments are always welcome news to local lawmakers and voters alike, but they are even more so before an election. And officials happened to announce these particular investments in two of the most competitive congressional districts in the state, one of which may even be the most competitive in the nation.
Earlier this week, U.S. Senate Majority Leader Chuck Schumer traveled to Syracuse to announce that Micron Technology would construct a $100 billion chip manufacturing facility outside the city. The commitment from the tech company will bring thousands of jobs in Central New York both through construction and at the facility itself. Good news for the region – even better news for the Democrat running in the 22nd Congressional District. Political oddsmakers have deemed the seat left open after redistricting among the most competitive in the country. With the balance of power in the House at stake, Democrats could use every boost they can get. A major development like a semiconductor manufacturing plant that has garnered national attention is a pretty sweet talking point for Democrat Francis Conole as he takes on Republican Brandon Williams.
Today, President Joe Biden visited Poughkeepsie to make a similar announcement. After years of disinvestment and economic struggles in the city and broader Hudson Valley region, he announced that IBM would invest $20 billion to revitalize its manufacturing presence there. That means jobs, and jobs could mean votes. Poughkeepsie is located in the newly drawn 18th Congressional District, where Democratic Rep. Pat Ryan is attempting to keep his new spot in Congress. Next door, Republican Marc Molinaro finds himself in a surprisingly tight race against newcomer Josh Riley, and the Dutchess County executive called it like he saw it. "There's little question the president is here to give energy ahead of the midterm elections," Molinaro said while attending the event. "This is political theater, but at the end of the day we're very happy to hear positive news in the Hudson Valley." Perhaps he's simply sore that the political theater this time won't benefit his personal political aspirations.
Powered By
NEXT STORY: Bronx rezoning gets the go-ahead from local council member