New York State
The New York veterans running for Congress
Six Democrats and six Republicans are campaigning on their military service to be elected to the House.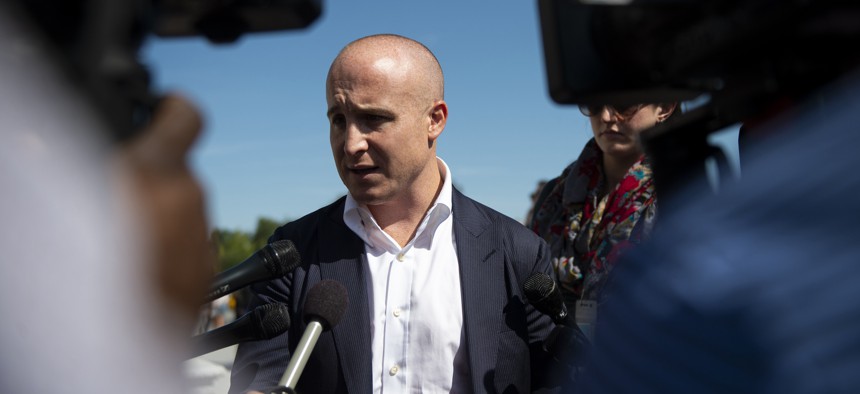 Nearly 200 veterans are running for Congress across the country this year, and a dozen of them are in New York. Six Democrats and six Republicans who served are running this year from Long Island to Buffalo, including in some of the state's most competitive districts. In two races, both candidates are running on records of military service. 
The U.S. military has a reputation for leaning conservative, and most of the candidates running as veterans across the country this year are Republican – including some on the far right. A record of service can help distinguish candidates to voters, and Democrats have found some success in running veterans who can appeal to swing voters. But posting a picture of a candidate in uniform on their campaign website won't cut it. "You can't just stand up there and say, 'I'm a veteran, vote for me.' That will appeal to a few people, but not as many as you need," Grant Reeher, director of the Campbell Public Affairs Institute at Syracuse University, told City & State in a recent interview about the race in NY-22, where two veterans are running. "You've got to be able to articulate a connection between what you've done as a veteran, and how that's going to make you a better representative."
Here are the veterans running for Congress in New York this year.
Nick LaLota (NY-1, Republican)
Naval Academy Graduate Nick LaLota was deployed to twenty countries as a lieutenant in the U.S. Navy, according to his campaign website, but the Long Island Republican doesn't specify where. 
Jackie Gordon (NY-2, Democrat)
Democrat Jackie Gordon is taking her second shot at one of Long Island's purple seats after losing to Rep. Andrew Garbarino in 2020. Gordon has led with her service in the Army Reserves on the campaign trail, having deployed to Iraq and Afghanistan, as well as serving as an operations officer at Guantanamo Bay, according to her campaign website. 
Thomas Zmich (NY-6, Republican)
Another repeat candidate and veteran of the Army Reserves, Republican Thomas Zmich is again challenging Rep. Grace Meng in Queens after losing to Meng by a large margin in 2020. 
Max Rose (NY-11, Democrat)
Democrat Max Rose served just two years in Congress representing Staten Island and southern Brooklyn and is mounting a rematch with Republican Rep. Nicole Malliotakis, who knocked him out of office in 2020. Rose has always leaned on his experience as a combat veteran in Afghanistan, where he earned a Purple Heart and Bronze Star. Though Rose's Army record may be old news in NY-11, he more recently deployed with the National Guard in 2020 to assist in COVID-19 response.
Michael Zumbluskas (NY-12, Republican)
Republican Army veteran Michael Zumbluskas is mounting an extremely longshot challenge to Rep. Jerry Nadler in Manhattan's 12th Congressional District.
Pat Ryan (NY-18, Democrat)
From West Point cadet to Army combat veteran, Democratic Rep. Pat Ryan's military experience has been front and center in his campaign. But while Ryan's service may have distinguished him from Republican Marc Molinaro in this summer's special election for the 19th Congressional District, he can't say the same about his current opponent in the 18th District.
Colin Schmitt (NY-18, Republican)
Republican Assembly Member Colin Schmitt is locked in one of the most competitive races in the state against Ryan in this purple Hudson Valley district. Schmitt is currently a sergeant in the Army National Guard, and was activated to work on COVID-19 relief in 2020. Schmitt falls short of the definition of veteran under the National Guard and New York State Division of Veterans' Services which says a member must serve 180 days of continuous active duty on federal orders, not including training. Schmitt's campaign told The Intercept that he has not yet met the 180 day requirement.
Brandon Williams (NY-22, Republican)
One of the state's other more competitive races also features two candidates with a military background, and while some experts said that military service can help a candidate stick out, it may prove to be a wash in this instance. Republican Brandon Williams served in the Navy, first volunteering as a nuclear submarine officer, according to his campaign website.
Francis Conole (NY-22, Democrat)
Like his opponent in Central New York's 22nd District, Democrat Francis Conole is also a Navy veteran. Conole was deployed to Iraq in 2010, and has more recently worked as an adviser on U.S. defense policy. He is currently in the Navy Reserves.
Max Della Pia (NY-23, Democrat)
Democrat Max Della Pia, running a longshot race in a safely Republican district, is an Air Force veteran.
Steven Holden (NY-24, Democrat)
Democrat Steven Holden, who is taking on Republican Rep. Claudia Tenney in a solidly red district, retired as a lieutenant colonel in the Army after multiple deployments to Iraq and Afghanistan. 
Steven Sams (NY-26, Republican)
Army veteran Steven Sams, who says he's running as a soldier and not a politician, faces tough odds to replace Democratic Rep. Brian Higgins in Western New York's reliably blue 26th District.
This article was updated to clarify Colin Schmitt's military service.
Powered By
NEXT STORY: 'A little suspicious' Politicos abuzz as Hochul's lead over Zeldin shrinks in polls